| | |
| --- | --- |
| Full Name | Mahendra Singh Dhoni |
| Profession | Wicket-keeper Batsman and Former Captain |
| Career Span | 2004 - 2020 |
| Date of Birth | 07 Jul, 1981 |
Debut
| | | |
| --- | --- | --- |
| ODI debut | Test debut | T20I debut |
| Against Bangladesh on Dec 23, 2004 | Against Sri Lanka on Dec 2-6, 2005 | Against South Africa on Dec 1, 2006 |
Records
In ODIs
Fourth Indian cricketer to reach 10,000 ODI runs after Sachin Tendulkar, Sourav Ganguly & Rahul Dravid and also the second wicket-keeper to achieve the feat
Most career runs in ODI history (4031 runs) when batting at number 6 position
Only player to score more than one century in ODI cricket when batting at number 7 or lower position (Dhoni has 2 tons at number 7)
First Indian and fifth overall player to hit 200 sixes in ODIs
In 2005, Dhoni scored 183* against Sri Lanka which is the highest score by a wicket-keeper.
He holds the current record of playing most matches in ODI history as a captain who has also served as a wicket-keeper (200).
Holds the record of most stumpings (120) by any wicket-keeper in ODIs and is currently the only keeper to pass 100 stumpings.
First Indian wicket-keeper to take 300 ODI catches and fourth wicket-keeper overall to do so
In Tests
In 2009, under Dhoni's captaincy, India got the top spot in the Test cricket rankings for the first time.
Most successful Indian Test captain with 27 Test wins, surpassing Sourav Ganguly's record of 21
First Indian wicket-keeper to score more than 4,000 Test runs
With 294 dismissals in his overall career, Dhoni ranks top in all-time dismissals list of Indian wicket-keepers
In T20Is
Most wins (41) and most matches (72) as a captain in T20Is
Most dismissals (87) and most stumpings (33) as a wicket-keeper in T20Is
Honoured with the Rajiv Gandhi Khel Ratna for 2007−08 season
2008 & 2009 ICC ODI Player of the Year
Bestowed with the Padma Shri award in 2009
Honoured with the Padma Bhushan award in 2018
Mahendra Singh Dhoni captained the Indian National Team in the limited-overs format from 2007 to 2016 and in the Test format from 2008 to 2014. He led India to win the 2007 ICC World Twenty20, 2010 & 2016 Asia Cup, 2011 ICC Cricket World Cup and 2013 ICC Champions Trophy. Dhoni is also the current captain of IPL's franchise Chennai Super Kings. He is one of the few cricketers to score more than 10,000 runs in ODIs. MSD has played most international matches as a captain - 332 and the first and only wicket-keeper who has affected more than 150 stumping outs (195) in all three forms of the game.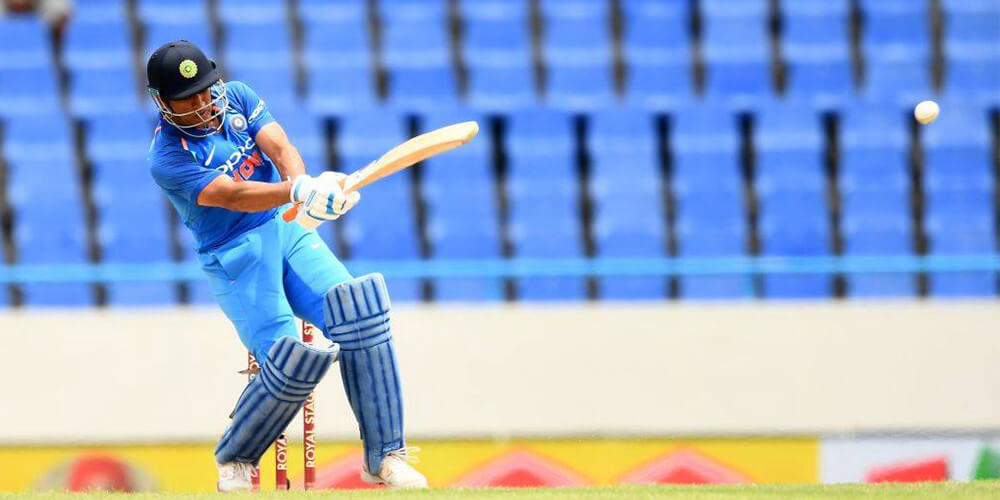 Photo Credits: Facebook.com / MSDhoni
Experts consider MSD as one of the best "finishers" in the limited-overs format in world cricket. Many consider him as one of the best wicket-keepers in modern limited-overs international cricket.
If you don't really have a dream, you can't really push yourself; you don't really know what the target is.
Early Life
Dhoni was born in a Hindu Rajput family in Ranchi. His parents moved to Ranchi from Almora district, where his father Pan Singh Dhoni worked in a junior management position in MECON. Dhoni did his schooling from DAV Jawahar Vidya Mandir and since childhood, he was interested in sports. Dhoni initially played badminton and football during his school days in which he excelled and was also selected at club and district level competitions in these sports. Dhoni was a goalkeeper of his school's football team, and due to his skilful goalkeeping technique, his football coach sent him in a local cricket club to play cricket. Dhoni, after passing his 10th standard, only focused on cricket. Because of his brilliant batting skills, he was given a job by South Eastern Railway in Midnapore (W) as a Travelling Ticket Examiner (TTE) at Kharagpur railway station where he worked from 2001 to 2003.
Beginning of Cricket
Although Dhoni did not play that much cricket initially, he impressed everyone with his wicket-keeping skills and became a regular wicket-keeper of the Commando Cricket Club from 1995-1998. In 1998, Deval Sahay selected Dhoni to play for the Central Coal Fields Limited (CCL) team. However, MSD had played only school cricket and club cricket till 1998 and not professionally. During the cricket matches of the Sheesh Mahal Tournament, Deval Sahay used to give him 50 rupees for each six he hit. Dhoni got the chance to bat up in the order while playing for CCL which he had taken full advantage of and helped CCL to move into the A division with the help of his centuries.
Deval Sahay, impressed by Dhoni's hard-hitting shots and dedication to cricket, used his contacts in the Bihar Cricket Association to select Dhoni in the Bihar team. At that time, Deval Sahay was the Ranchi District Cricket President and former Vice President of Bihar Cricket Association. It was due to him that Dhoni got a chance to play in Ranchi team, Junior Bihar cricket team and finally in senior Bihar Ranji team in 1999-2000 season.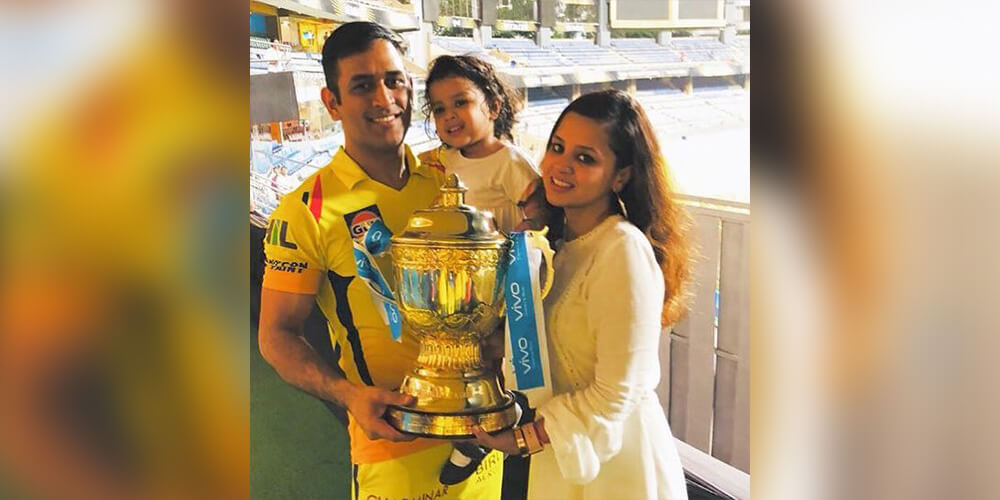 Photo Credits: Facebook.com / MSDhoni
Ranji Debut & Recognition
At the age of 18, Mahi made his Ranji Trophy debut for Bihar in the 1999–2000 season. In his debut match, Dhoni scored 68 * runs against Assam. During that entire Ranji season, Dhoni scored 283 runs in 5 matches. MSD scored his maiden first-class century against Bengal in the 2000-01 season. Playing in Ranji first with Bihar and later with Jharkhand, Dhoni made his mark with his superb performance and at the same time, he started gaining fame after performing well in the Deodhar Trophy.
Self-confidence has always been one of my good qualities. I am always very confident. It is in my nature to be confident, to be aggressive. And it applies in my batting as well as wicketkeeping.
Recognition
In the final of the Duleep Trophy, Dhoni was selected over international cricketer Deep Dasgupta to represent East Zone where he scored a half-century in the second innings. Dhoni's talent was discovered by TRDW, a small town talent-search initiative by BCCI. TRDO Prakash Poddar discovered Dhoni's talent when he saw him playing for Jharkhand in a match in 2003 in Jamshedpur and sent a report to the National Cricket Academy. MSD was recognized for his efforts and selected for the 2003-04 season for India A squad in an ODI tour to Zimbabwe and Kenya, where he showed his best wicket-keeping attempt with 4 stumpings and 7 catches in the match against Zimbabwe. Later MSD was named for the tri-nation tournament involving Kenya, India A and Pakistan A where Dhoni smashed back-to-back centuries and concluded the series with 362 runs. Dhoni's performance in the series attracted the attention of others including Ravi Shastri and Indian captain Sourav Ganguly.
ODI Career
Dhoni landed on the international stage when the Indian ODI team was struggling to find a better wicketkeeper-batsman. We all saw the arrival of wicket-keeper batsmen like Parthiv Patel and Dinesh Karthik in the early 2000s. Then Dhoni made an entry, after which everything changed, and the history itself is a witness. Dhoni was selected for the ODI team for the tour of Bangladesh in 2004-05. It was the most disastrous beginning of Dhoni's career that anyone could ever imagine as he got run out on a duck in his ODI debut. Despite an average series against Bangladesh, Dhoni was selected for the Pakistan ODI series. In the 2nd match of the series, Dhoni scored 148 runs in only 123 balls, which was his fifth ODI. After this, the Dhoni era began. His last ODI came against New Zealand in the 2019 WC semi-finals where he ended his ODI journey the same way he had started with a run-out. While there was speculation that Dhoni would return after the 2020 IPL, the unforeseen circumstances caused by COVID-19 ensured that MSD played his last international match without any farewell.
ICC Cricket World Cup Appearances
Mahendra Singh Dhoni - India's Captain Cool, first participated in the turbulent period of the 2007 World Cup, under the leadership of Rahul Dravid, where India was eliminated from the tournament in just three matches.
Mahi has served as the captain of India in two ODI World Cups. Under his leadership, India won the 2011 World Cup and entered the semi-finals in 2015.
2011 Cricket World Cup
However, after the coaching staff was renewed in 2011 and Dhoni was promoted to the Captain of the Indian team, India found a new leader and entered the home World Cup as a favourite in 2011. Dhoni had undoubtedly proved his spirit as a captain when India stumbled on the league stage in 2011 when the team faced a tie against England and a last-over defeat to South Africa. But everything changed in the knockouts as India kicked out Australia in the quarterfinals, smashed the arch-rivals Pakistan in the semi-finals and landed in the world cup finals against Sri Lanka. After chasing 275 in the final against Sri Lanka, Dhoni promoted himself in the batting order, ahead of the in-form batsman, Yuvraj Singh. When Dhoni came to bat, India needed more than six runs per over with three top-order batsmen already out. He has begun to build a fighting partnership with Gautam Gambhir. They maintained the required run rate with the help of good strokeplay and active running between the wickets. Dhoni was on 60 runs in 60 balls, but later he accelerated his frequency of the boundaries and finished with 91 not out from 79 balls. Dhoni finished the match in style with a huge six over long-on off Nuwan Kulasekara and claimed the Man of the Match award.
2015 Cricket World Cup
At the 2015 World Cup in Australia and New Zealand, Dhoni was named captain of the 30-man squad in December 2014 by the BCCI. Under his captaincy, India succeeded in defeating Bangladesh in the quarter-finals to reach the semi-finals easily. However, India went on to face Australia in semis where India got a 95-run defeat at the Sydney Cricket Ground. However, India had won 7 consecutive matches in 2015 World Cup and won 11 consecutive matches overall in World Cups. With the victory over Bangladesh, MSD became the first non-Australian captain to win 100 ODIs, and the first Indian captain to achieve this milestone. Dhoni is also the 3rd captain to win 100 matches after two Australian captains - Ricky Ponting and Allan Border.
2019 Cricket World Cup
After handing over the captaincy to Virat Kohli in late 2016, Dhoni participated in the 2019 World Cup in England and Wales but continued to form the cognitive core of the team's brain, as well as the backbone of the batting line-up. Dhoni played some handy knocks in tournaments against Australia, South Africa and West Indies, but was criticized for his strike rate in the matches against Afghanistan and England. In the semi-final against New Zealand, Dhoni was the only man to battle along with Ravindra Jadeja, but the finisher was unable to chase. Dhoni scored a brilliant half-century, but unfortunately got run out at a critical stage. After his run out, India got eliminated from the World Cup. The 2019 World Cup was considered to be Dhoni's last world cup tournament which did not really go according to the plan.
If you keep winning, you don't know the areas you've to work hard.
Test Career
Dhoni's spectacular performances in ODIs against Sri Lanka allowed him to play in the Indian Test team. In December 2005, Dhoni was selected as the Indian teams' Test wicket-keeper replacing Dinesh Karthik. MSD scored 30 runs in his test debut and smashed his maiden half-century in the second Test which helped India set a target of 436 against Sri Lanka. His maiden Test century came in the second test of India's tour of Pakistan in 2006. He had a mind-blowing test career in these years where he proved his mettle in Test cricket also. In 2009, Dhoni led the Indian team as a captain against Sri Lanka, scored two centuries in the three test match series and gained a 2-0 victory over Sri Lanka. With this milestone, India topped the charts and got the number one spot in Test cricket for the first time in history. However, in the 2014–15 tour of Australia, Dhoni played his last test series as a captain, and after the third test, MSD announced his retirement from the Test format.
Photo Credits: Facebook.com / MSDhoni
Dhoni made his international T20 debut against South Africa in December 2006. However, MSD was out for a duck but contributed to India's victory with one catch and a run-out. In 2007, Dhoni was selected as a captain to lead young Indian team for the first-ever 2007 World T20. In 2012, India registered their first win against Australia with the help of MSD's superior 44 runs knock. In the final over of Clint McKay, Dhoni smashed a monstrous six of 112 meters.
2007 ICC Twenty20 World Cup
MS Dhoni was selected to lead India in the first-ever World T20 in South Africa and made his captaincy debut against Scotland. However, that match was washed out, but MSD led the Indian team to the ICC World Twenty20 finals and registered a win over arch-rivals Pakistan on 24 September 2007, becoming the second Indian captain to win a World Cup in any form of cricket, after Kapil Dev.
IPL Career
MSD was signed by Chennai Super Kings for 1.5 million USD, becoming the most expensive player in the IPL's first season's auctions. Chennai Super Kings claimed 2010, 2011 and 2018 Indian Premier League titles as well as 2010 and 2014 Champions League T20 titles under the captaincy of MS Dhoni. After CSK's suspension for two years, Dhoni was acquired by defunct Rising Pune Supergiants for 1.9 million USD in 2016 and was appointed as a captain. However, his team finished 7th in the 2016 IPL season. In the following IPL season, his team again roared back and made into the finals of 2017 IPL season, but lost to Mumbai Indians. In 2018, CSK returned after the two-year suspension and Dhoni was again named as the captain of CSK. That 2018 IPL season was totally in Dhoni's side as he scored 455 runs in the tournament and led his team to claim their third IPL title. MSD again captained CSK in the 2019 IPL season, which emerged as one of the strongest teams of the season. The IPL season of 2020 was not favourable to him, as his team CSK finished 7th.
Gut feeling is all about the experiences that you have had in your life. It is about being in difficult scenarios, knowing what worked, what did not work, and then taking a decision.
Retirement from Cricket
On August 15, 2020, Dhoni announced his retirement from international cricket on India's 74th Independence Day. He posted a video on Instagram featuring pictures of both the best and worst moments of his overall career, with the song "Mai Pal do Pal ka Shayar Hoon" in the background music. The video was captioned, "Thanks a lot for ur love and support throughout. from 1929 hrs consider me as Retired".
Mahendra Singh Dhoni has scored 10,773 ODI runs at an average of 50.53 in 350 matches. MSD has 10 centuries and 73 half-centuries under his ODI belt with a strike rate of 87.56.
Video Credits:Youtube.com / CricketICC