| | |
| --- | --- |
| Full Name | Lin Dan |
| Profession | Former Badminton Player |
| Career Span | 2000 - 2020 |
| Date of Birth | 14 Oct, 1983 |
Lin "Super" Dan is a Chinese badminton player who is considered one of the greatest singles players of all time. Lin is a 2-time Olympic champion, 5-time World champion and also 5-time All England champion. Lin earned the #1 BWF World Ranking for the first time in 2004 and has never looked back since. No one could imagine how great he was going to become in the next 16 years. At the age of 28, Lin has completed the "Super Grand Slam" and won all nine major championships including the Olympic Games, World Cup, World Championships, All England Open, Sudirman Cup, Thomas Cup, Asian Games, Super Series Masters Finals and Asian Championships. Lin is currently the only tennis player to have accomplished this feat and is therefore considered by many to be the best player to ever appear in the sport. Lin was nicknamed "Super Dan" by Peter Gade, and the legend indeed lives up to his name.
Career Victories
Lin has won 66 singles titles so far, including 15 BWF Super Series titles, 5 BWF Super Series Premier titles, and one BWF Super Series Finals title. He is a two-time Olympic champion and a five-time world champion. Lin is currently ranked 20th in the Badminton World Federation (BWF) rankings.
World Junior Championships: 1 Gold Medal
Winner of the 2000 IBF World Junior Championships in the mixed team
Asian Junior Championships: 2 Gold Medals
Winner of the 2000 Asian Junior Championships in boys' singles & boys' team
Badminton World Cup: 2 Gold Medals
Champion of the 2005 & 2006 Badminton World Cup
East Asian Games: 1 Title
Bagged a gold medal in the men's team at the 2009 Hong Kong Open
BWF World Championships: 5 Gold Medals
In men's singles event in the year of 2006, 2007, 2009, 2011 & 2013 IBF World Championships
Summer Olympics: 2 Gold Medals
Bagged the men's singles title at the 2008 Summer Olympics
Retained his men's singles title at the 2012 Summer Olympics
Asian Games: 4 Gold Medals
Winner of the 2006 & 2010 Asian Games in men's team
Winner of the 2010 & 2014 Asian Games in men's singles
Badminton Asia Championships: 4 Gold Medals
Winner of 2010, 2011, 2014 & 2015 Badminton Asia Championships
Accolades and Achievements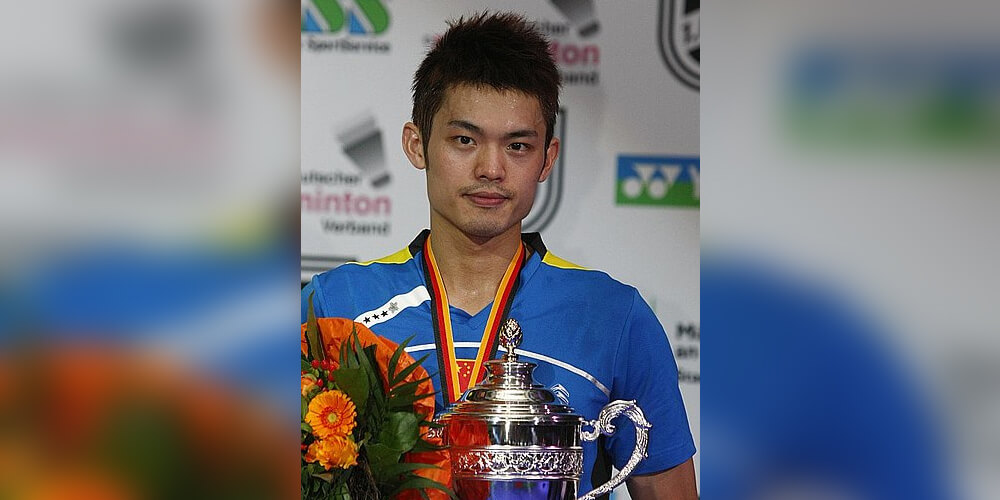 Photo Credit - Mayeres / Wikimedia Commons / CC BY-SA 2.5
Honoured with the Eddie Choong Player of the Year award for two consecutive years in 2006 and 2007
Secured the BWF Best Male Player of the Year in 2008
Named Most Valuable Player at the 2010 Asian Games
In 2011, Lin was named the 2010 Best Male Athlete in CCTV Sports Personality of the Year
Early life
On October 14, 1983, Lin was born to a Hakka family in Longyan, Fujian, China. When Lin Dan was young, his parents advised him to learn to play the piano and become a pianist. However, young Lin Dan was more interested in badminton and preferred to practice this sport. Starting his badminton training at the age of five, he joined the People's Liberation Army sports team after winning the national junior championship at the age of twelve. He was selected in the Chinese National Badminton Team at the age of 18 in 2001. Considering his colossal success, there is no surprise that his passion for badminton started quite early. Having started playing sports at five, he became a professional while he was a teenager.
"If you play a match, then you have to give it all to beat the opponent; there is no such thing as playing against a great or a non-great player."
Tennis Debut
In 1995, Lin Dan won the boys' singles championship in the national youth competition and received the People's Liberation Army's support. Lin emerged victorious in both team and singles events at the 2000 Badminton Asia Junior Championships. Lin was also a member of the winning Chinese team and the boys' singles semifinalist at the 2000 World Junior Championships.
However, 2001 marked the beginning of Lin's professional career when he entered the Chinese national team. In his first professional final at the Asian Badminton Championships, he was beaten by fellow countryman Xia Xuanze.
Career Journey of Super Dan
In 2002, Lin won his first title at the Korea Open. He was part of China's squad that participated in the 2002 Thomas Cup that advanced to the semi-finals. However, Lin did not play in the semi-final against Malaysia, in which China was defeated 1-3. Lin started the 2003 season with a defeat in the round 3 at the All England Open but ended the season with a decisive win in Denmark, Hong Kong and the China Open.
Lin had an excellent start to his career in 2004 when he first ranked #1 on the BWF rankings in February. He helped China take over the Swiss Open. Lin also bagged his first-ever All England Open title in 2004. In the 2004 Thomas Cup Final, Lin defeated Peter Gade in straight matches to give China the crown, ending a 14-year drought. However, after suffering several setbacks in the 2004 season, Lin bounced back at the tournaments in Denmark, Germany and China Opens and bagged the titles.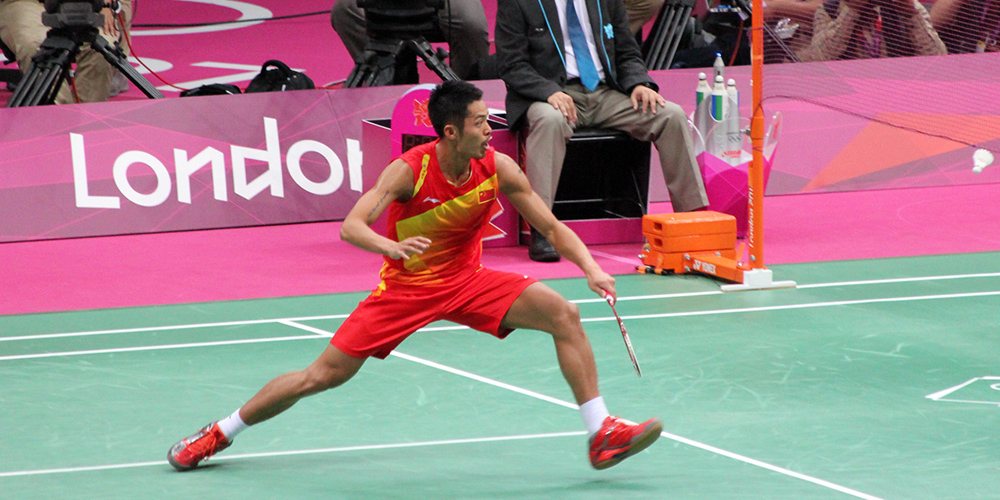 Photo Credit - Antony Stanley / Flickr / CC BY-SA 2.0
Lin retained his #1 in the world rankings throughout 2005, winning his second Hong Kong and German Open titles, as well as the China Masters, Japan Open and World Cup tournaments. He also helped China win the Sudirman Cup when they defeated both South Korea in the semi-finals and Indonesia in the final. However, Lin was unable to retain his All England title in 2005 after losing the final to his teammate Chen Hong, and he was also defeated in the Malaysia Open final by Lee Chong Wei.
In 2006, Lin won six individual titles in a season, including the All England Open, Chinese Taipei, Macau, Hong Kong and the Japan Opens. In May 2006, Lin and his teammates extended China's reign in the Thomas Cup, beating Denmark 3-0 for a second straight title. Lin Dan won his first title in 2007 at the Korea Open after demolishing teammate Chen Jin in the finals. He claimed the German Open and then the All English championship titles again and also helped China keep the Sudirman Cup. Lin also became the 2007 China Masters champion later that season.
In 2008, Lin suffered several controversial defeats early in the season but bagged the Swiss Open. He also won the Thailand Open, his last tournament before the 2008 Olympics. At the end of the year, Lin captured the China Open crown again in November. In addition to failures in the Indonesia Open and East Asian Games in 2009, Lin dominated throughout the year as he first won his 4th All England title and then helped China secure the 3rd consecutive Sudirman Cup after beating South Korea in the finals.
Later in 2009, Lin won his 4th China Masters title and his first French Open title. In November, he ended his tournament winning streak with the China Open title. In 2010, after a disappointing start to the season with minor losses, Lin won his maiden title of the year in New Delhi at the Badminton Asia Championships. After several tough fights in the Thomas Cup quarterfinals and semi-finals, Lin confidently defeated Taufik Hidayat in the finals, leading China to win its 8th world title and 4th in a row.
"Win or lose, I believe in giving my best and that is what I always do."
Lin managed to win his first-ever gold medal at the Asian Games in November 2010; thus at the age of 27, he became the first player to win all of the current major titles available to Asian men's badminton individually and nationally. The same year, Lin was named Most Valuable Player (MVP) at the games' closing ceremony.
After dropping out of the 2011 Malaysia Open quarterfinals, Lin began the year by winning the first-ever million-dollar badminton tournament, the Korea Open, by beating Lee Chong Wei in the final. He then won the German Open, beating fellow countrymen and defending world champion Chen Jin. Lin failed to register his 5th All England Championship victory in 2011. However, he won his 2nd Asian Championships in which China won all five titles. Lin then helped China win the 4th consecutive Sudirman Cup title after beating Denmark 3-0 in the final. Lin ended 2011 with three consecutive titles: his 5th Hong Kong Open, the China Open, and his 1st Super Series Masters Finals.
In early March 2012, Lin Dan won the fifth German Open and thus won the first title of the season. In the second week, he won the fifth All England Open. Lin and his teammates have won all individual matches in every game they participated in to win the fifth consecutive Thomas Cup in 2012. However, after his 2012 Olympic victory, Lin did not appear in tournaments until the Badminton Asia Championships in April 2013, where he withdrew from the quarter-finals due to injury.
In 2014, after a seven-month absence from tournaments, Lin dropped to 104th in the official world rankings. He then bounced back and competed in the China Masters and Badminton Asia Championships and easily won those titles. Lin was part of the Chinese Thomas Cup team, which defended their title in May, but due to his deflated ranking, he could only play in the third singles category. In mid-2014, Lin bagged the Australian Open crown. In November, Lin lost in the China Open final to India's Kidambi Srikanth.
In 2015, Lin earned the Badminton Asia Championships and also contributed to China's victory in the 10th Sudirman Cup. After losing in the 2015 World Championships, Lin won his only Super Series of the Year title at the Japan Open in September, making a notable comeback after beating Danish Viktor Axelsen.
In March 2016, Lin clinched his seventh men's singles title at the German Open. A week after this victory, Lin reclaimed his sixth All England title. In April 2016, Lin defeated World No. 1 Chen Long in straight games, lifting his sixth China Masters crown. After the 2016 Rio Olympics, Lin skipped all the international tournaments for the rest of the year.
Lin was unable to defend his 2017 All England Championships title as he was eliminated in the semi-finals. However, he came to his form and won the Swiss Open. In April, Lin clinched the Malaysia Open for the first time after defeating Lee Chong Wei. In 2018, Lin caught up with Rudy Hartono's record by reaching ten All England Men's Singles finals but failed in his attempt to win the seventh title as Lin was beaten up by a youngster Shi Yuqi in the finals. Lin then went to play at the New Zealand Open, where he defeated Indonesian Jonathan Christie in the final.
At the age of 35, Lin Dan won his 2nd Malaysia Open title in 2019. Although Lin dropped out of the Singapore Open due to a thigh injury and then did not compete in any tournament in 2019.
Photo Credit - Nardisoero / Wikimedia Commons / CC BY-SA 4.0
In 2004, Lin made his Olympics debut, where he was kicked out of the tournament early after being demolished by Singapore's Ronald Susilo.
At the 2008 Beijing Olympics, Lin defeated Hong Kong's Ng Wei in the opening round, Park Sung-hwan in the 2nd round, and Peter Gade in the quarterfinals. He then defeated his teammate Chen Jin in the straight sets to stage the "dream" final against Lee Chong Wei. However, the final was one-sided as Lin easily defeated Lee 21–12, 21–8 and became the first men's singles player to win Olympic gold as the first seed.
"I have worked very hard to achieve this. If others also work hard, they can also achieve as much."
At the 2012 London Summer Olympics, Lin beats Sho Sasaki of Japan in the quarterfinals. Lin then nimbly beat South Korean veteran Lee Hyun-il in the semi-finals to set up another unforgettable final with his arch-rival Lee Chong Wei. Unlike 2008 Olympic final, this final was not an easy walk for Lin, as he lost the first game to Lee, but confidently returned and won the second set. The rubber game was a thriller in which Lin broke out of a slight deficit for most of the way to register a 21-19 victory in the Olympic finals. Thus, the legendary Lin became the first men's singles player to retain an Olympic title, and Lee again lost one of the two biggest events in the sport - the Olympic Games and the World Championships.
At the 2016 Summer Olympics in Rio de Janeiro, Lin faced Srikanth Kidambi of India in the quarterfinals. In the third game of the quarterfinals, he pulled out 21-18 to register his victory over Srikanth. This led to a semi-final showdown with longtime rival Lee Chong Wei that attracted the vast audience. In another epic game, Lee was finally able to undo his previous Olympics, and World Championships defeats against Lin and win 15-21, 21-11, 22-20. But Lee's pursuit of Olympic gold after two silver medals ended in a disappointing finale as he lost to Chen Long in the finals.
Lin began his journey to the World Championships in 2005, where he won a silver medal. In September 2006, Lin won his maiden world championship title, defeating his compatriot Bao Chunlai in the final.
In August 2007, Lin extended his world championship reign by defeating Indonesian Sony Dwi Kuncoro 21–11, 22–20 in the final. Thus, Lin Dan became the first tennis player after Yang Yang to win the world championships in a row and then in August 2009, he bagged his third World Championships title after defeating compatriot Chen Jin in the final.
Following his 2010 Thomas Cup triumph, Lin competed at the 2010 World Championships in Paris. Lin won his 1st match and then defeated Henri Hurskainen and Bao Chunlai in the 2nd and 3rd rounds. Unfortunately, Lin could not register his 4th World Championship win that year as Park Sung-hwan defeated him in the quarterfinals.
However, Lin's 4th world championship feat came in August 2012 after demolishing Peter Gade in the semi-finals and Lee Chong Wei in a hard-fought three-game final.
"Success is not judged by just success in a particular championship."
In 2013, Lin received a special wildcard entry for the World Championships as he didn't appear in any tournament between the Badminton Asia Championships in April and the World Championships in August due to a citing injury. Then at the 2013 World Championships, Lin won all of his matches in a row until the final, where again the unlucky Lee Chong Wei failed to catch him in the 3rd game, as result Lin turned that wildcard into his 5th world champion title.
The BWF did not grant a wild card entry to Lin for the 2014 World Championships in the previous year. Thus, Lin was unable to defend his title, which was clinched by Chinese teammate Chen Long.
At the 2015 World Championships in August, Lin lost in the quarterfinals to Denmark's Jan O. Jorgensen.
In 2017, Lin managed to record 7th men's singles World Championships final but lost in the straight sets to Denmark's Viktor Axelsen 22–20, 21–16. Since then, Lin did not appear in any World Championships so far.
In 2020, after losing the New Zealand Open semi-finals and the Korea Masters final, Lin Dan announced his retirement on July 4, stating that "at 37, pain and injuries no longer allow me to fight with my teammates. I have gratitude, a heavy heart and unwillingness."
Some Interesting Facts about Lin Dan
Lin Dan is not only a two-time Olympic champion but also the first player in the men's singles to retain an Olympic gold medal, winning in 2008 and defending his title in 2012. On October 17, 2012, Lin became the first active Chinese badminton player to receive a master's degree from Huaqiao University. He is known not only for his outstanding playing skills, but also for his temperament, and outbursts of anger made him an ambiguous figure. His flamboyant personality, great achievements on the badminton court, and bad boy image make him a trendy sports figure.
Autobiography
His autobiography "Until the End of the World" was published after he successfully retained his Olympic title at the 2012 London Olympics.