| | |
| --- | --- |
| Full Name | Bhaichung Bhutia |
| Profession | Former Footballer & Captain |
| Date of Birth | 15 Dec, 1976 |
Awards and Achievements -
Bhutia got the attention of everyone for the very first time at the Subroto Cup 1992 held at Delhi, where he was bestowed upon the Best Player award.
Bhutia was the top goal scorer, playing for the JCT FC in 1996-97 season.
Bhaichung was bestowed upon the Indian Player of the Year award in 1996. Further, he came back to East Bengal in 1997 and led his team in the year 1998-99.
Bhutia was honoured with the Arjuna Award in 1999.
Bhaichung scored his first hat-trick against Mohun Bagan, playing for East Bengal FC in 1997.
Bhutia became "Player of the National Football League", honoured by All India Football Federation (AIFF), playing for East Bengal in 2005-06 season.
Bestowed with Padam Shri Award in 2008
The 2009 Nehru Cup was great for Bhutia, as he earned his 100th cap for India in a 2–1 win against Kyrgyzstan. He became India's first player to reach this milestone.
In 2014, Bhutia was awarded by Banga Bhushan Award.
Bhaichung is unarguably one of the most successful Indian footballers of recent times. He was born on December 15, 1976, and was raised in a remote village of Sikkim's geographic area. His story is one in all sheer gift and determination against all the odds. Bhaichung Bhutia, also recognized as "Sikkimese Sniper", is a former Indian national footballer and is regarded as the symbol of the rise of the Indian football game and performed as a striker his entire career.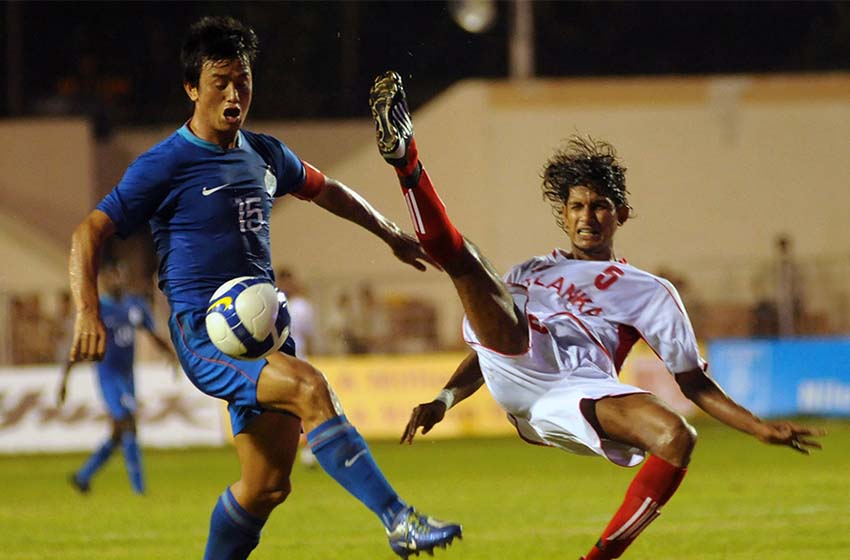 Photo Credits: Public.Resource.Org / Flickr / CC BY 2.0
Early Life
Bhutia began his education in St. Xaviers School, Pakyong, East Sikkim and gained an SAI Scholarship ultimately at an awfully young age and attended the well-known Tashi Namgyal Academy in Gangtok. He went on to play for numerous school and native clubs in Sikkim. Spectacular performance at the Subroto Cup in 1992 added him to the note of the football institution. Former Indian goalkeeper Bhaskar Ganguly noticed his talent and helped him to make a move in Calcutta Football. In the year 1993, at the age of sixteen, he left college to be the part of professional East Bengal Club in Calcutta. He was transferred to JCT Mills, Phagwara in 1995 that went on to win the Indian National Football league that year. Bhutia was the highest scorer in the league and was chosen to play in the Nehru Cup. He was honoured with the "1996 Indian Player of the Year" & has clinched various alternative awards since then.
Career & Achievements
Bhutia transferred to JCT Mills in 1993 which won the India National Football League in the 1996–97 Season. Since he was the top goal scorer in the league, he was selected to make his international debut in the Nehru Cup.
Bhutia scored well at the Nehru Cup in 1995 against Uzbekistan becoming India's youngest goalkeeper, at the age of 19. In 1997, he returned to East Bengal. Bhutia has the distinction of securing the first hat-trick in the local derby between East Bengal and Mohun Bagan when he won East Bengal 4–1 in the 1997 Federation Cup semi-finals. He became the captain of the team in the 1998-99 Season, during which East Bengal finished second in the league after Salgaocar. Besides, he became the 19th footballer to receive the Arjuna Award in 1999, with which the Government of India bestows athletes to recognize their outstanding achievements in national sports.
Bhutia has got limited opportunities to play abroad. He travelled abroad to play for Bury in Greater Manchester, England on 30th September 1999, where he became only the second Indian football player to play professionally in Europe after Mohammad Salim. After signing a three-year contract, he became the first Indian footballer to sign for a European club. Bhaichung scored his first goal in a game against Chesterfield at the English League on 15th April 2000. A recurring knee injury limited him to just three games in his final season in Bury, and he was released after keeping the club in administration. His last appearance was a 3–0 loss to Swindon Town on 27 August 2001. After that, he returned to India and played for Mohun Bagan for a year in 2002. However, it was mostly unsuccessful as Bhutia got injured early in the season and failed to play again that season. Later, he returned to the East Bengal club, helping them win the ASEAN Club Championship. Amid the 2004–05 season, he scored nine goals for East Bengal, which concluded third after Champions Dempo and SC Goa. Bhutia continued to play for East Bengal until the end of the 2005–06 Season. In his final season, he was awarded the Player of the National Football League by the All India Football Federation, where he scored 12 goals. Bhutia scored ten goals in 18 matches during the 2007–08 Season and Mohun Bagan finished in fourth place in the league. Bhutia won the Indian player award for the second time in 2008. After winning the award, he became only the second footballer to win it more than once; the other one was I.M. Vijayan.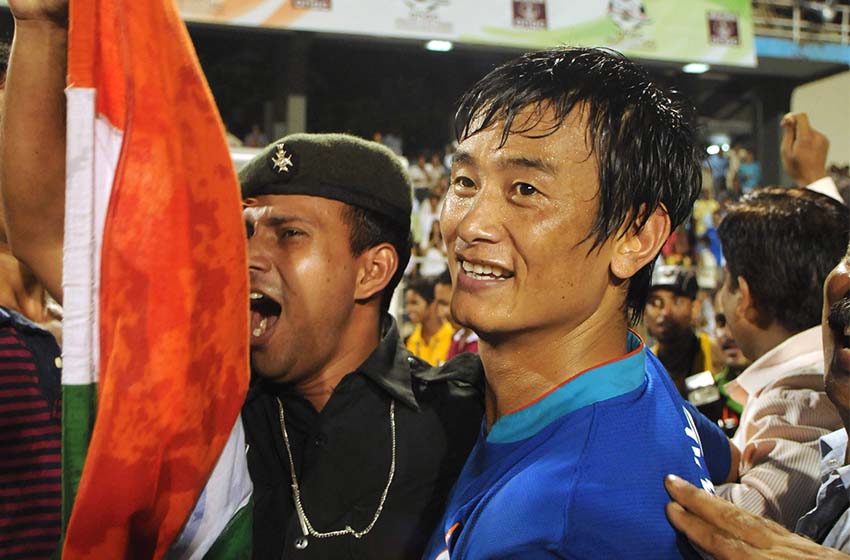 Photo Credits: Public.Resource.Org / Flickr / CC BY 2.0
He won twice in a 2–1 win against Turkmenistan in the 2008 AFC Challenge Cup. The Sikkimese sniper scored a goal against Tajikistan in the final, during which India won 4–1 due to a hat-trick from Sunil Chhetri; the win allowed them to qualify for the 2011 AFC Asian Cup automatically. The 2009 Nehru Cup was notable for Bhutia, as he earned his 100th cap for the nation in a 2–1 win over Kyrgyzstan, becoming the first Indian player to reach this milestone. Bhutia was injured for his first two matches against Australia and Bahrain at the 2011 AFC Asian Cup in Qatar. Still, he came on as a second-half substitute against South Korea but failed to save India as they were eliminated.
After the Asian Cup, Bhutia announced his retirement for India on 24 August 2011 with a record of 40 goals in 104 appearances but continued to play club football until 2015. He joined the All India Trinamool Congress and was unsuccessful in the 2014 Lok Sabha elections from Darjeeling constituency. Afterwards, he served as the manager of the Sikkim state football team from 2018. Also in 2018, after breaking up with TMC, they set up a new party "Hamro Sikkim Party" on 31 May. Bhutia is recognized for his powerful shots and his precise accuracy at the time of the goal and his hunger for goals and passion for the game made him the father figure of Indian football.
If we really want to become a good football nation, we need to work at grass-root level, We need to open more academies with top facilities.
Some Interesting Facts about Bhaichung Bhutia
Bhutia participated and won the 3rd season of a dance reality show called Jhalak Dikhhla Jaa.
Bhaichung started a foundation in 2009 called "Indian Sports Foundation", this foundation's main motto is to help footballers overcome serious injuries.
In 2014, Bhutia was bestowed upon Asian Football Hall of Fame.
Bhutia refused the Olympic torch relay to support the Tibetan independence movement.
The Sikkim government has built a stadium in his honour, named the Bhaichung Stadium in Namchi.
In October 2010, he started Bhaichung Bhutia Football Schools in Delhi in partnership with Carlos Queiroz and Nike.
Video Credits: Hamro Sikkim Party / YouTube