| | |
| --- | --- |
| Full Name | Yuvraj Singh |
| Profession | All-Rounder |
| Career Span | 2000 - 2019 |
| Date of Birth | 12 Dec, 1981 |
Cricket Debut
ODI debut: Against Kenya in 2000
Test debut: Against New Zealand in 2003
T20I debut: Against Scotland in 2007
Cricket Records
Hit 6 sixes in an over of Stuart Broad in the 2007 ICC World T20 match.
Holds the record for the fastest T20 half-century in 12 balls against England during the 2007 ICC World Twenty20
Picked up 5 wickets and hit a half-century in a single world cup match
Second Indian after Sachin Tendulkar who was signed-up by the English county cricket club Yorkshire
1st all-rounder to score 362 runs and to take 15 wickets in 2011 Cricket World Cup
Awards
Won 4 Man of the Match awards in the 2011 Cricket World Cup
Man of the Tournament in the 2011 ODI World cup
Bestowed with the Arjuna Award by the President of India in 2012
Honoured with the Padma Shri Award in 2014
In February 2014, he was awarded the FICCI Most Inspiring Sportsperson of the Year Award.
Early Life
Born in the Punjabi family of former cricketer Yograj Singh, Yuvraj had an interest in Tennis and Roller Skating, which were his favourite sports in childhood. He claimed the U-14 National Roller Skating Championship title at the age of 10. His father Yograj Singh threw away all his medals in skating, told him to focus on cricket and started taking him to training every day. Yuvraj started his career in cricket at the age of 13 in the Punjab U-16 squad against Jammu and Kashmir U-16s in the 1995–96 season. In the 1996–97 season, he was promoted to Punjab U-19, where he scored an unbeaten 137 against Himachal Pradesh U-19s.
Yuvraj made his first-class debut against Orissa during the 1997–98 Ranji Trophy but was dismissed for a duck while opening the innings. His first tremendous performance came in the final of the U-19 Cooch Behar Trophy against Bihar in Jamshedpur in 1999; Bihar team was all out with a score of 357 and Yuvraj batted at number 3 for Punjab and scored 358 runs alone. He represented India in the series against Sri Lanka U-19 in 1999, where he scored 89 runs in 55 balls in the third ODI. Also, he scored 149 runs against Haryana in the Ranji Trophy's 1999-2000 season.
A glimpse of 2000 U-19 Cricket World Cup
In the 2000 U-19 Cricket World Cup, which India won under Mohammad Kaif's captaincy, Yuvraj's all-round performances in the tournament included a group stage match against New Zealand, where he scored 68 runs and took 4 wickets and a quick knock of 58 off 25 balls in the semi-final against Australia, earned him the Player of the Tournament award and a chance to play in the national cricket team. He was later selected for the first intake of cricketers at the National Cricket Academy in Bangalore in 2000. His spectacular performance earned him his international cap in the year 2000.
ODI Career
At the beginning of a new era in Indian cricket, under the captaincy of another great left-handed batsman Sourav Ganguly, youngsters like Yuvraj Singh and Mohammad Kaif had the opportunity to wear the Indian jersey and represent the national team. Yuvraj Singh made his ODI debut in the ICC Knockout Trophy against Kenya on 3 October 2000. The first-timers initially did not make any notable appearances. But the 19-year-old Yuvraj showed his intention to perform under pressure by scoring 84 runs in 80 balls in the quarter-final against Australia in front of the pacers including Brett Lee, Jason Gillespie and Glenn McGrath. Following mixed performances in the 2000–01 season, both domestic and international, Yuvraj returned to the NatWest Series with a strong form. The series consisted of 3 teams - India, England and Sri Lanka. Yuvraj won the Man of the match in the first match at Lord's for the all-round performance of 64* runs and 3/39. In the next match against Sri Lanka, Yuvraj scored 31 runs and shared a vital partnership with Mohammad Kaif. The left-handed all-rounder continued to perform amazingly including the final.
Yuvraj was batting at 146/5 chasing 325 runs when Kaif joined him. Yuvraj and Kaif shared a stable partnership and won the match with 3 balls to spare, which is considered to be one of the greatest ODI wins of the Indian team. Yuvraj scored 69 runs in 63 balls and became one of the best middle-order batsmen for India by 2011.
I have failed more times than I have succeeded but never gave up and will never give up till my last breath and that's what cricket taught me.
After his inspirational comeback from defeating cancer, he failed to secure his place in the Indian team. After being out of the ODI format for 4 years between 2013 and 2017, he made a blockbuster comeback. He scored 150 runs against England in the second game after his return. Although, he played his last ODI months later against the West Indies in June 2017, scoring 37 runs.
ICC Cricket World Cup Appearances
Yuvraj Singh has played a total of 3 World Cups for India - 2003, 2007 and 2011. During 2003 World Cup, Yuvraj helped India reach the finals by performing in India's matches against England (42), Pakistan (50*) and Kenya (58*). Also, he took five wickets in 5 matches.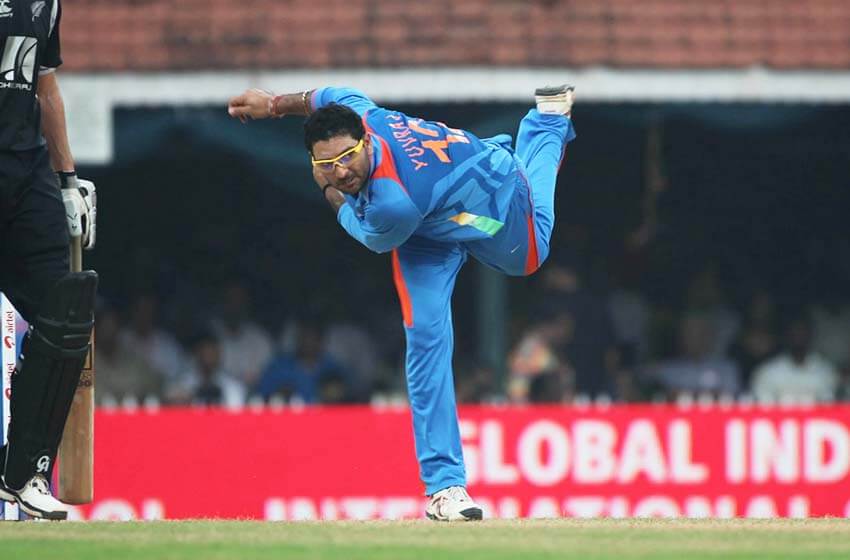 Photo Credits: lensbug.chandru / Wikimedia Commons / CC BY 2.0
Yuvraj hit his peak form in 2007. However, when he was able to help India win the T20 World Cup, he must have been disappointed that he has not been able to do so in the 2007 Cricket World Cup as well. Yuvraj scored 136 runs at an average of 45.3 in 3 matches. He scored 47 against Bangladesh in the first group game and scored 83 against Bermuda. Although, he could not help much in the third game as India lost to Sri Lanka and were knocked out by the Caribbean team.
Performance in 2007 T20I World Cup
Yuvraj Singh was at his career peak during the 2007 T20 World Cup. He was appointed as MS Dhoni's deputy for the tournament. He played brilliant innings of 58 runs off 16 balls and 70 from 30 balls against England and Australia and played a key role in India's victory. The odd moment ensued when he collided with England's Stuart Broad for 6 sixes in different directions in his over during the world cup.
Performance in 2011 ODI World Cup
The victory over Sri Lanka in the final at the Wankhede Stadium was the biggest highlight of Yuvraj's career. He was in his complete form at the 2011 ICC World Cup. Yuvi won the Man of the Match award four times during the world cup. Yuvraj was named the Player of the Tournament following his all-round performance, scoring 362 runs and taking 15 wickets in 9 matches. Whenever the team needed to chip in a few runs or break some important partnerships, he followed suit. Besides this, Yuvraj Singh was diagnosed with final-stage cancer after the World Cup. He played the World Cup, risking his life.
Test Career
Yuvraj made his Test debut in the 2003 New Zealand tour of India. In his first match at Mohali, he scored 20 and 5*. After a gap of 5 months, he was selected for the tour of Pakistan. He impressed with scores of 59, 112 and 47 as India went on to win the series against their arch-rivals. Technically, all of his Test centuries have come against Pakistan. His third century, which came in 2007 in Bengaluru, is also his highest score in Test matches, where he scored 169 runs in 203 balls as India drew the match and won the series.
T20 and Franchise Career
Yuvraj made his T20I debut for India at the T20 World Cup in South Africa in 2007. Although he was not as impressive in his first two matches as he scored 1 and 5, he made a blistering performance against England scoring 58 runs in 16 balls. It was his one of the best T20 seasons.
IPL Career
He made his IPL debut with Kings XI Punjab. He was the captain of the team for the first two seasons. In the 2010 IPL season, KXIP was at the second position in the league stage of the tournament but lost their semi-finals to Chennai Super Kings. In 2011, Yuvraj was bought by Pune Warriors and appointed as their captain. He scored 343 runs at an average of 34.30, including two half-centuries. Yuvi appeared in the headlines during the IPL 2014 auction when he was bought by RCB. It was his best season of the IPL as he scored 376 runs in 14 matches with an average of 34.18 and a strike rate of 135.25. The following season, Delhi Daredevils bought him. After a season with 248 runs at an average of 19.07 and a strike rate of 118.09, Yuvi was bought by Sunrisers Hyderabad the following season.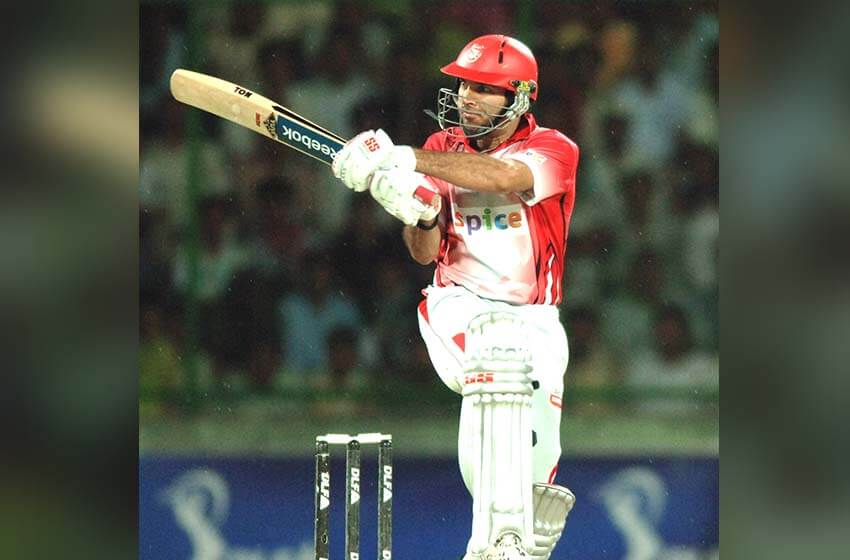 Photo Credits: Public.Resource.Org / Flickr / CC BY 2.0
He had a successful IPL campaign with Sunrisers Hyderabad. Yuvi scored 38 off 23 balls in the final and won the IPL title. IPL season of 2018 was the worst for him as he scored just 64 runs for KXIP with an average of 12.80. Before the 2019 season, Mumbai Indians bought him. However, Yuvraj did not contribute much to his title-winning season, which led to his release by the franchise.
Retirement from Cricket
Yuvraj announced his retirement from international cricket on 10 June 2019. He held a press conference in Mumbai where he announced his retirement from all formats of the game.
This game taught me how to fight, how to fall, how to dust myself off to get up again and move forward.
YouWeCan Foundation
Yuvraj's own charity YouWeCan has treated hundreds of cancer patients. Yuvraj announced an investment of INR 40-50 crores in online startups, expanding the organization by setting up YouWeCan Ventures to do so in April 2015. The same year, YouWeCan collaborated with Heyyo Media founder Jayakrishnan to launch nationwide cancer awareness. The campaign made many students across the country aware of cancer. He also participated in the "Celebrity Clásico 2016", which was played with the aim of generating funds for charitable initiatives.
His Autobiography
"The Test of My Life: From Cricket to Cancer and Back" is the autobiography of Yuvraj Singh which was released on 19 March 2013.