Pooja Khanna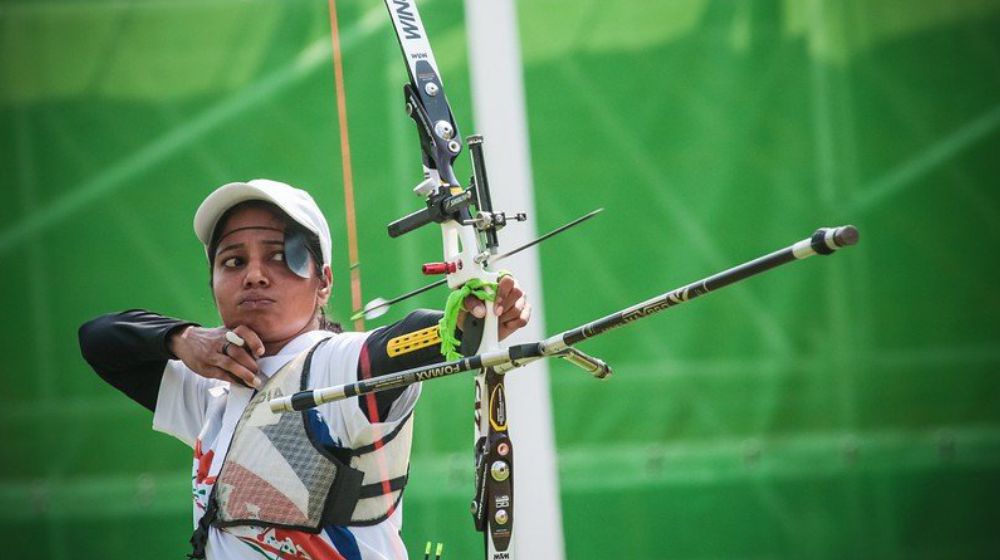 Photo credit - Thelogicalindian.com
When faith and hard work melds together, it always brings success. Pooja Khanna, the 1st Indian Paralympic archer, is the true living example of this. She was born on 19 November 1990 in Haryana. At a young age, she was diagnosed with Poliomyelitis in her right leg. Having difficulties with a handicapped leg, she was socially neglected too. She belongs from Dalit family and thus has to face social discrimination and untouchability. The society never accepted her with open arms, but this didn't stop her from fulfilling her dreams. She is an excellent para-athlete who has upraised India's name. Pooja's grit and strong will power has broken all the stereotypes and she is now one of the famous Para-athletes of India.
Achievements -
Ranked 29th in Rio Paralympics, Brazil, 2016
Won gold in Para National Archery Championship, Rohtak, 2016
D.P. Singh - Blade runner of India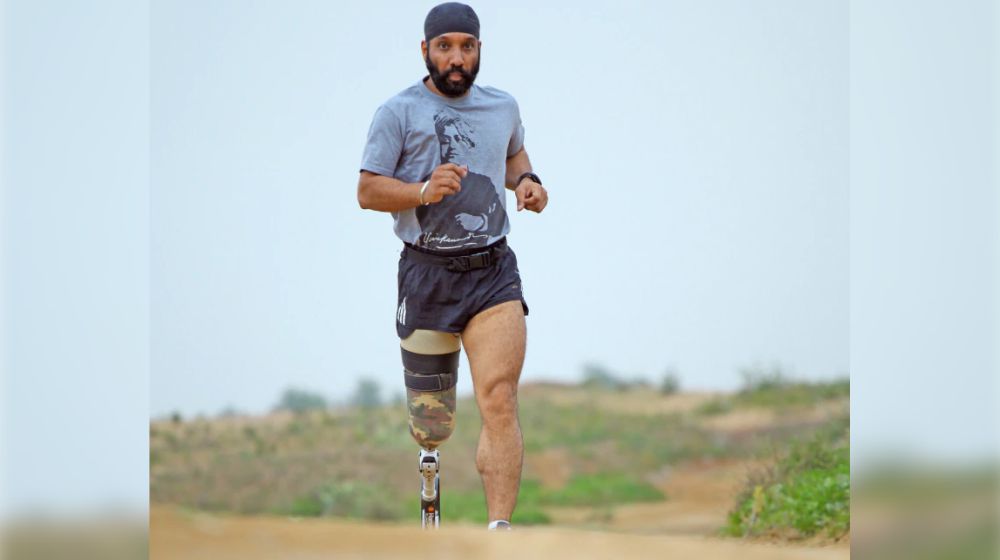 Photo credit - Readersdigest.in
Born on 13 September 1973 in Jalandhar, the brave-hearted Major Devender Pal has bravely fought the Kargil War. During the battlefield, he was critically injured, later he has to lose his right leg due to gangrene development. After serving the Indian Army for 10 long years, he took his retirement. But this wasn't the end of serving his mother nation; with lots of practice and hard work, Singh started using a prosthetic leg. He successfully started running after 14 years of dedication and hard work. In fact, he is India's first amputee marathon runner and multiple record holder in the Limca book. This great para-athlete has inspired lots of people worldwide and has made the country very proud.
Achievements -
Awarded with Limca "People of the Year" award in 2016
Limca record of being first blade runner of India
Limca record of being first blade runner to run in high altitude (2014)
Limca record for being the first Amputee of India to run in half marathons (21 km) in 2009
Deepa Malik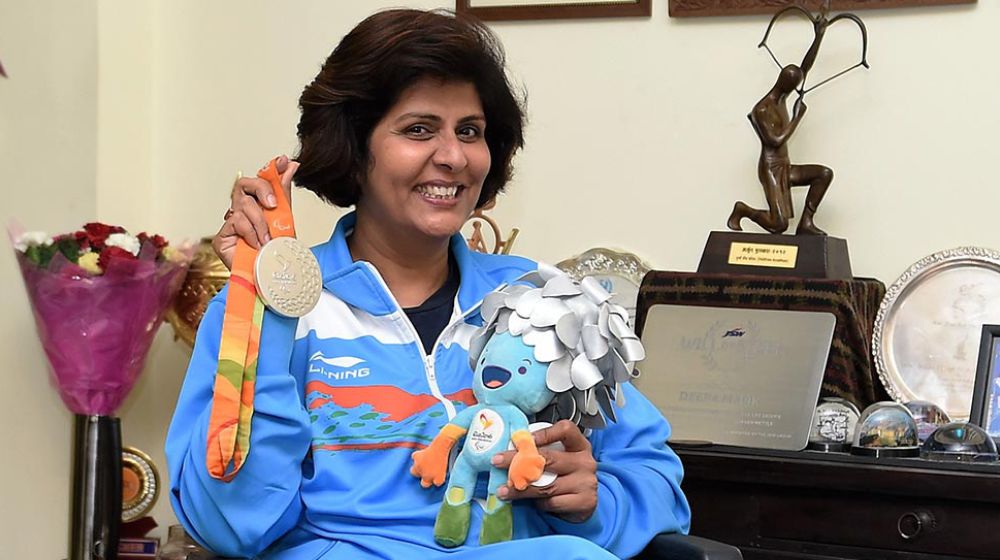 Photo credit - Theweek.in
Born on 30 September 1970 in a family serving in Indian Army, Deepa Malik has been brought up with values to serve the nation with all heart. Due to a spinal tumour, she suffered from paralysis below the chest region. But this didn't stop her from being a great athlete. She is the face of legendary success in Para sports. She has participated in various events and won medals and records. She is one of the most famous and successful para-athletes in the country. She is working hard to bring changes in the life of physically disabled people. Spreading the message of Ability beyond Disability, she is being awarded with 5 prestigious President Awards & honours -
Padma Shri in 2017
Arjuna Awards in 2012
President's National Role Model Award in 2014
Women Transforming India Award (NITI Aayog, UN India & MyGov) in 2016
President's First Ladies Award in 2017
Achievements -
Devendra Jhajharia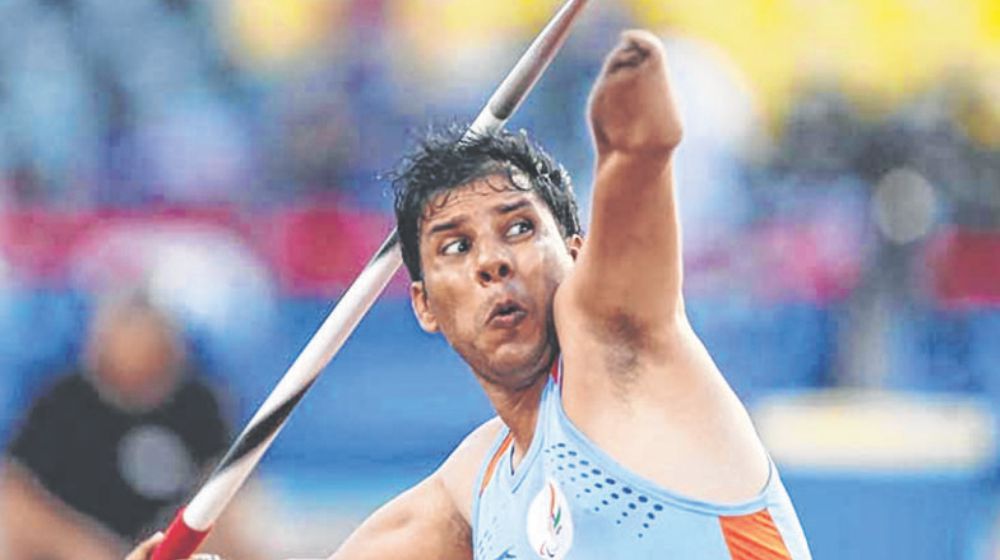 Photo credit - Freepressjournal.in
Jhajharia is one of the biggest names in Indian para-sports. Born on 10 June 1981 in a lower economic family of Churu, Rajasthan, he has made every Indian proud with his great accomplishments. One of the finest Para-athletes, he is also the first Indian who won 2 gold medals at the Paralympics. He is one of the country's finest and greatest Paralympic Javelin Throwers, being a physically disabled person who lost his left hand at a very young age. With an inspiring story, and turning all the cants into the cans, he has been awarded various honours -
Rajiv Gandhi Khel Ratna in 2017
First Paralympian to be awarded Padma Shri in 2012
Arjuna Award in 2004
Achievements -
Won Gold medal in the Javelin throw (F46) at the Paralympic Games, Rio in 2016
Won Silver in Javelin throw (F46) at IPC World Championships, Doha in 2015
Won Gold in Javelin throw (F46) at IPC World Championships, Lyon in 2013
Won Gold Medal in Javelin throw (F44/46) at the Paralympic Games, Athens in 2004
Won Silver in Javelin Throw (F46) at the Asian Para Games in 2014
Manasi Joshi
Photo credit - Facebook.com/joshimanasig
With fierce moves and sharp tactics, Manasi Joshi is a great Para-Badminton player who holds no. 2 rank in SL3 Singles. She was born on 11 June 1989, in Mumbai and is an engineer by profession and a great shuttler. Manasi met with a road accident at the age of 21 due to which she lost her left leg. Being a headstrong person, she didn't give up on her dreams and after recovery, went on practising in Gopichand Academy alongside famous badminton players, Saina Nehwal and P.V. Sindhu. With numerous records and medals, Joshi is one of India's finest para-athletes.
Achievements -
Won gold in BWF Para-Badminton World Championships, Switzerland in 2019
Won silver in BWF Para-Badminton World Championships, England in 2015
Won bronze in BWF Para-Badminton World Championships, South Korea in 2017
Won bronze in women's singles at Para-badminton International, Thailand in 2018
Won Para-Badminton Asian Championships women's singles and doubles in 2016
Pramod Bhagat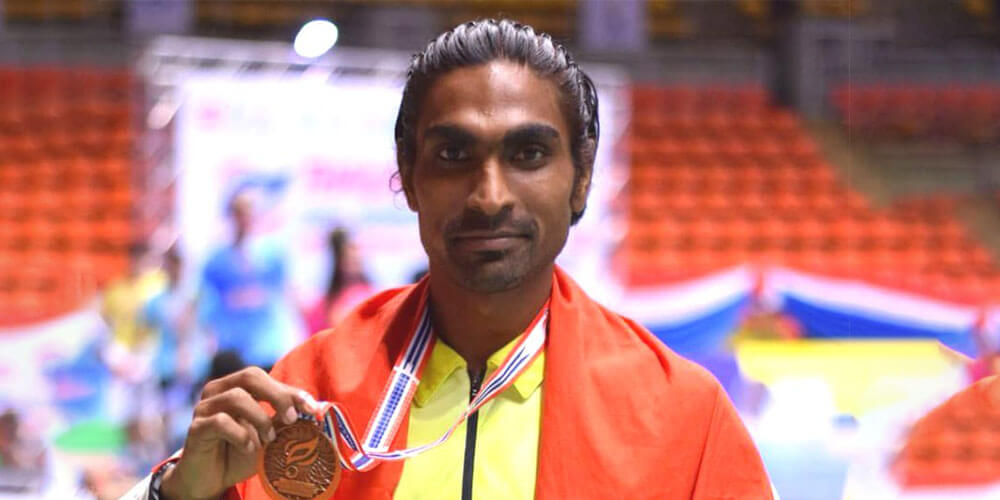 Pramod Bhagat is a well-known face of Para-shuttlers in India. He has already titled numerous victories and medals. Born on 4 June 1988, Pramod was diagnosed with Polio at the age of 5 years, which has marked its effect on his left leg (Orthopedic Polio). But with all these difficulties and barriers in his road, Pramod didn't give up. This headstrong man has changed the face of Indian Para-Badminton and has earned the title of World No.1 Para-Badminton Championship in SL3 category.
Pramod is one of the great and well-known para-athletes of India and has also been honoured with Arjuna Award in 2019.
Achievements -
Won Bronze medal at BWF World Para Championship, Korea in 2017
Bronze medal in singles and doubles events at BWF Asian Para Championship, Beijing in 2016
Won a gold medal in doubles and silver medal in singles at the BWF Para-Badminton World Championship, England in 2015
Divyanshu Ganatra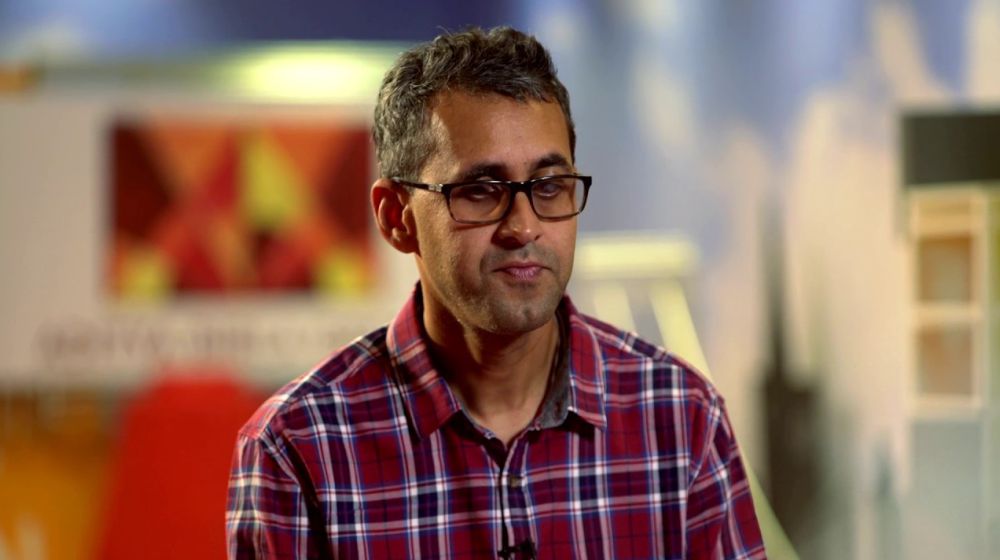 Photo credit - Medium.com
Being blind might has dark sight but a very bright vision, with lots of achievements. Divyanshu Ganatra is a blind psychologist, advocate and India's first blind solo paraglider. He is an outstanding para-athlete of India. When he was only 19 years old, he lost his vision due to glaucoma. Since he took the responsibility of his life in his own hands, he has revelled in cycling, mountain climbing and trekking. Battling his odds in 2014, he became the first Indian blind solo paraglider and set a Limca book record. He owns a non-profit organization, Adventures Beyond Barriers Foundation. Today, Divyanshu is motivating thousands of disabled and handicapped people to live a life of their dreams.