On Sunday at French Open in Paris, the world's #1 Novak Djokovic proved why he is considered one of the game's legends, returning after conceding the first two sets to bag the French Open 2021 title. With this victory, Djokovic won his 19th Major and second title at the Roland Garros.
French Open champion Barbora Krejcikova completed a rare sweep of titles at Roland Garros by winning her maiden women's singles and third major women's doubles title on Sunday.
The first man in Open era to win all Grand Slam twice
After 4 hours and 11 minutes of play, Novak Djokovic fired a powerful volley and unleashed some exciting new moments in tennis history. His second crown at the French Open, his 19th Grand Slam title, made him the first man in the Open Era to win each Grand Slam title twice - the French Open, Australian Open, US Open and the Wimbledon.
While the Serb's glorious smile told the winning side of this story, on the other side of the Philippe Chatrier court, Stefanos Tsitsipas, who played his first Grand Slam final, sat with his head buried in a towel.
Djokovic's inspiring comeback win 6-7 (6), 2-6, 6-3, 6-2, 6-4 helped him close the gap with Roger Federer and Rafael Nadal (20 majors) at the top of the list for most Grand Slam men's singles titles.
Immediately after defeating the 22-year-old, Djokovic addressed his fans with a special message, especially from his home country of Serbia.
"I would like to send my big regards to all the people in Serbia who have supported me and to everyone who has come out to watch us. It has been an unforgettable moment for me in my life and my career. I will definitely remember these last 48 hours in my life," - said the 19-time Grand Slam champion in an on-court interview.
Double delight for Barbora Krejcikova
Less than 24 hours after Krejcikova won her first slam singles title, she became the first woman since Mary Pierce in 2000 to lift both trophies (singles and doubles) at the clay-court major.
Along with fellow Czech teammate Kateřina Siniakova, Krejcikova registered her third victory in the women's doubles final.
Only seven women have completed the titles sweep at French Open.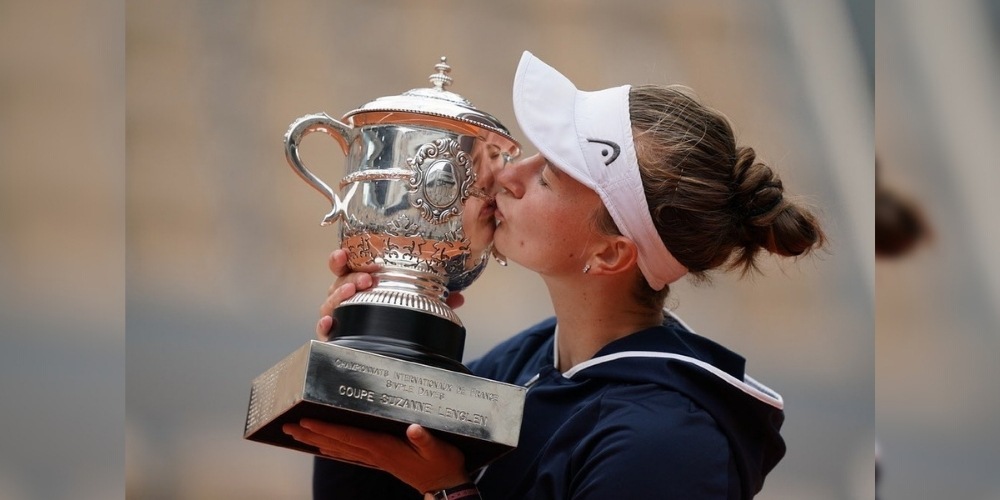 Photo Credit: Instagram / Barbora Krejčíková
"Right now, after all this has happened, these last two weeks, the last two days, I feel really relieved and relaxed. I just know that from now on, I can really have fun because I have almost achieved everything I really wanted. Now I can just improve; this is the only thing I can do, just improve," said Krejcikova.
Apart from her sweep titles, Krejcikova will return to the No. 1 spot in the doubles ranking by next week.
"We'll drink some champagne. I already said that I don't actually drink, but I think it's time to really celebrate. So I think we are going to really enjoy," Kreichikova added.
Krejcikova, who thrashed Anastasia Pavlyuchenkova in the women's singles on Saturday, also became the first player to win both titles in any Grand Slam since Serena Williams at Wimbledon in 2016.
Barbora Krejcikova and Kateřina Siniakova are 25 years old, but they have extensive experience playing together, starting their partnership with juniors back in 2013. This was clearly demonstrated by the victory 6-4, 6-2 over Bethanie Mattek-Sands and Iga Swiatek in the women's doubles final on Sunday.
Siniakova and Krejcikova have already won in Paris in 2018 and bagged the Wimbledon trophy the same year.
"I'm just very happy that we have another title, and I look forward to continuing our cooperation at Wimbledon and also at the Olympic Games. I hope that a bright future awaits us." - said Krejcikova.