| | |
| --- | --- |
| Full Name | Dalip Singh Rana |
| Profession | Professional Wrestler |
| Date of Birth | 27 Aug, 1972 |
Here we are talking about the prominent Indian professional wrestler, actor, and sports promoter- The Great Khali. The name that has ruled almost a decade of professional wrestling from 2000. One of the tallest professional wrestler who set numerous benchmarks for the upcoming wrestlers. With a huge fan following from all around the world, Khali is counted amongst the top-notch professional wrestlers of the world with the title of the World Heavyweight Champion that he rightly deserves.
Early Life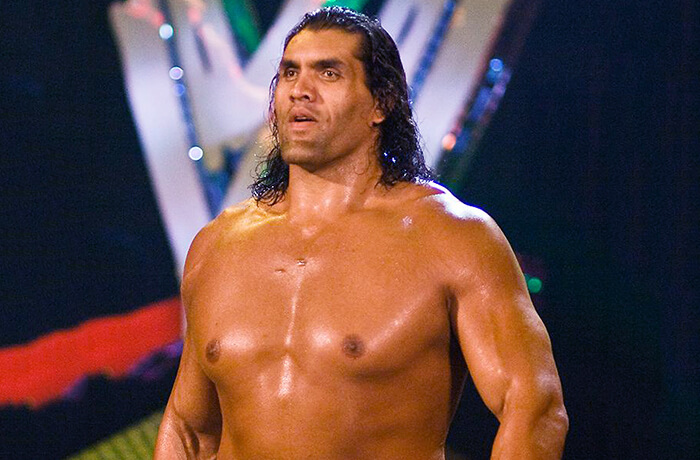 Photo Credits: bn.wikipedia.org
Born on 27th August 1972 to Jwala Ram and Tandi Devi, Khali, initially known as Dalip Singh Rana raised in the beautiful state of India, Himachal Pradesh; along with his six siblings. To provide financial support to his family, Khali has to enrol himself in many odd jobs at an early age. It was when Khali was serving as a security guard in Shimla, a police officer from Punjab noticed him. He got Khali inducted in Punjab Police, and since he was reluctant to leave Himachal Pradesh, his brother was also offered a job in Punjab Police, and both of them landed in Punjab. After settling there, Khali began training in the gym to become a wrestler. His hard work paid him well, and he got selected for specialised training campaign in the United States. We all see him as a 7' 1" tall giant wrestler but this is only half of the fact. Khali has suffered from acromegaly that caused chin protrusion and gigantism.
Professional Wrestling Career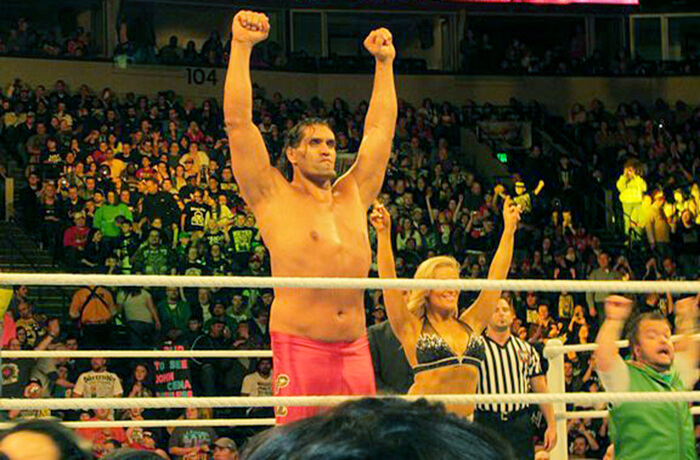 Photo Credits: commons.wikimedia.org
With his immense hard work and firm will to become a renowned wrestler; Khali began his wrestling career with All Pro Wrestling (APW), making his first appearance in October 2000 along with Tony Jones with a name "Giant Singh". In 2001, Khali came to San Francisco where he signed a contract with World Championship Wrestling (WCW) until the federation was bought by its rivals World Wrestling Federation (WWF). Later in the year, he received an offer from the New Japan Pro-Wrestling (NJPW) by Team 2000 leader Masahiro Chono and Giant Silva with whom he formed the tallest tag team of the wrestling world. With his sturdy performances on the ring, Khali gathered fame that helped him gain the attention of major wrestling entities.
The following year, he wrestled in the Mexican promotion Consejo Mundial de Lucha Libre (CMLL) as well as the Japanese promotion All Japan Pro Wrestling (AJPW) until 2006, the year when he became the first Indian professional wrestler to be signed with WWE. With Dara Shawn Daivari, Khali debuted his WWE career in April 2006 as a villain in an episode of SmackDown! where he attacked The Undertaker and left him defenceless. The following week, Khali was introduced by Daivari in the SmackDown season as "The Great Khali". The same month on 21st April, Khali delivered his first in-ring performance by defeating Japanese professional wrestler Funaki.
After tasting his first definite loss by his opponent The Undertaker; Khali trained hard to uplift his stature in which he subsequently succeeded. On 8th January 2007, it was announced that Khali has signed with RAW without Daivari. Khali wrestled with John Cena in the main event and won by disqualification after Cena took up a steel chair and hit Khali with it. Meanwhile, Khali appeared at ECW and RAW battles, astonishing the audience with some of his best and favourite techniques, especially the "chokebomb" and "kick to the head" and "Khali Vise Grip" (which is a two-handed clawhold).
In 2007, Khali bagged his first World Heavyweight Championship on 20th July edition of SmackDown! In a span between 2008-2014; Khali featured in many professional wrestling battles including the WrestleMania XXVII, Royal Rumble and WrestleMania XXX with which he became crowd favourite. With his contract ending on 13th November 2014, Khali left WWE with all fame and charm that he earned with his immense efforts to rule the world of professional wrestling.
Apart from Wrestling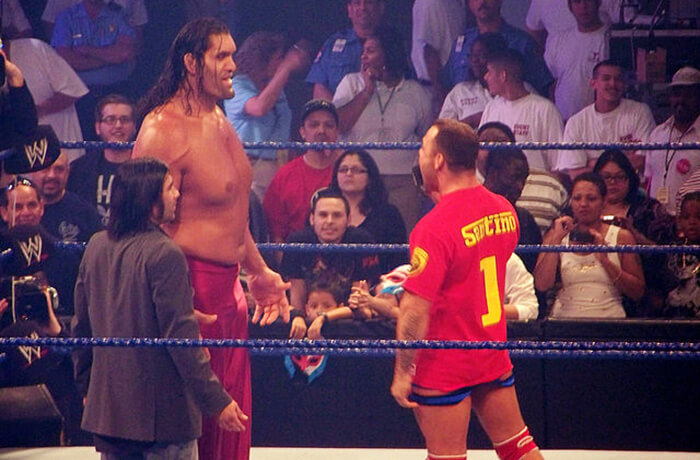 Photo Credits: commons.wikimedia.org
After quitting WWE, Khali returned to Punjab and opened his training school the Continental Wrestling Entertainment to polish young wrestling talents. Along with his successful wrestling career, Khali also gained the opportunity to feature in the silver screen series including films "The Longest Yard" (2005), "Get Smart" (2008), and "MacGruber" (2010), along with his guest appearances on the NBC series "Outsourced".
Some Quick Facts about Khali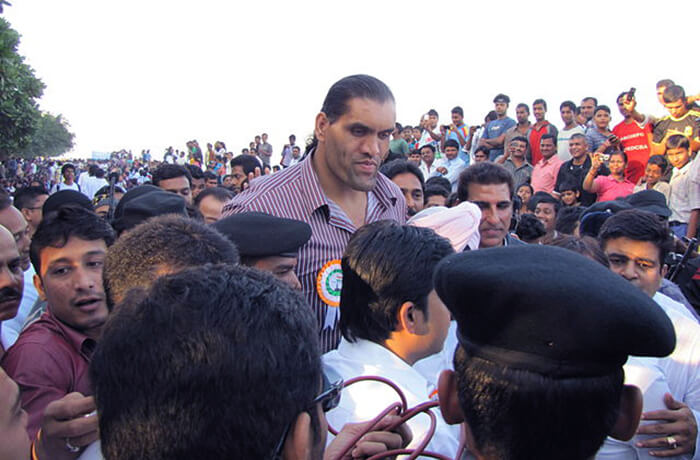 Photo Credits: commons.wikimedia.org
Khali is a devout Hindu. He meditates every day and avoids alcohol and tobacco. He is a disciple of Ashutosh Maharaj.
Khali's favourite actor is Salman Khan.
Eggs are a mandatory part of Khali's daily diet.
Khali featured in many films and television programmes in between 2005-2012 including the most buzzed off reality television game "Big Boss".
As a professional wrestler, he suggested his ring name "Khali" in the name of the Indian Goddess "Kali", believed to be associated with the eternal source of energy.
In July 2012, Khali went for brain surgery to treat his tumour on the pituitary gland.
In 2014, Khali adapted U.S. citizenship.