| | |
| --- | --- |
| Full Name | Ghulam Mohammad Baksh Butt |
| Profession | Wrestler |
| Date of Birth | 22 May, 1878 |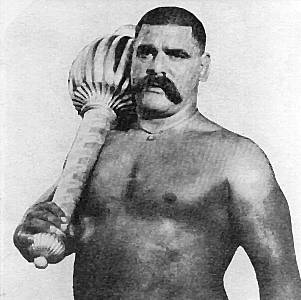 Born on 22nd May 1878 in a Kashmiri family in Jabbowal, Lahore, British Indian Empire, "The Great Gama" Ghulam Mohammad Baksh Butt was amongst the greatest wrestlers of the era before independence who had won numerous bouts, defeating legendary wrestlers from all around the world and remained undefeated in his 50 years career span. Even the most celebrated martial artist Bruce Lee was an avid fan of the Great Gama and used to practice his training routines. Even today, Gama's doughnut-shaped exercise disk known as "Hasli", with which he used to practice, is kept at the National Institute of Sports (NIS) Museum at Patiala.
Early Life and Training
Gama's first trainer was his father, who was also an avid wrestler of his time but after his demise, the Maharaja of Datia took him to train under his wing. Gama's knack began to amaze everyone in the village and by the time he was 10; he became well-known for his wrestling stints. At the age of 17, Gama challenged the middle-aged Indian wrestling champion Raheem Bakhsh Sultani Wala with whom he fought for hours and the match ended in a draw.
At the time when he was in London, Gama issued a challenge against the wrestling giants specifically Stanislaus Zbyszko and Frank Gotch that he would either defeat them or return to the home, paying off the prize money of the challenge. On the first day, he pinned down one of the prominent wrestlers Benjamin Roller and the second day, defeated 12 wrestlers assuring an entry at the official tournament. In September 1910, The Great Gama fought with Stanislaus Zbyszko in the finals of the John Bull World Championships in which the latter was pinned down and remained immovable for more than two hours and the match resulted in a draw.
One of the most recognised achievements of Gama Pehalwan is the 1200 kg stone that he lifted solely on 23rd December 1902 during his Baroda visit for a wrestling competition. To the utter surprise of most of us, the stone required 25 men to be lifted again that Gama lifted alone. The stone is kept in the Baroda Museum as his symbol of strength.
Overseas Victories
During his tour to London, Gama defeated many prominent wrestlers including "Doc" Benjamin Roller of the U.S., Maurice Deriaz of Switzerland, Johann Lemm of Switzerland, and Jesse Peterson from Sweden. Post his return to India from England, Gama again faced off Raheem Bakhsh Sultani Wala, the one which he regarded as his toughest competition and finally won the title of Rustam-e-Hind. In 1922, the Prince of Wales visited India and presented Gama with a silver mace, a highly ornamented honorary staff of metal. In 1928, Gama again had a bout with Zbyszko which he won within a minute and dominated the Indian version of the World Wrestling Championship with a title of "Tiger" given by the opponent.
An Undefeated Wrestler
Until the early 1950s, Gama remained open for all challenges but with a strange condition that whoever wanted to bout with him, first had to defeat his younger brother Imam who was 6'3" tall and had a sturdy grappling technique from which wrestlers could hardly escape. With this condition, Gama had no one to touch him. In 1952, Gama bid farewell to his wrestling career.
Contrary to his sturdy physique, Gama had a soft heart that beat for humanity disregarding all castes and creed. His faith in humanity and social equality was widely admitted by the world when he helped the Hindu community residing in Pakistan to move to India during the partition. He stood firm against the outraged mob and defended the community to reach the safe zone. He finally escorted them to the border, delivered food that could last a week and bid farewell to them.
During his last days, he relied on the government pension. Industrialist GD Birla also donated him Rs. 2000 and gave him a monthly pension of Rs. 300. On 23rd May 1960, just a day after his 82nd birthday, the Undefeated Pehalwan lost his bout for life after a long clash with heart-diseases. In 2015, Gama's name was inducted into the Professional Wrestling Hall of Fame class of 2015 for his undefeated wrestling efforts that are remembered as the true wrestling lessons by most of the wrestling aspirants today.
Awards & Achievements
Honoured with the Indian version of the World Heavyweight Championship on 15th October 1910
Had a fierce clash with World Champion Stanislaus Zbyszko at the John Bull World Championships. He won the £250 prize money along with the John Bull Belt on 17th September 1910 after Zbyszko's failure to show up. The wrestlers had a final clash in 1927 where Gama defeated Zbyszko in the Indian version of World Wrestling Championship and regarded as "Tiger" by the latter
Defeated many respected wrestlers of the world including "Doc" Benjamin Roller, Johann Lemm, Maurice Deriaz and eventually his toughest opponent Raheem Bakhsh Sultani Wala
Presented a silver mace by the Prince of Wales during his visit to India in 1922
Gama's name was inducted into the George Tragos / Lou Thesz Professional Wrestling Hall of Fame in the Class of 2007 and the Professional Wrestling Hall of Fame and Museum in the Class of 2015