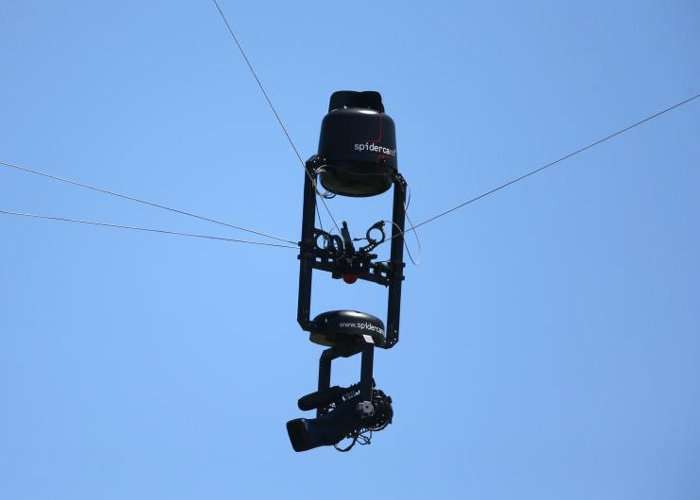 Updated On : 07 Apr, 2021
Trivia
Spidercam offers a bird's eye view of the action as well as prominent pictures of the things, unraveling in the middle from close.
The Spidercam is a fast growing technological system that permits television & film cameras to travel both horizontally and vertically over a preset area, known as "FLYING AREA". The Spidercam system is designed after Skycam, which was invented in the year 1984 in the USA. The Spidercam system was developed by Jens C. Peters, the founder of CCSystems Inc., an Austrian company. The system was successfully tested for the first time in the year 2003 when it was used in a large event hall in Carinthia, Austria. After that, the system was used for the first time for a television production in the year 2004 in Austria. Initially, it was operated in fields of live concerts, television programs & major sporting events.
Features
The remote head, where the camera is located, provides pan and angle movement & includes the lens remote which controls focus, zoom and irising effect.
Fiber optic cables are attached to the Kevlar cables to carry commands to the camera & the remote head, which helps in bringing the camera's high definition signal back to the control station.
The inputs of the Spidercam "pilot" are forwarded by software system to the winches via fiber optic cables.
The system permits the dolly to reach at any place by controlling the winding and unwinding of the cables.
The dolly also contains a gyro sensor which stabilizes the horizon.
It has four motorized winches at each corner, located at the base of covered area. These winches control a Kevlar cable which is connected to a gyro stabilized camera carrier, termed as "Dolly".
*
We crave more modifications and accuracy. Help us do that with your valuable
feedback
. No responsibility is taken for the authentication of the data.