One of the best qualities of a person is not giving up in the face of adversities. Life will throw curveballs & googlies, but it totally depends on how you react to it. Geeta Chouhan, an international level wheelchair basketball player and a budding national level wheelchair tennis player, is a woman who rose to heights from the grounds of challenges and depression. She was born in a middle-class family in Mumbai. All's well until she turned six years old. The dreaded polio disease took hold of her. She froze, unable to walk for life and since then, she has only heard that she can't and she shouldn't; because at first, she is a woman, and then she is on crutches, which make it more difficult for her. But she was firm that she would not let anyone take control of her life, and that's why even after being dismissed in 28 job interviews, she never gave up. She started playing sports in 2017 after a friend informed her of the formation of a wheelchair basketball squad in Mumbai. She has never looked back since then and currently represents India in international wheelchair basketball, stating that disability is nothing but just a state of mind. According to her, if you are capable and have made up your mind, nothing is impossible to achieve!
An Overlook on her Major Achievements:
Aided the Maharashtra Wheelchair Basketball Team to secure the 4th Position at the 2017 National Wheelchair Basketball Championship at Hyderabad
Won runners up title in doubles at the 2018 Open National Wheelchair tennis Championship, held in Chennai
Winner (Maharashtra Wheelchair Basketball Team) of the 2018 National Wheelchair Basketball Championship at Tamil Nadu and also the top scorer in the team with 12 points in the final match
Represented Indian Wheelchair Basketball Team at the 2018 Asian Para Games Qualifying trials in Bangkok, Thailand
Represented Indian Wheelchair Basketball Team at the 2019 Asia Oceania Championship in Pattaya, Thailand
Bagged a gold medal at the 2019 National Wheelchair Basketball Championship in Mohali for Maharashtra Wheelchair Basketball Team
Participated in Valsad Marathon and completed 10km in 40 minutes and 3 seconds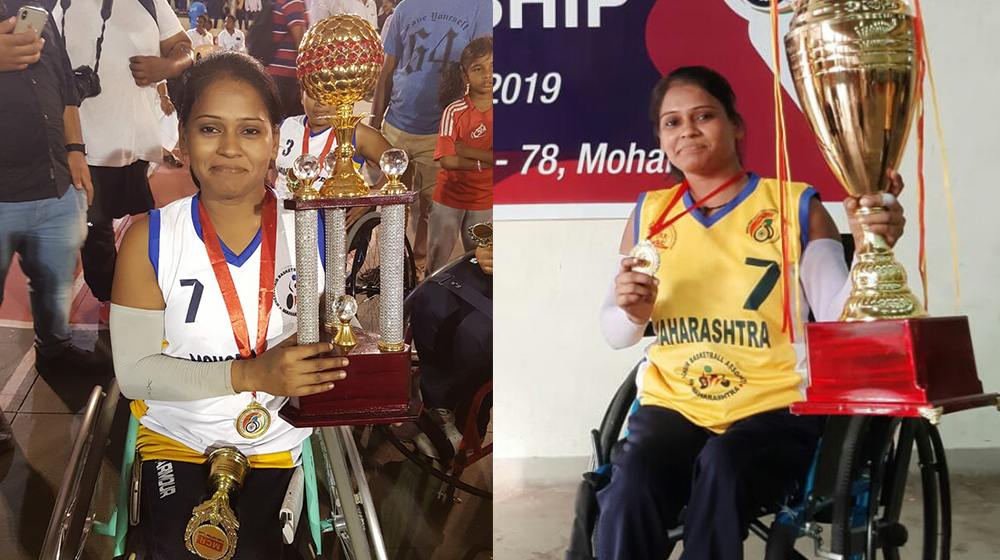 In an interview session with Sportsmatik Community, she shared the struggles and experiences of her life and despite being on a wheelchair, how she is breaking all the stereotypes. Here is her inspirational story -
How your sports journey started? Kindly tell us about your beginning in sports?
It all began in 2017 when my good friend Ravi (a wheelchair basketball and cricket player from Meerut) told me that Mumbai has a good scope for disabled / wheelchair players. At first, I found it a bit strange as to how disabled people can play sports, but then it came out as an interesting fact for me. I moved to Mumbai and was informed that a wheelchair basketball team is under formation and I was asked to join the team. I was a bit hesitant at the beginning thinking that is it really going to happen or we'll be mocked badly as all this was quite new for me but I mustered up and joined the team.
The beginning seemed tough as neither we had any ground nor the appropriate wheelchairs to practise. We were not so strong financially as well to go and practice daily. So a member of our group spoke to the Rehab Center of Disability located near Haji Ali to seek permission to use the small ground behind it, although it was in a poor condition. That Rehab Center helped us a lot and also provided us with wheelchairs. Although we had to work very hard to push those wheelchairs but slowly got used to it and after that, we started practising for 3-4 days in a week and this is how my sports career started.
What were the hardest challenges you have faced in your sports career and personal life as well?
Life has always been a competition for people like me because it's tough to accept yourself as disabled because of the perception of people towards us like we can't sit or play with able-bodied players or if someone plans a trip, we can't go there with them. But after joining sports, my life has improved a lot; the respect which I didn't get before, experiencing that phase now. People who didn't even like to talk to us before, they want to meet us now and want to spend time with us to learn more about our career and life. So overall, there comes a lot of difference after I switched to sports.
Tell us about your the first-ever tournament that you participated in.
I played my first tournament in 2017 only, the Nationals in Hyderabad, in which I used wheelchairs of Wheelchair Basketball Federation of India (WBFI), the governing body of the sport as I didn't have a wheelchair of my own. Although I got the wheelchair four days before the match, so I was not able to get so much control over them, immediately. While playing basketball, we have to focus our mind and body and pay attention to our hand movements as well as capture the ball, which is not so easy. I fell several times during the match, even fainted when fell for the first time. That was my first National Championship in which we did not win but had given a tough competition and stood at the 4th place. So, overall it was an amazing experience for me.
So how did you get the chance to play for the nationals?
Team Mumbai was going to play for the first time in the Nationals that year, so it was new for everyone. Our team consisted of eight people, out of which only 5 players could have the chance to actually play on the court. The opportunity was given only to those who were performing well so far, so I was also selected. I performed very well so got selected for the International camp which was going to be held in January 2018.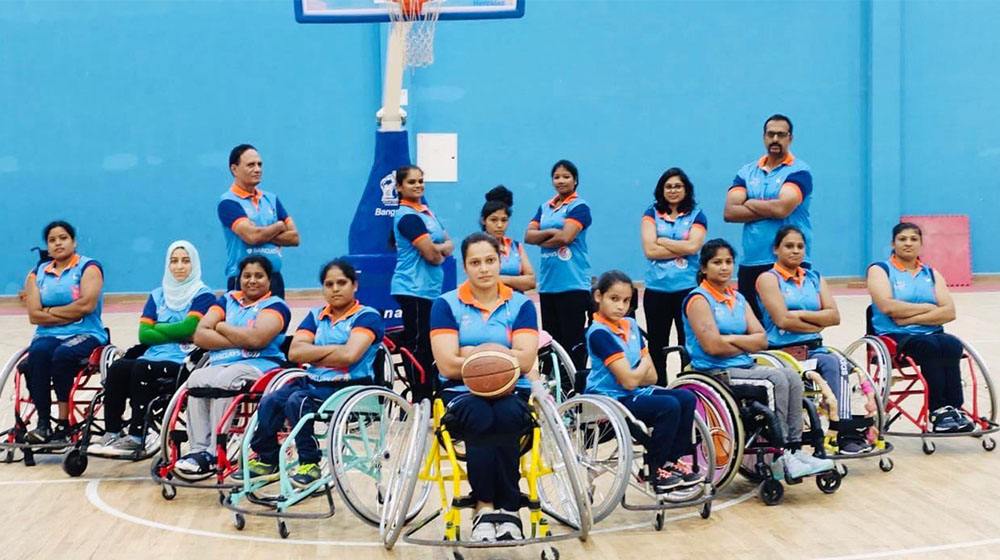 You were a member of the team that represented India in the Asian Para Games Qualifiers 2018. How was the experience to play at the international level?
As I told that I was selected for the International Camp in the 2017 National Camp itself. During that camp also, I performed very well so got selected for the Asian Games. This was a new challenge for me so I had a lot of pressure and was a bit scared to represent India internationally. Although I did not get much chance to play on the court, it was a tough competition overall because the wheelchairs that we use to play here are only basic ones but the wheelchairs at the international level are quite costly which we couldn't afford obviously. Due to this, we have to put in more efforts than our competitors like we have to give our 200% for good performance while our opponents can manage the same performance by giving just their 50% on the court.
We still don't have any official Government support as I haven't witnessed it practically yet. However, we receive support from different entities on different occasions like sometimes someone sponsors our wheelchair, sometimes air tickets and so on. But they can't support us all the time for everything as they have their own limitations too. So we have a huge requirement of sponsorship to grow and conquer the world of sports internationally.
Geeta's goal is to make her nation proud by outperforming other teams. Her story is an inspiration to anyone who wants to pursue their passion no matter what circumstances they face.
Not just basketball, but you are also a tennis player and a marathon runner. How hard it is to play different sports altogether and how do you motivate yourself for this?
I like playing basketball more because it is a team sport in which you can give tough competition to your opponents and can develop a team spirit as well. I play tennis because I want to increase my focus and strength to play effectively in which individual sports help a lot. While playing basketball, sometimes due to high speed, I lose my control as moving the wheelchair while holding the ball is way too difficult as it seems. Playing sports like tennis helps to overcome such issues. And if I talk about Marathon, I participate in that sport to increase my stamina and speed as well as to overcome my weaknesses during the game. During a 40-minute match of basketball, we need a lot of strength to move the wheelchair as well as pass and shot basketball along with performing various tricks. So all these sports help me in bettering myself for my performance in basketball.
You have won several Wheelchair Basketball competitions, so which competition is most memorable for you?
In September 2018, National Games were held in Coimbatore, where we reached the finals, to the surprise of everybody. From the beginning, nobody expected our Maharashtra Women's Team to win the gold medal. Everyone was afraid that we will lose but I wanted to win in any case. Yes, we had a lot of pressure but we didn't lose hope. Since the competition was held in Coimbatore so the crowd was obviously favouring and cheering for our opponents but still we focused on our game and ultimately won the gold medal. I scored highest in the match so this is something most memorable for me.
You have also participated in The Asia Oceania Championship to qualify for the 2020 Tokyo Paralympics in November 2019. Has your team qualified for the Olympics?
No, we didn't qualify for the Olympics. The thing is, we don't have such good facilities right now. I am the fastest player in my team, my speed is very good even on a basic wheelchair but the scenario of playing internationally is completely different. So we need good equipment, mainly advanced wheelchairs so that we can practise accordingly and improve our performance for the International Games. During national competitions, we had given good performances and the girls of Afghanistan and Iran got scared of our performance during that tournament. So I think we can improve our game to a great extent but for that, we need good equipment.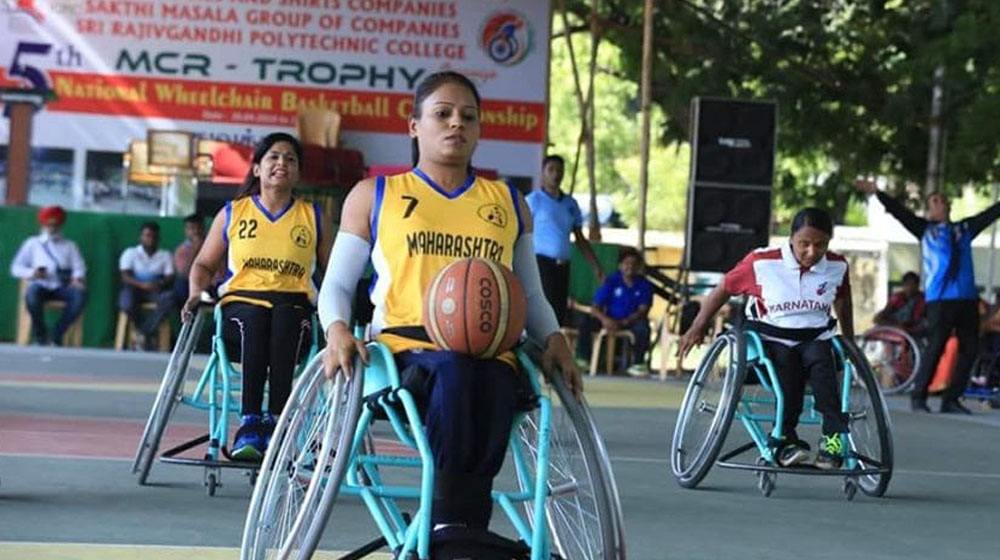 We need support and sponsorship because we are not getting any support from the government, so people who wants to support us and help us, can come forward for our team.
How inspiring is it to play for Indian wheelchair basketball team? Also, tell us about the current coach of your team?
Our coach is a retired Navy officer who has supported us a lot. Neither we had the money nor the wheelchairs, not even the ground, but he took all our responsibilities, and since then, he has been coaching our team for free; for more than 3 years now. Even if someone has any problem, he always tries to help and always look up to get sponsorships for us. He always stands in our support for every little thing. Sometimes, he scolds us but all he wants is our best performances and victory for the country. I believe that we have reached at this level only because of his support.
You have also competed at the 10 km Valsad Marathon. How different was the experience to participate in a marathon?
The experience was very different but amazing. That marathon started in the early morning, during winters. We have been invited there; besides me, there were many disabled athletes but none of them completed the marathon, only I completed 10 km. I actually wanted to complete 21 km but the volunteers brought me back as soon as I completed 10 kilometres because they did not want to put me in any kind of health risks.
Who is your role model?
There is no such role model in my life, nor have I ever found any such person. After joining sports, my team captain Kartiki Patel helped and guided me a lot because I was completely new and had never played before. She had a lot of experience so she guided me well. If I talk about my life, my friends have also supported me a lot. I have a friend from Canada who has been a great support for me in past few years. Today I have such a good business as well as popularity in sports for which I would like to give credit to her. And from my family, my mother has always supported me and never restricted me from pursuing my passion so because of these two, I have reached here.
Have you ever participated in sports climbing? How was the experience?
Yes, I did wall climbing in Mumbai in 2017. I went there for the very first time. Some people tried to climb but they could not succeed, and when I tried, I climbed half successfully. That feeling for me was quite amazing because I was willing to reach to the end. After that, I received a lot of offers for wall climbing but I did not continue because my focus was on basketball. I am very much interested in adventure sports. Even I have done paragliding and swimming along with wall climbing and tried sky diving too.
What is your fitness and exercise routine?
As you know that I work in the daytime, so after coming back from my job, I use to exercise. I can't afford to go to the gym, that's why I use dumbbells at my home only to do some regular exercise routine.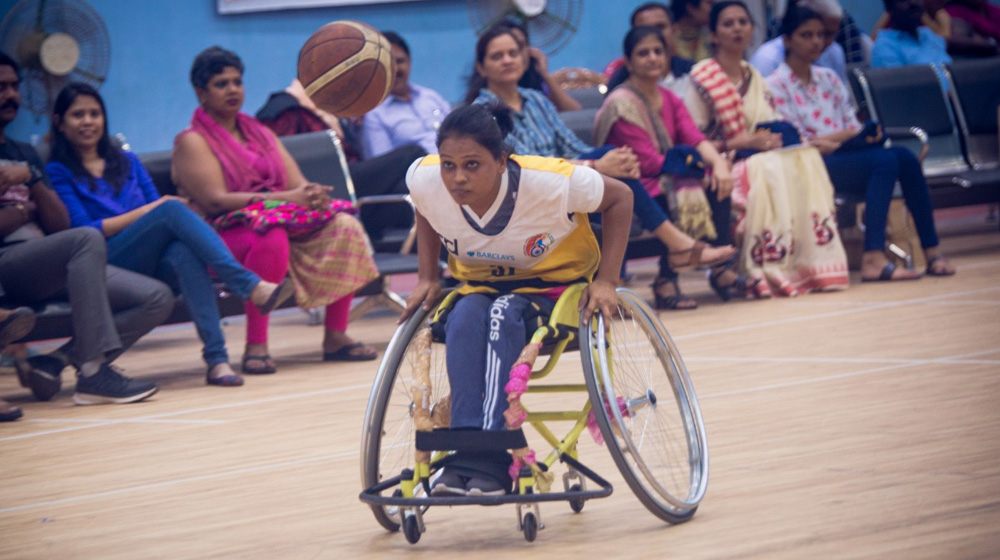 What are the possibilities for girls with disabilities in sports? Do they get as much exposure as they deserve?
I will say that the one who works hard, deserves every success. It depends on how hard you try, if you want, you can stay at home doing nothing or else if you try, you can conquer the world. In our country, there are many girls who have made it their habit to not try pursuing their dreams but in this, their families are equally responsible. It totally depends on us whether we want to win the world or just cry doing nothing. So I just want to say that if you want to achieve something, just listen to your heart and go on for it, no matter you are able-bodied or disabled.
What advice would you like to give to the young aspiring athletes with disabilities?
I would say that whether you are able-bodied or disabled, if you have potential, just try every possible thing to bring your talent in front of the world because there is so much to do in the world. And their parents should also support them, financially and mentally both because it's the fundamental requirement to build confidence in people. I myself have fought a lot with a lot of adversities in life to follow my passion and fulfil my dreams. I will definitely try to develop my Maharashtra team to a level where we would be able to support our coming generations and aspiring athletes so that they can achieve their dreams as well.
Rapid Fire!
| | |
| --- | --- |
| Favourite Sport other than what you play | Swimming and Wheelchair Racing |
| Favourite Athlete | I'm fond of Kartiki Patel (My Team Captain) |
| Most memorable moment | 2018 National Championships where we won our first gold medal |
The Sportsmatik Community salutes the invincible spirit of this brave woman who is climbing new heights in the field of sports and setting a precedent for many others to follow her.
Geeta Chouhan is now a part of Sportsmatik.com. Checkout her profile at the link given below -