In 2005, an Indian athlete represented the nation in the 4th World Dwarf Games for the first time and bagged six medals in various sports; establishing a new Limca World Record and leaving many of the spectators completely shell-shocked - K.Y. Venkatesh. Venkatesh faced dwarfism which is scientifically known as achondroplasia that blocked his height to 4' 2'', but his dreams were unstoppable. He started his sports journey in 1994 from where he never looked back and created unbeaten streaks of accolades that made him an inspiration for all. At present, Venkatesh is actively supporting Para athletes and officiating at the Karnataka Badminton Association for the Disabled. Here we have some pieces of the interesting interview of K.Y. Venkatesh that prompt us to give a big hail for his unstoppable quest for the right of Para-athletes.
Major Achievements of K.Y. Venkatesh-
Earned a bronze medal at the Spanish Para-Badminton Tournament 2012
Bagged gold medal in the discus throw and bronze medals in the javelin throw, badminton singles and doubles events of the 5th World Dwarf Games, held in 2009
Earned a bronze and gold medals at the badminton singles and doubles events of the Asian Paralympic Cup in 2008
Participated at the IWAS World Wheel Chair & Amputee Games 2007
Won a gold medal in the hockey event, silver medals in football and basketball events and bronze medal in the badminton event of the European Open Championships 2006
Bagged gold medal in the discus throw and bronze medal in shot put, volleyball and badminton events of the 4th Dwarf Olympics conducted in 2005. He was also a part of the winning team and the runner-up team of the hockey and football events, respectively
Won a silver medal at the 4th Israel Open Badminton Championship 2004
Won three gold and two silver medals in shot put, discus throw and javelin throw at the Open Track and Field Championship 2004. The same year, he also bagged one gold, two silver and one bronze medal at the Swedish Open Track & Field Championship
Earned a silver medal for the nation in badminton event of the L G World Cup 2002
Bagged a gold medal in the shot put event of the Southern Cross Multi Disability Championship 1999
Participated at the shot put event of the 1st IPC World Athletics (Multi-Disability) Championship 1994
How was the experience of winning six medals at the World Dwarf Games 2005?
I started my sports career in 1994. That time, I represented India in Germany at the IPC Multi Disability World Championship. During those days, we used to go for sponsorships and not the Government used to sponsor for big events like Asian Games and Commonwealth Games etc. for which we had to skip our practice sessions. That time, our primary requirement was money to travel and participate in sports events. So in 2005, we took sponsorships from many organisations and state government as well. There, I secured six medals, and Limca Book of records honoured me for my efforts. So, that was special for me. I gathered appreciation from all around the world that made me realise that I was on the right path of choice.
Has life changed after you get included in the Limca Book of Records?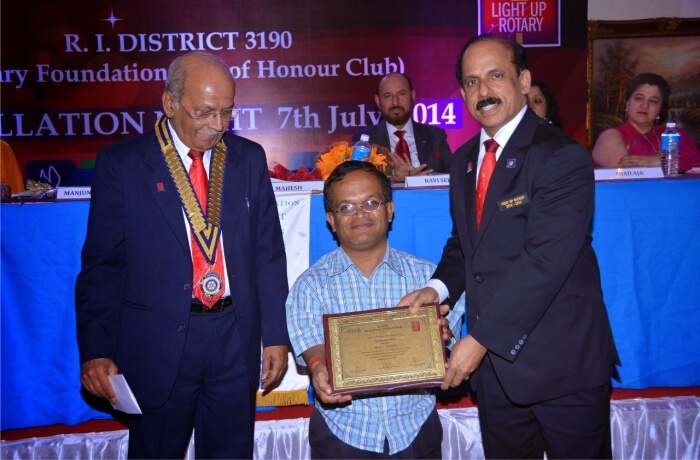 Well, now it has changed. Our talent has been considered at big sports stages. Our Para-athletes are doing better than non-disabled athletes at various big stages like Asian Games. They have created many records as well. So, the Government has come forward to sponsor Para-athletes, and now they are giving appointments also. It is really making considerable efforts to encourage them. The Haryana Government is completely supporting our athletes. Now wherever I go, people try to take my guidance.
When did you develop an interest in sports?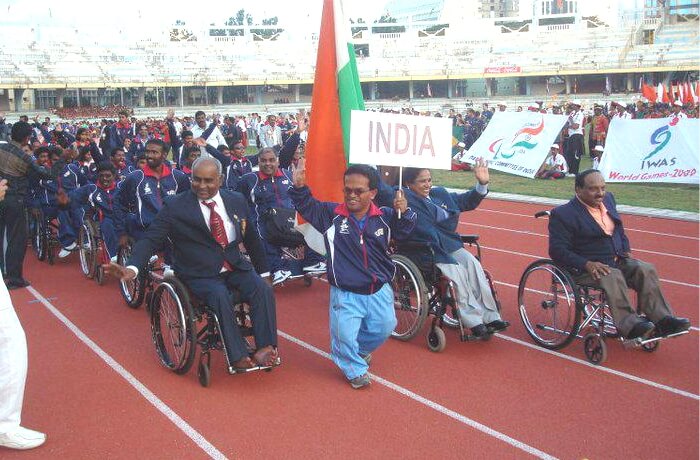 I saw many articles of differently abled athletes who were creating history in sports that boosted my morale to try my hands in sports. It was in 1994, I started my sports career and bagged my first international gold medal in 1999 in Australia from where I grew myself as a potential athlete and represented India at various international sports stages till 2012. After that, I switched to administration. Right now, I am officiating at the Karnataka Para-Badminton Association. We conduct national tournaments to identify young talents in India. The Para-Badminton has now been included at the Para Olympics. Our Para athletes have also proved their skills by winning 9 medals at the Asian Para Games and 11 medals at the World Championships. It feels really proud to see them, securing good places at international events. It delivers a strong message to our society that there is nothing called disability in anyone, anyhow.
Who's your role model and why?
My inspiration to pursue sports is C.N. Janaki who is a Para swimmer. She is paraplegic, yet she swam across the English Channel in 1992 from Paris to London. Paraplegic means they are severely handicapped people who have 100% disability. They don't have any sensation and crossing the English Channel with this disability was something unexpected by the world yet a girl without mobility in legs did it. It gave me motivation, and I questioned myself why can't I participate in sports. Then I started my sports career, and the Mighty favoured my efforts.
What is your punch line?
Count ability and not the disability. Don't pity Para, give them the opportunity. They will show what they are. This is what our Para athletes want - An Opportunity to prove their worth.
How tough was to cope up with your short stature?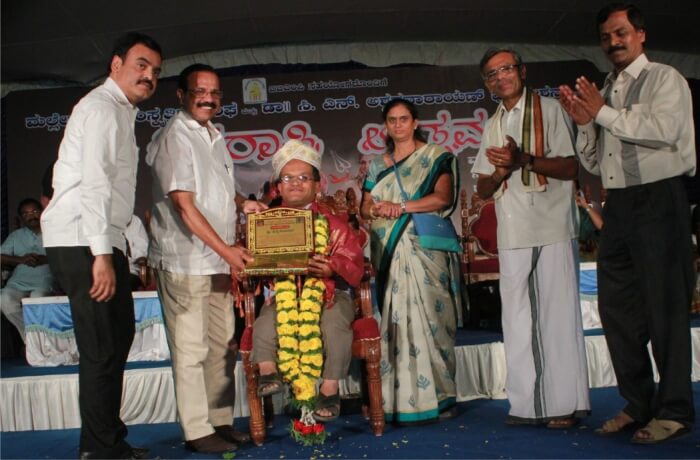 See in our society, if you are a Para (physically disabled by some means), then people see you differently. Being short height, I too have faced teasing at public places and was tried to be felt inferior. But, when I proved my potential, things get entirely changed. Now, whenever I go to public ceremonies, media and other people start talking about my achievements and not my short height. Now, they greet me and appreciate me like they have seen me on TV or read my articles in the newspapers. So, it feels really honourable and yes no more teasing now. When you overcome your inabilities and think about your potentials, you allow success to come to you through a straight path.
What was the role of your family in your sports career?
My family has always encouraged me for my choices. I am the youngest amongst all my siblings, and they all are doing well in their life. My father was my first Guru. He used to teach me chess during my school days. For the improvement of the brain, chess is the best game, and it had helped me a lot to improve my sports potentials. Up to 10th, I used to participate in inter-school, taluk level and district level competitions and used to bag medals but now I am more concerned about other sports especially Para-Badminton.
According to you, what is the most important factor in training sessions?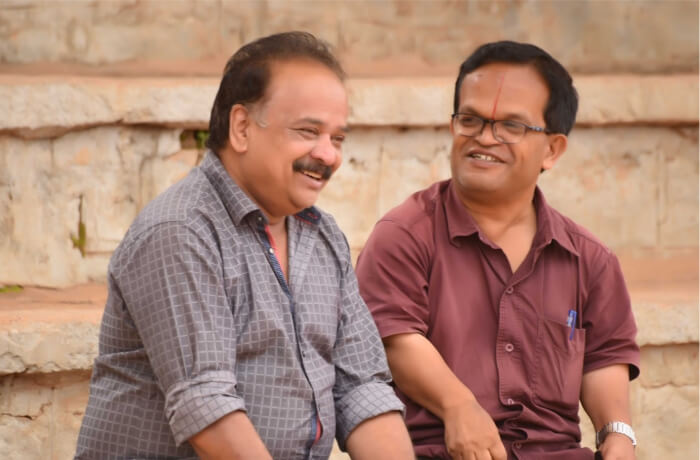 Punctuality and fitness stand above all important factors to go for success. You see, in other countries; if you are not punctual at work or getting 1 or 2 minutes late, they send you back. But in India, it should be practised more. Nowadays, people are focusing more on their mobile phones neglecting their prime tasks and fitness routines.
Besides this, in foreign countries, athletes don't have to work for their earning. They focus more on their sports, but in India, we have to work a whole day and then practice in the evening. If you are working in a private company, then you don't even get leaves to participate in sports events. These are the things that drag the performance and morale of athletes. So what I suggest is that athletes should focus more and more on their fitness and punctuality so that they may get the proper time to train well and keep a balance between their professional life and passion for sports.
How do you make a balance between all the sports you play?
According to me, if you want to make balance amongst all your tasks whether it belongs to your professional life, personal life or something else, you need to be physically fit. Fitness is the prime factor that leads you to success in all your genres. So what I would suggest is to be fit for all your jobs of life.
According to you, what is the future of India in Para Games?
You see, for 2020, Para-Badminton has been included in the Paralympic Games and our athletes are looking forward to bring laurels for our country. We are giving them encouragement and support at our best. I want to see them perform in a way that it may become an inspiration for the young athletes and they may also raise the spirit of sports at the international stage. So for training them, we choose smarter ways like we suggest them to train under the guidance of specialised coaches and trainers or watch YouTube tutorials and other videos of past good performances for the athletes who need to improve and learn where they err. This is how they can learn and prepare for the best. I hope India will surely perform well in Paralympics at the upcoming events.
What would K.Y. Venkatesh be if not an athlete?
If not an athlete, I would opt something else such as entrepreneurship but, surely working.
Do you think that way to Paralympics is still difficult for Indian athletes?
Of course, it is difficult because at such competitions, top-ranked athletes participate and we need to prepare well to compete with them. Para-athletes can excel in sports if they are availed proper guidance and support from their people.
Our Government has started a scheme called the "Gold Quest" where they identify the talents of athletes who can bag medals for the country. For this, they are putting special camps and training sessions for our Para-people. They are doing a good job. In the Sports Authority of India (SAI), all the centres are now user-friendly. Because of them, our people are bringing more medals as they are making lots of efforts.
What is the role of social media in your life and career?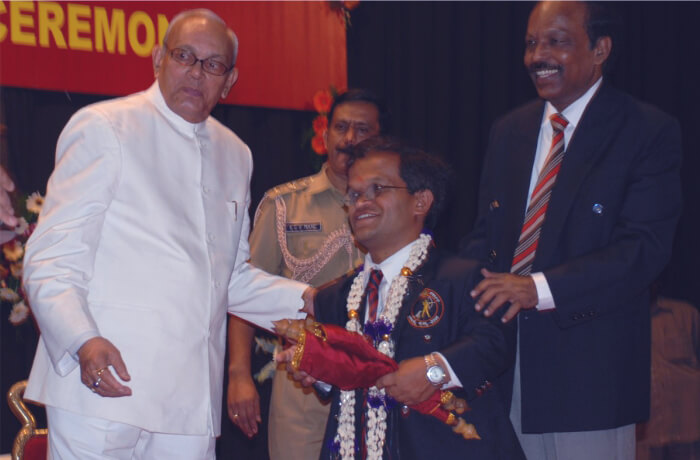 Two decades ago, people used to depend on print media to get updated with world affairs and hence, sports updates were also limited to these sources. But, nowadays media is not like the way it was earlier. Now, anything happened in sports, is instantly covered by social media platforms and people quickly get aware of the story. If I won something, then people start spreading the news all around the world and make the achievement countable. That's the power of social media. It covers all the news related to any genre and belonging to anywhere from the globe. If you search my name on the internet, it will give you all the information related to me because of these social media platforms. Today, people know me in India as well as in foreign countries because of the articles and data they post on their sites. It's quite appreciating and we athletes are getting exposure.
What are your expectations from sportsmatik.com as a multi-sports community?
Oh, it's an excellent platform for athletes belonging to various sports. The fascinating thing is that you guys have added all the Para sports in your site that encourages Para athletes to unite and highlight their efforts along with other athletes and sports fraternities. Such platforms are really worth to support the spirit of sports. I wish all the very best to Sportsmatik.com.
K.Y. Venkatesh is now a part of Sportsmatik.com. Checkout his profile at the link given below-​