Ice Skating is still an unpopular sport in India, in spite of that, India's fastest long-distance Ice Skater Vishwaraj Jadeja has put India on the map for creating world records in Ice Skating. He trains as an elite athlete in the Netherlands under the guidance of his current coach Wim Nieuwenhuizen, who is arguably one of the toughest coaches in ice-skating in the world. Vishwaraj started with Roller Skating but switched to ice-skating later and decided to go to Europe to train and master the sport. After seeing the competition, he realized that it was not easy to switch from one sport to the other but Vishwaraj, being firm with his decision, has proved his mettle in the couple of years. He has always been a sports enthusiast. Of course, like every athlete who loves his sport, he has the same dream and goal - to represent India at the Olympics. With 65 other national records, and competing in over 200 races for India, he again showed his charm by winning four medals at the 2020 Winter World Masters Games in Innsbruck, Austria.
An Overlook on his Major Achievements -
Vishwaraj holds 65 national records and competed in over 200 races for India.
He has won the National gold medal in Roller Skating and Lower Division Race in Europe.
He was awarded the Sardar Patel Award in 2004-05 for his achievement in skating.
Vishwaraj was the only athlete to have competed in all the different races and recorded his personal best time at the 2017 Asian Winter Games held in Japan.
He has set an unofficial world record for Ice skating at a distance of 5 km at an altitude of 4,500 meters at Lake Tso Moriri in January 2019.
He won four medals at the 2020 Winter World Masters Games, including 3 silver medals and 1 bronze medal. Vishwaraj won silver in the 3 km, 5 km and 10 km races, while he finished third in the 1 km race and won the bronze.
Speaking to the Sportsmatik community, Vishwaraj expressed his eight-year-long determination to pursue his career, ambitions, passions, and his dream to represent India at the big stages. Here's the entire story -
There is not much scope of ice skating in India right now, but knowing this, where did you get the idea to become an ice skater?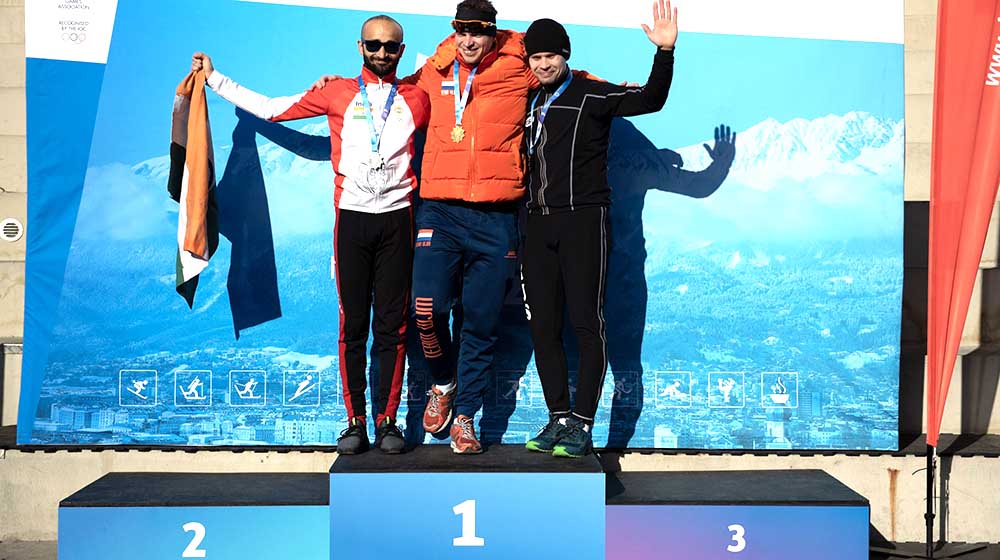 Vishwaraj - Actually what has happened is, I was a roller skater all my life. Once you are an athlete for a certain sport for your country, you want to represent India at the Olympics. And, roller skating was not a part of the Winter Olympics. That's why I tried to do something that is a bit similar but different from roller skating. And long-track Ice Skating was something that I thought at the time because it was a similar sport and that's why I shifted to long track ice skating and that's how I got into Ice Skating.
According to you, which is more adventurous? Ice Skating or Roller Skating?
Vishwaraj - Well, it's like choosing between two of your own kids, which one of the two you love more. Both these sports have their own set of challenges - Roller skating or Inline skating are performed on wheels while Ice skating is on ice & cold and we have to perform it on the blade. So yeah, both sports have their own challenges about focus, about racing. The weather conditions and places are also different in both, so it is all different things which are included in both, so for me, it's difficult to choose.
Tell us about your current coach Wim Nieuwenhuizen. Why he is known as one of the toughest coaches in the world?
Vishwaraj - He has been training world champions and Olympic champions in the past. And creating an Olympic champion or world champion is not an easy task. In India, we are trying to win World Cup trophy in cricket for a long time and it is getting difficult. He has been a training coach for over 50 years, involved with the sport for a very long time, and is like a 'go to guide'. He has so much knowledge; even you wouldn't believe that in my phone, his number is saved as Wim Einstein. And after spending so much time with him, it is difficult to still gather all the knowledge from him because I want all the knowledge from him, as much as possible, so that I can finally pass it on to the next generation of Ice skaters from India.
What does your routine look like? Has it changed since you first started?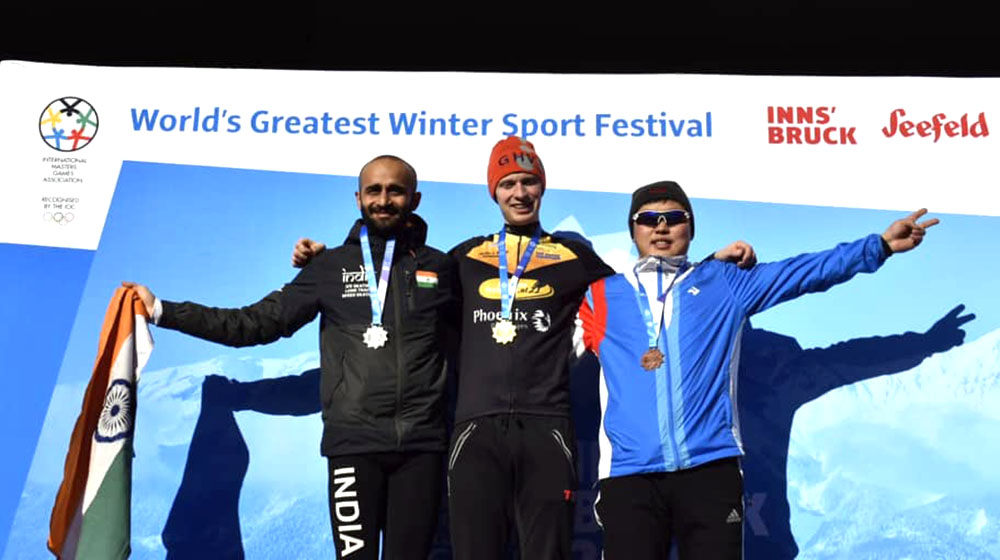 Vishwaraj - Well, it is basically getting up and working hard, it is the basic skeleton of the routine. It's not changed much because if you do not work hard you will not get anywhere. The day consists of two training sessions; Morning training and Evening training, and depending on summer and winter. Also, I can say that the routine has changed, such as what we do and how we do it. So the wheels have been replaced with blades, and the running has been replaced by a lot of cycling and we cycle 10,000 km a year so that's how it is.
You have participated in the 2017 Asian Games over all the distances. How was the experience?
Vishwaraj - The experience was Phenomenal! This was my first Asian games for India, and there were so many different types of skaters who were there from other Asian countries. There was a world champion from South Korea, he came to me and asked 'Man, are you going to perform in all the distances?' I replied 'Yes, that's why I came all the way to Japan, I want to make the best time on the ice' so he said 'Oh man, I can't do all distances, you're crazy' and then he hugged me and went away. So for me, the experience overall was unprecedented. I liked that hoisting of our Indian flag, wearing an Indian jersey, it is truly incredible. And if I talk about Japanese people, they were so lovely, and I also spent some interesting time with my coach. There were basically my coach and the Japanese coach and it turned out that the Japanese coach used to be a skater when Wim had started coaching, so they know each other since long back. So it was great to see what Wim was like in the past and how he's now, and his relationship with other skaters in the past and now. So I can say that it was very special and it was an honor of my life to represent India at the Asian Games.
Tell us about your favourite moment which you most enjoyed in your Ice Skating journey?
Vishwaraj - The moment when I called my coach for the first time and asked him if he could actually train me to be a long track Ice skater and he said 'Yes Vish, if you crazy enough to come all the way from India to learn my sport, I am crazy enough to coach you, let's begin'. Then we have 65 national records for India, 220 races for India. There are 10 different podiums in India. And yes, it is the biggest deeds of my life to win four medals at the Winter World Master Games, and the best thing is that no Indian person has ever won multi-distance medals in such multi-sports events.
Who is your role model?
Vishwaraj - This is indeed a very difficult question. It depends on the phase of my life and that's how the role models can change. I have so many role models in my life, I take inspiration from my coach himself because he is 71 but he is still so active and so fit. And for me, staying fit is very important because if you are fit you can do a lot of things, you can help people, you can chase your dreams, represent your country. But there was a sprinter named Steve Prefontaine and another runner Paan Singh Tomar, these two athletes from the history of Olympics have been the biggest inspiration to me.
Where do you see yourself in the next 5 years?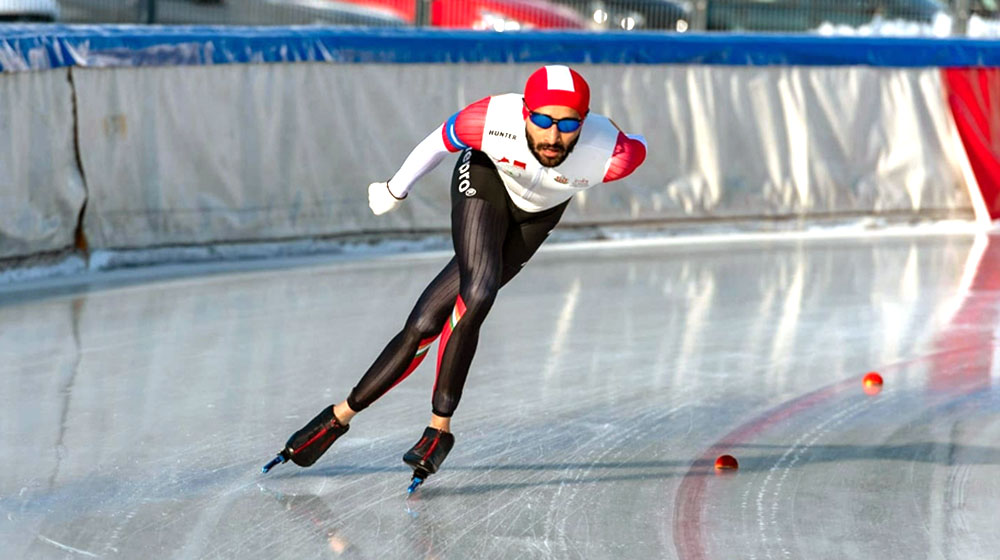 Vishwaraj - Well, I wish that I would have represented India at the Asian Games and at the Olympics and I am getting ready to start the next chapter of my life. I actually have a five-year plan and unfortunately, the five-year plan will end in 2022, so right now I'm actually in the current phase of this plan. In that case, it is difficult for me to answer where I will see myself in the next 5 years from now because my first 5-year plan is still not finished. Until this ends, I cannot plan for the next 5 years as I planned from the Winter Olympics to the next Winter Olympics.
In January 2019, you set an unofficial world record for ice skating at a distance of 5 km at an altitude of 4,500 meters at Lake Tso Moriri. Can you tell us something about this achievement?
Vishwaraj - It was incredible! My idea was to go and qualify in the 2018 Winter Olympics. But what happened before the start of the Olympic season, I had a couple of crashes and I was very badly injured. Even I could not move, could not walk. Then I had to figure out how not to be so depressed and disappointed. I had missed the opportunity and I felt that I have wasted my life because I've injured myself by training hard. What happened after that was I was sitting with a friend of mine and he said how about you explore the Himalayas and try to find yourself, all the monks in India do it and you should also try it because you are the monk of your sport. I agreed with that because there are so many frozen lakes there, so I actually started ice skating in Indian frozen lakes in 2018. Eventually, an idea came to my mind that how about I would do skating 5kms in a high altitude lake? Then I and my friends tried to find out the logistics of things in Ladakh. This was possible with the people of Ladakh. And it was -30 degrees on the record-setting day and I was also getting high altitude sickness, but we were managing it very well. It was one of those incredible moments of my life, as you know that we don't have any infrastructure for the winter sports and Ice skating in India. Being able to skate and make this kind of record in India, it is an extraordinary feeling and I am hoping that people can get inspired by it and do great big things.
How was the experience in the 2020 Masters World Games?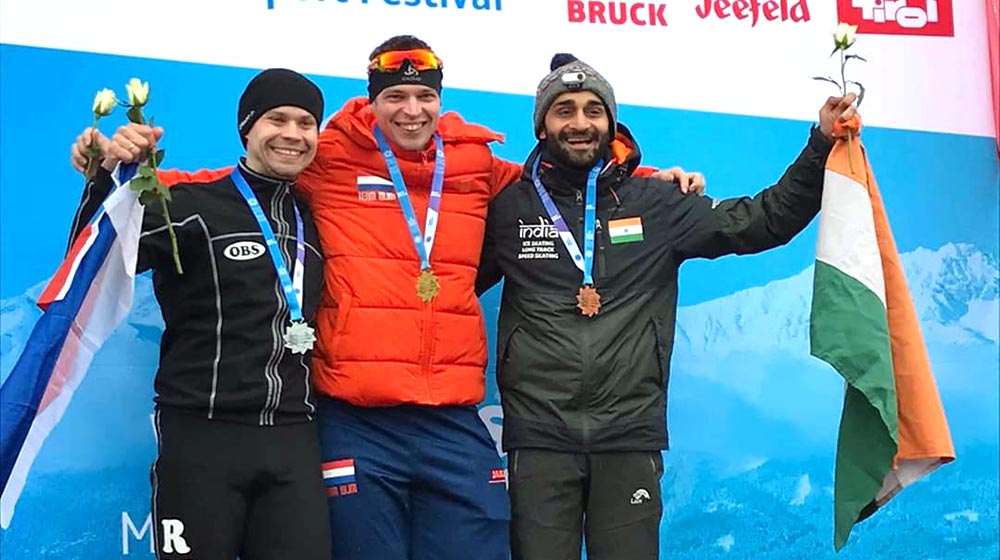 Vishwaraj - The Master World Games is another form of the Winter Olympics. More than 50 countries and more than three thousand athletes were participating there and they are all masters. The atmosphere was so war and people there have done more research on you than you can ever imagine. So when the organizing committee found out that an Indian athlete is coming, they ensured that vegetarian food was available, they gave me a list of places where I could go and have a vegetarian meal, I'm not a vegetarian though, but they took pains to ensure that the Indian person is well looked after. They always took care of me and concerned if I wanted anything. It was cold there and the track was in the open sky. The major difference between the Master Games, the Olympics and the Asian Games is that the race for the Master Games races take place in outdoor venues in the open sky, at this point, the wind conditions, rain & snow doesn't matter, you have to go to the races and do your distances be it, 3 km, 5 km, 10 km or 1500 meters. So of course, there is a big difference in time as well, but the one who wins just wins. And if I talk about the Olympic and Asian Games, the races are performed at indoor venues, the environment is much more controlled; the track time is faster, so on and so forth. So this experience in itself was very emotional, very heartwarming and I remember some organizers and volunteers came to me, they were delighted and told me that Vish, seeing an Indian person here is so special for us, we had never imagined that we would have somebody coming from India and participate but you've done it plus you've also won medals so of course they were very moved and they were hoping that this continues and the next time more skaters and athletes can participate from India.
How difficult is skating in higher altitudes in winter season?
Vishwaraj - Ice skating in the high altitude open sky tracks is actually quite difficult. Higher altitude is very basic and oxygen is very low, for this you need a couple of days to acclimatize first. In winters, the warmest days in high altitudes are like -10 degrees, so the winter season is very unpredictable at times and you have to be used to the cold otherwise you could not do anything there. And yeah, winter is the winter, it's unrelenting but I believe that without suffering there is never a victory.
Which are the upcoming events in which you are going to participate in near future?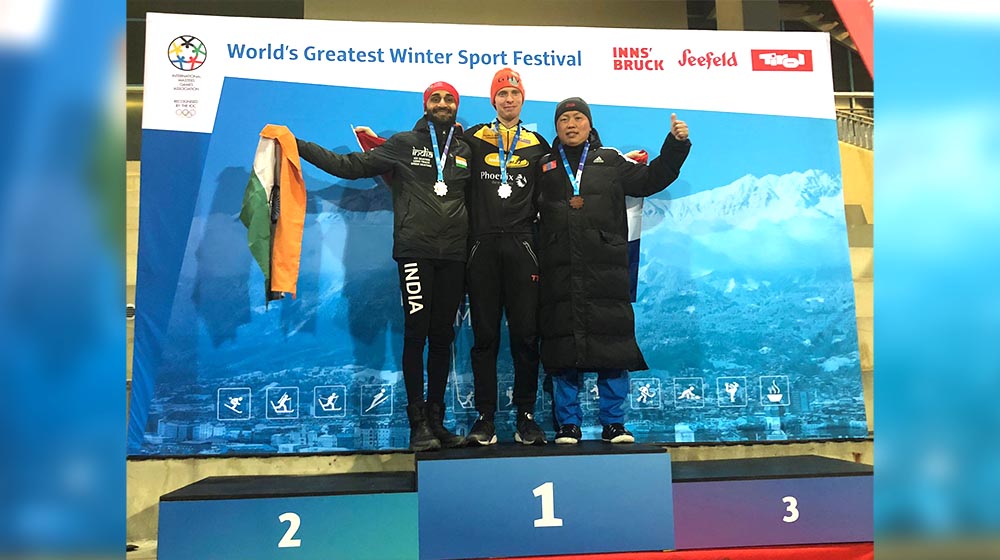 Vishwaraj - First of all, I am going to enjoy this achievement. I look at it as a medal for my efforts that I've put in from the last eight years, splitting my time between Holland and India, between my family, friends, and the pursuit of achieving my dreams for India. So yes, the first thing I need to do is to enjoy this moment because people forget that being the first Indian out of a billion people is not the easiest thing to do. I want to make sure that the story gets out as much as possible, I want to spread the news to the world about the victory and try and gather some attention. As the next two years are very crucial to me so I want that I'm able to get financial support for this, which is very important because sometimes it is hard to optimize the resources. Asian Games is the next step. I am taking one day at a time while keeping in my mind the overall goal and we'll see what will happen.
How hard it is to find sponsors for Ice Skating in India?
Vishwaraj - See, finding a sponsor for any athlete is difficult, let alone winter sports athlete. So far I have been rejected by around 121 different companies for sponsorships. Luckily, I got some support from the Sports Authority of Gujarat, that's it. After that I have to do crowd funding, needed the support of my coach as well as family and friends. So all I can say is that funding for this type of sport which is non-existent in India is the biggest challenge for the sport itself. Sometimes I also get comments from some officials and some other coaches like Vishwaraj, for you doing the sport is one thing and being an Indian in this sport is another sport.
What are your views about the initiative taken by Sportsmatik.com?
Vishwaraj - Whenever a website takes an initiative to talk to me, I feel very humbled because I feel that I am a very small person and if I get a voice, it's incredible. And you guys are able to do the same with other athletes and other sports too so it's really a great thing, please keep up the good work and let's hope for the best.
Rapid Fire!
Favourite Race till date
10 km at the World Masters Games because it was in the rain, in 0 degrees
Favourite Sports other than Ice Skating
Cycling
Favourite Athlete
Paan Singh Tomar
Favourite Events that you've participated in
An event in Gothenburg, Sweden, where I did my first 2 races as the people there were very sweet and warm
Favourite Ice Skating Turf

For Indoors - Ice Skating Rink in Thialf, Heerenveen, Netherlands

For Outdoors - Tso Moriri Lake, Ladakh, India

Favourite Place to live in
Nothing particular as I feel I'm a World Citizen & for me, people make the places
His determination and unwavering devotion to his game makes him different from others, his love for the sport and his passion to play for the country is truly fantastic.
The Sportsmatik community applauds Vishwaraj and wishes that you do well in the Asian Games and Winter Olympics. All the best for your future endeavours.