At the age of 16, when most teens enjoy spending time with friends, fun and studies, a teenager from Haryana, Manu Bhaker made India proud by claiming a gold medal by defeating a two-time world champion in the ISSF World Cup. She is one of the youngest stars of Indian sport and current world no. 2 in women's 10-metre air pistol event (as of Jan 2021). Manu is the nation's pride today who won several gold medals in Shooting World Cups and made all her countrymen proud by winning a gold medal at the Youth Olympics. Now she is aiming to the bullseye of the Tokyo Olympics to hoist her flag again at the top-class sports event.
An overlook on her Major Achievements:
A gold medal in 10 m air pistol and a silver medal in 10 m air pistol mixed team event at the 2018 Youth Olympic Games (YOG)
A gold medal in 10m air pistol event at the 2018 Commonwealth Games, held in Goldcoast, Australia
Two gold medals in 10m air pistol individual & mixed team events at the 2018 ISSF World Cup, held in Guadalajara, Mexico
Two gold medals in 10m air pistol individual & mixed team events at the 2019 ISSF World Cup Final, held in Putian, China
Four gold medals in 10 m air pistol mixed team events at the 2019 ISSF World Cup editions, held in New Delhi, Beijing, Munich and Rio de Janeiro
Two gold medals in 10m air pistol individual & mixed team events at the 2019 Asian Shooting Championships, held in Doha, Qatar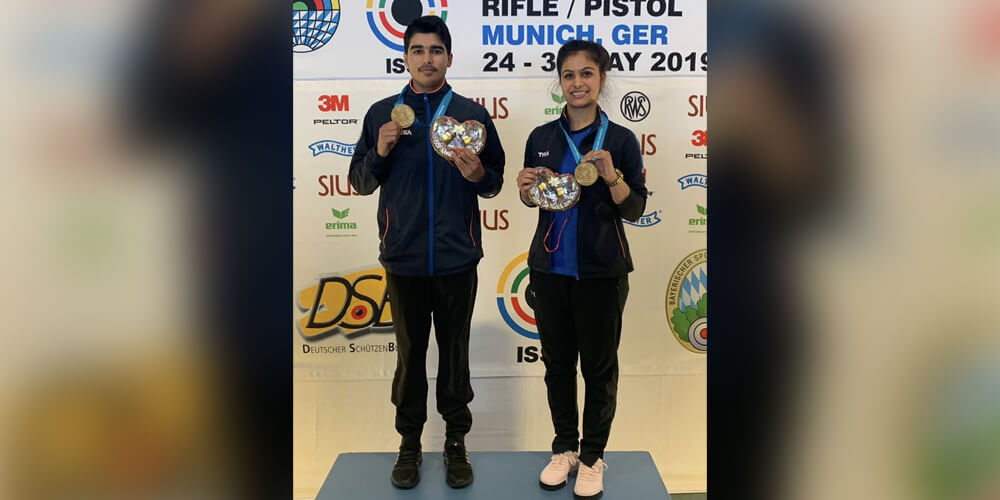 Photo credit - Twitter / realmanubhaker
In an exclusive interview with Sportsmatik, Manu spoke about her passion for shooting, her performance at giant international stages, Tokyo Olympics preparations and many more...
Let's start from the beginning, tell us about the triggering moment when you realize your passion for shooting and at what age?
At the age of 14, when I was in 10th standard in 2016, my father took me to our school Universal School Goria's shooting range where I fired my first shot, and that's it, I found my aim and it was very accurate. After that, Shooting became my life and I gave everything to be the best in it and I'm still trying hard to enhance my skills.
You won the first-ever international medal in 2017. How was the experience to participate at the Asian Junior Championships?
That was one of the most amazing moments of my life. Although I missed the gold medal by 0.1 and had to settle with the silver, that was the time when I realised the importance of every shot. But yes, it is memorable to me because that silver medal led me to secure a berth in the Youth Olympics. So yeah, if I talk about the experience then I would say it was pretty good as I learnt a lot.
The same year, you defeated and broke the record of World Cup medalist Heena Sidhu. Was it difficult for you to perform against her?
Not really, as I did not know about the senior players before. The main thing that was important to me was to not repeat the same mistake that can change the colour of my medal; I learnt it at the Asian Championship, just a week before Nationals. And the best thing that happened to me was I won the game without repeating any of those mistakes.
How remarkable it was for you to become the youngest Indian to win a gold medal at the 2018 World Cup?
Absolutely Fantastic! It was my first top of the podium with a bang and National Anthem. It was my international debut in which I won a gold medal in the women's 10m Air Pistol final at the ISSF World Cup. Nothing is more proud than winning a medal for your nation. It was a close battle with Alejandra Zavala Vázquez but hopefully, I made it.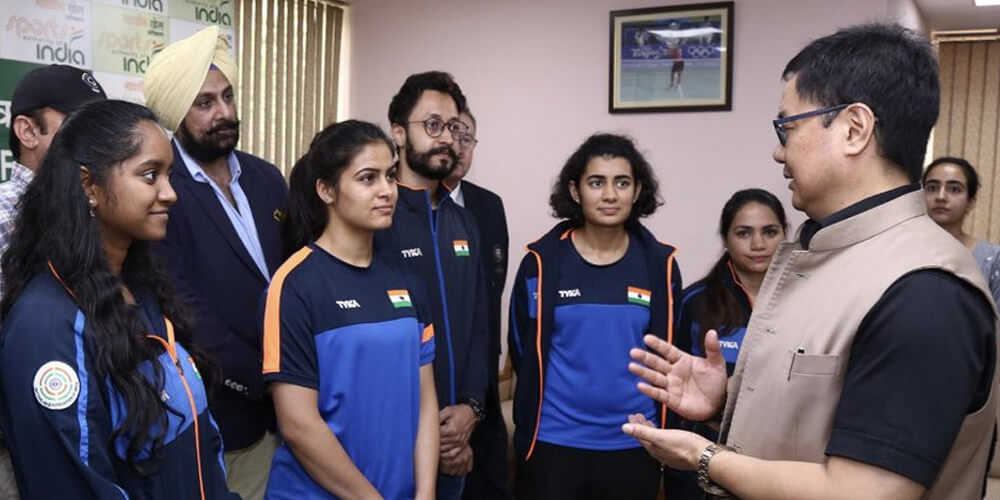 Photo credit - Twitter / realmanubhaker
Years like 2018 & 2019 proved to be fantastic for you where you won gold in many prestigious tournaments, so which victory is the most memorable for you?
Every medal is precious. If I talk about some of the best moments, then one was the 2018 Youth Olympics when I was named as the flag-bearer of the Indian contingent for the tournament. It was a great honour for me. The second was when I claimed a gold medal and made a new record at the 2018 Commonwealth Games. Third, when I defeated Chinese players in China at the 2019 ISSF World Cup Finals.
"For me, every medal is precious."
So which is more challenging for you? Shooting individually or in a mixed team?
Mixed doubles are more challenging. In the individual event, it's obvious that you can win when you do your best, but in mixed doubles, you have to do your best and along with it, you need the best performance from your team member too. Performing in mixed doubles also demands the same consistency and good communication with your team member. It is needed that you both know each other's playing styles that will help while performing in front of your opponents.
In some aspects, you failed to win a few tournaments in 2019. Did it demotivate you in any way?
I think defeat is also important because it is the only thing that can make you understand the real meaning of victory. I believe that either you win or you learn. I have learnt some good lessons while performing on big stages and it never demotivates me. Mistakes are a part of life and it helps you in future so always keep learning from your mistakes. Well, I always do.
Munich World Cup must have disappointed you after your pistol malfunction. But it secured you an Olympic quota! So all-in-all what was the impact of it on you?
I was very disappointed with what happened that day. One part of my pistol broke and that was the reason it malfunctioned. Such malfunction is rare, actually one in a million. It happened when I was leading, and as a shooter, you feel dejected mentally when such things happen. But I also knew that such things are not under anyone's control. Actually, tomorrow never dies and a new day begins with new hopes and new energy. I then earned the Olympic quota in the 10m Air Pistol event with a fourth-place finish in the final.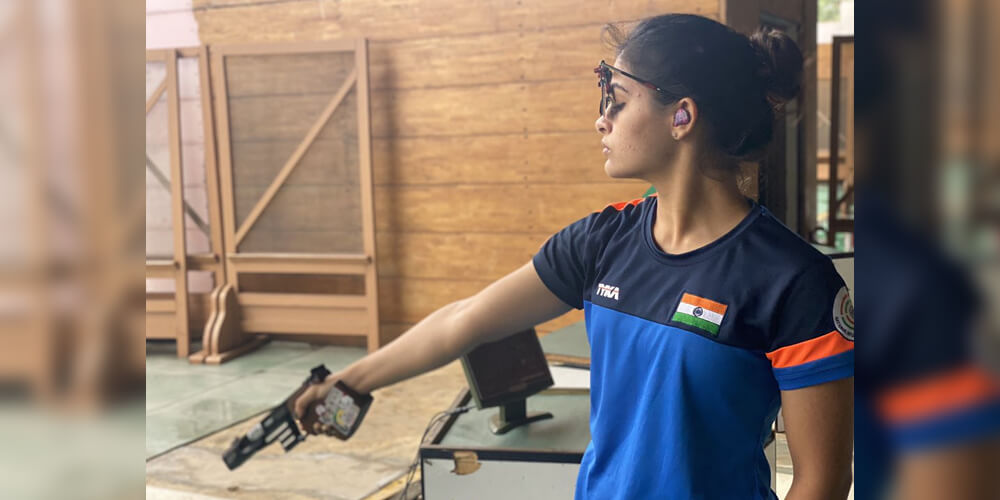 Photo credit - Twitter / realmanubhaker
How was your training routine during the lockdown and how difficult is it to train at home? Do you get any online training from coaches as well?
My training routine was similar but in control rate and less time. I was training regularly and I also explored many new skills. I haven't been home for such a long time in the last three years, so I spent quality time with my lovely family. But there was no online coaching during that time.
Shooting requires a lot of patience and concentration. What is your strategy to maintain the same during tough competitions?
It's true! Shooting requires a lot of patience and concentration, and to win the games, the focus is the key. Although I never make strategies for any of the games I play. I just simply enjoy shooting without having any plans. Guess that it's my only strategy. For me, every game is important and I pay attention only to the immediate next.
"Shooting requires a lot of patience and concentration, and to win the games, the focus is the key."
You have also won medals at the National Games in sports like Huyen Langlon, Boxing as well as Tennis and Skating. Then why have you chosen shooting as your primary sport?
Yes, I've played these sports initially due to class 10th board exams. I wanted good scores in my studies as well as I didn't want to cut off from games. Later, I started enjoying shooting and thus, decided to choose it as my primary sport as it's a very transparent game.
NRAI had decided to conduct a national camp for training in August but postponed it after a shooting coach at the venue tested positive for COVID-19. Does it create any fuss?
I was doing practice at the same venue during that time, but fortunately, everything was under control. SAI and OGQ have always taken care of all my requirements. Hence, I don't need to worry about such things.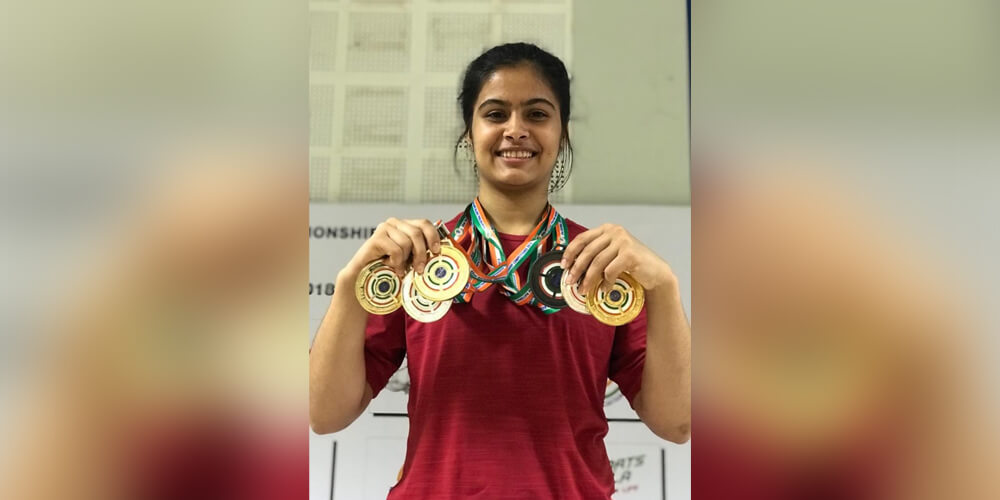 Photo credit - Twitter / realmanubhaker
Only a few months left for the Tokyo Olympics, so did this break allows you to improve your game at the Olympics?
I'm just going with the flow. I don't think I need to make any major changes in my game. I was very excited about the events leading up to the Olympic Games in 2020; the Munich World Cup, the Delhi World Cup and various test events. I was in good form before and today also that form remains. As I've said earlier that I don't make plans and strategies. So overall, I am happy and eagerly waiting to perform in the Olympics.
What do you think about the initiative taken by Sportsmatik.com to bring all sports and sportspersons at a common platform?
India is changing and now not only cricket but people take the interest in most of the sports, which is a good thing. Sportsmatik is contributing to that which is appreciable and good for sports as well as players. Keep doing the best, my best wishes are always with Sportsmatik team.
Rapid Fire!
| | |
| --- | --- |
| Favourite Mixed-team Partner | Very difficult question, I never thought about it |
| Favourite Shooting Pistol | Currently, I am using Morini and Pardini, earlier I used Stayer and Walter |
| Favourite Sports other than Shooting | Basketball and Boxing |
| Your dream which is yet to achieve | Olympic Gold |
The Sportsmatik community salutes the invincible spirit of this young female shooter who is climbing new heights in the field of Shooting and setting a precedent for many others to follow her. We wish her all the best for her future endeavours.