Serve it, smash it, win it, love it!
There's nothing bad about Badminton.
Badminton is one of the most popular sports in the World with more than millions of active players worldwide. Whether it's playing or watching; people have always appreciated this sport due to its shuttlecock networking, presence of mind and furious attacks. Playing Badminton has gained lots of audience in the past decade. From young ones to teens and even older ones are drawn to play this sport at least for their own leisure. But this isn't the best part of the game; playing Badminton has many benefits for health too. Listing here some of the advantages of playing Badminton -
Regular playing improves health
Playing Badminton has proven scientifically that it lengthens life span and makes the player physically fit. The sport involves running, lunging, diving and hitting the cock that culminates in burning about 450 calories per hour. It enhances a cardiovascular workout, which reduces stress level too. Playing regularly on the field makes the body more active. It stimulates endomorphin release in the system. Endomorphins triggers a positive feeling in the body, which acts as analgesics and diminishes stress as well as lowers pain in the body too.
Develops athleticism and ameliorate social skills
Photo Credit - Sandro Halank, Wikimedia Commons, CC BY-SA 4.0
This sport requires at least two people to play and in team events, require a minimum of 4 people. This team sport allows interaction and association with new players. Playing sport offers better interaction skills and let anyone socialize more. It also brings all the athletic skills in any individual. The fast and furious pace nature of the sport increases the speed, reflexes and improves coordination, flexibility and balance.
The fast shuttlecock chemistry improves reflexes
Well, the sport involves a sharp coordination between the racket and cock, it develops lightning-quick reflexes. The sport required a quick response. A player should be physically swift and mentally alert in the court. The combined agility of mind and body advances an individual's ability to process thoughts and develops the stats for action accurately. For responding quickly, it requires higher levels of concentration and thorough focus. Hence, in a nutshell, Badminton perks up reflexes, intelligence and productivity. In 30 minutes of playing, players make at least 350 changes in different directions, building more speed, strength and agility.
Succors in achieving optimal heart function
Badminton aids in strengthening the heart muscle and proper oxygen supply in the body. It is considered as a moderate-intensity activity which lowers the risk of hypertension, blood pressure and cholesterol. It decreases sugar production by the liver and decreases the fasting blood sugar. Ultimately, it also decreases the risk of diabetes, which is spreading globally in a deadly manner. Scientists, therefore, recommended playing Badminton at least three times a week.
Increases muscle tone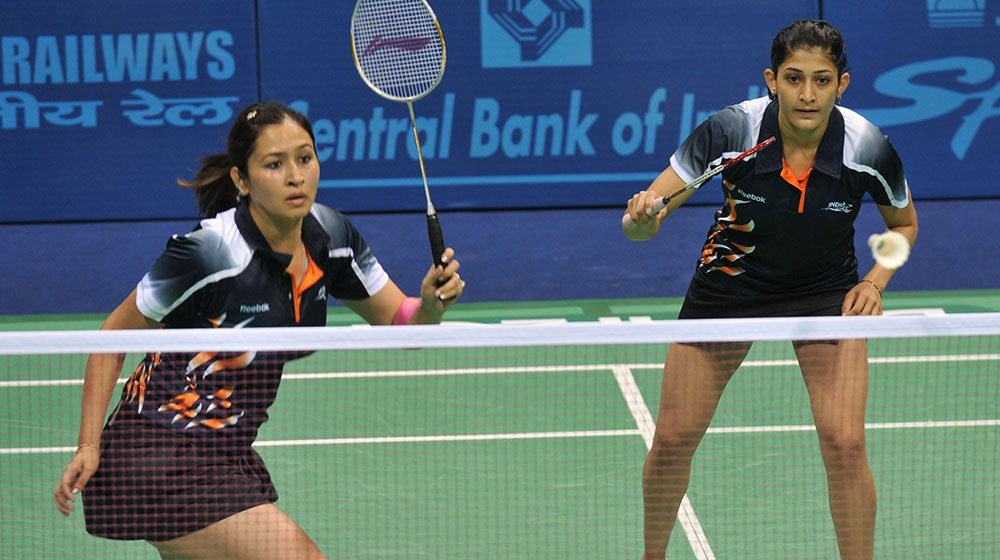 Photo Credit - Public.Resource.Org / Flickr / CC BY 2.0
Playing this sport builds and tones the quads, glutes, calves and hamstrings. Every shot in badminton act as a toning workout. Every smash or a drop in the sport burnt a lot of calories and strengthened the muscle. It also increases flexibility and edgy movements. A strike of a shuttlecock demands full arm swing, which is more than other sports such as baseball or cricket. The world's greatest players like Prakash Padukone, P.V Sindhu, Viktor Axelsen or Shi Yuqi and the physique they own with loads of stamina is a true example of how Badminton aids a proper and beautiful physique.
Gives a dose of fresh air
Badminton is an outdoor sport. Playing the game when the sun shines bright outside, is more of a fun experience. It gives a chance to enjoy nature in its raw form and inhale some fresh air. It also let a self to soak vitamin D. This aid in the development of mental health and reduces the risk of multiple sclerosis, asthma, autism. Hence, Badminton affects the overall fitness and metabolism of the body.
Active Participation uplift mobility
With increasing age, mobility tends to decrease in humans. But playing Badminton keeps anyone healthy and prevents these problems. It makes the athlete move from one quarter to another, which lubricates the joints. This decreases the risk of arthritis and osteoporosis. Playing regularly promotes the activity of the bone-forming cells. It helps in the assimilation of calcium in the bone matrix and strengthens the bones and tissues.
Conclusion-
Dmitry Medvedev has stated- "Those who play badminton well, take decisions quickly."
Badminton is not just an outdoor sport; it's an ultimate exercise. Playing Badminton has many benefits. It provides an overall fitness to an individual; it helps in strengthening the muscles, and burning fat. It keeps the weight in check and prevents obesity. Regularly playing the sport has plenty of mental benefits too. It reduces anxiety, hypertension, and fear. On the contrary, it aids in the positive attitude of self; it increases self-confidence and promotes happy hormone secretion in the body. It makes an individual emotionally strong and physically fit. It regulates body temperature and promotes proper signalling between the cells. It reduces the risk of bone problems and diabetes. The game improves insulin sensitivity, which makes the insulin function better in the body. It's an aerobic game which involves the use of whole-body parts from toe tip to head in a continuous, rhythmic movement which enhances heart rate.
Thus stop waiting and slogging, instead, pick your racquet and give your body a daily dose of fitness.