Manoj Sarkar had suffered an outbreak of polio during his teenage years and took this impairment well into his stride. Manoj's condition arose from wrong medical treatment at the age of 1, suffers from PPRP lower limb condition. He competes in the SL3 category, where players have disabilities in one or both lower limbs and have poor walking /running balance. Being regular in both singles and doubles events, Manoj has won several tournaments at national and international levels, as well as maintaining his ranking worldwide by winning several gold medals which has propelled him to the world ranking of number three. The most surprising thing is that he started competing in Para-Badminton in 2011 and before that, he was not even aware that there is a separate section of the game for physically disabled players. He became world champion in only three years.
Overlook on his Achievements -
| | | | | |
| --- | --- | --- | --- | --- |
| MEDAL TALLY | GOLD | SILVER | BRONZE | TOTAL |
| International | 15 | 11 | 16 | 42 |
| National | 18 | 04 | 02 | 24 |
BWF Para-Badminton World Championship
2013 - Gold in Men's Doubles and Bronze in Mixed Doubles
2015 - Bronze in Singles, Gold in Doubles
2017 - Silver in Singles
2019 - Bronze in Singles, Gold in Doubles
Asian Para Games
2014 - Silver in Singles
2018 - Bronze in Singles and Doubles
Asian Para-Badminton Championship
2016 - Gold in Singles, Bronze in Doubles
Held World's No.1 Ranking at -
Thailand Para-Badminton tournament in 2017
Japan Para-Badminton tournament in 2017
1st Faza Para-Badminton tournament in 2018
Enus-Cup 4th Turkish Para-Badminton tournament in 2018
Thailand Para-Badminton tournament in 2018
Sportsmatik got a chance to connect with Manoj Sarkar, where he has shared his life experiences and career journey so far. Here is the conversation -
Tell us about your journey, from where did it all start?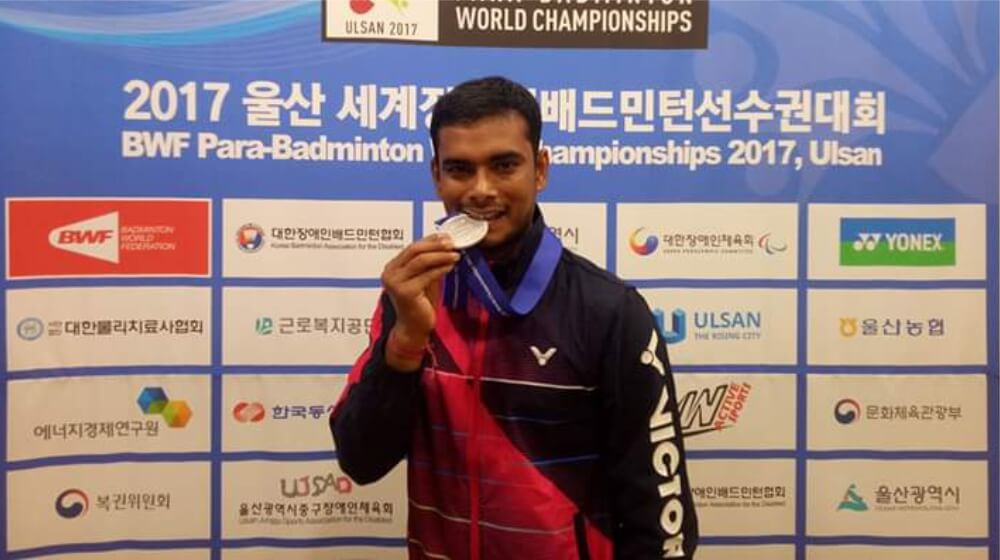 I loved badminton from childhood, but it was never an aim for me. One day, my paternal uncle brought a new badminton set for all my elder brothers. I felt bad and hurt, so I took money from my mother and bought a new badminton racket for myself. I made a firm decision that I'll not let my elder brothers win from me, and that's how I started playing badminton with full passion and determination.
After seeing you playing well at the state-level competition, badminton player D.K. Sen advised you something. What was that advice and how that motivated you to enter at Para games?
When I started playing, I was 5-6 years old, but I wasn't aware that badminton is played on such big level like national, international and others. When I was in 11th standard, I was selected to play at the inter-school competition where I met D.K. Sen. In the second round, I lost my match after which he called me and suggested me to play in the Para-team. I wasn't aware of para-sports that time, so he explained the scenario to me. He told me if I play para-badminton, I can represent India. And those were the words that strike me and I started searching for options. I got the number of Gaurav Sir who is our coach right now. After his guidance, my life took a turning point and I got a head start of my Para-badminton career from there.
Through your brilliant performance, you soon made a place in the National Para-Badminton Team. Tell us something about it.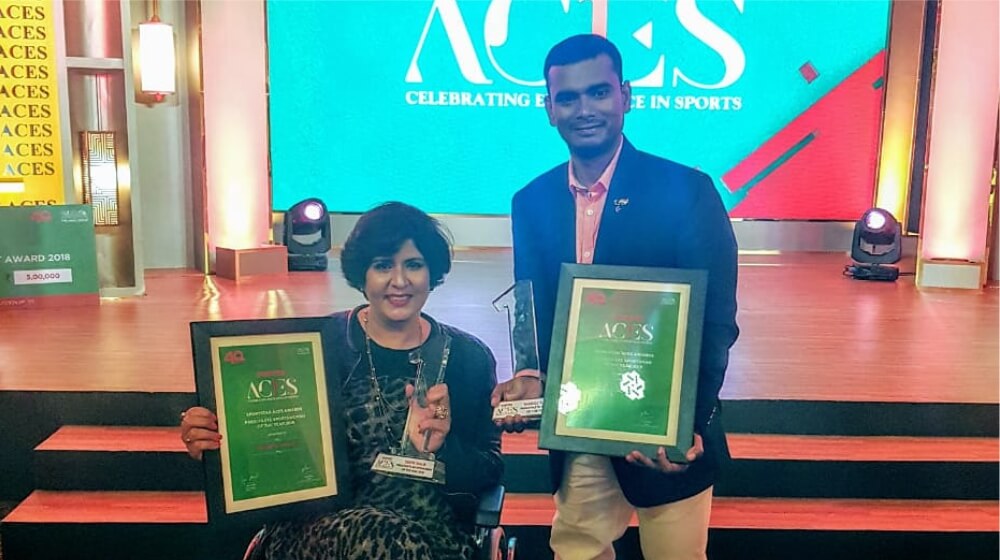 Since I used to play with able-bodied players, so at the beginning with para-players, things were very easy for me. When I joined para-badminton, I got so surprised as the rules and regulations, difficulty level and everything was very different from the able one. That's why, when I participated in my first Nationals, I won many matches because everything seems very casual to me. But now, things have changed, many countries are involved in the sport, training has been improved and the level of play is on great heights as you can see in the World Championships.
After your father's death, how important is your mother's role in your success?
See my mother was a great support from my childhood but my father started supporting me when my university won its first-ever competition because of me as I was the captain there. After that, he believed that yes, I also could make him proud and he started supporting me. So after my father's death too, I had all the support from my mother and I have dedicated my every performance to her only.
You were conferred with the prestigious Arjuna Award being the first player to receive it from Rudrapur as well as Uttarakhand. What would you like to say about this achievement?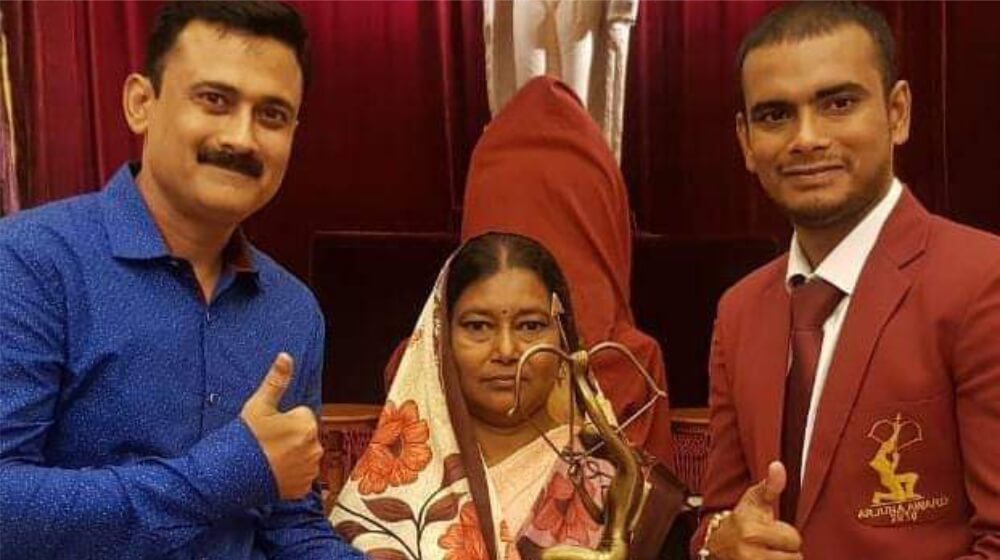 When that moment arrived, I was excited and overwhelmed as I was the first athlete from Uttarakhand to receive this prestigious award but also had a bit of sorrow as well because I always wanted my father to see me taking that award and feel proud on me. But unfortunately, it wasn't possible as he passed away before that. But yes, my mother was with me and I could feel that in her eyes that she was so proud that time.
Gosports Foundation is helping you financially. But how the Government is helping you all?
Frankly, the Government has some major schemes for high-level games like World Championships, World Cup, Olympics, and all. And from 2018-19 financial year till Olympic year, Government has selected us in the top 16 and is bearing every expense of our training and participation there which is highly appreciable.
You have been selected for the Tokyo 2020 Paralympic Games. How is the preparation going?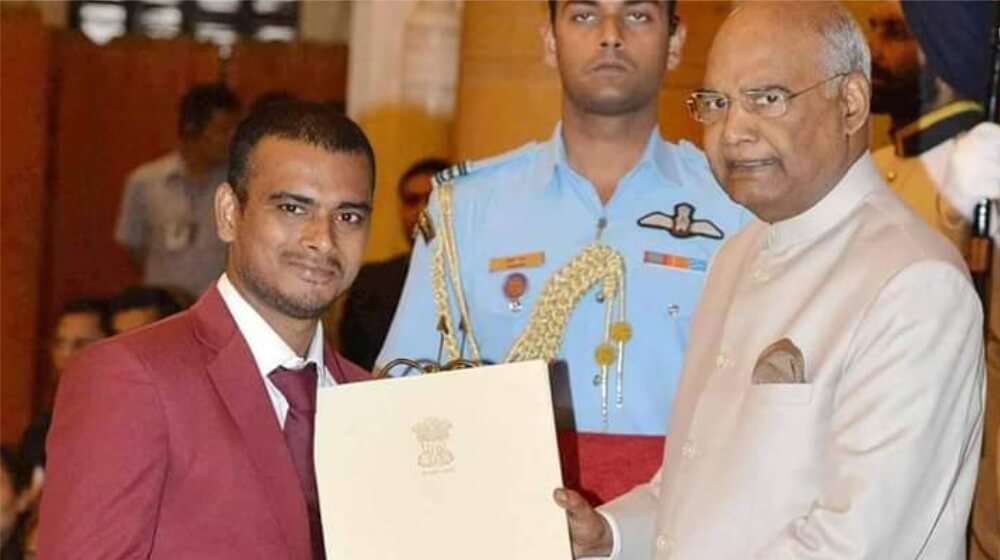 We are preparing under the guidance of Gaurav Khanna sir and everything is going superb. Earlier, we used to focus only on physical and force workout but now training pattern is changing for good. We are focusing on every small aspect of training such as gym workouts, healthy diets and everything else. We have never done it before but now, we are getting stronger technically inside as well as outside the court. Gaurav sir also regularly tells us about the rules & regulations of the game like how possibly we can raise our point to referees and all. So, if we see the overall progress, the level of badminton has definitely risen as compared from the past.
What did you learn from defeat by fellow shuttler Pramod Bhagat during the Thailand Para-Badminton International tournament of 2018? And how did you deal with that?
Well, this part of my life is untouched till now. Actually, in my starting days, it became a habit for me to win medals at every single event in which I participate, so somehow I started taking the game casually. But, the turning point was when Pramod Bhagat started defeating me in each of the events like nationals, international leagues & so on since 2017. He made me realize that I'm taking my game very casually and not making enough efforts. After which, and till now, I'm improving myself and making efforts regularly to better my game and make a positive change in my life and career.
How did it impact your life after clinching the gold medal in Turkish Para-Badminton International-ENESCUP and Fazza-Dubai Para-Badminton International?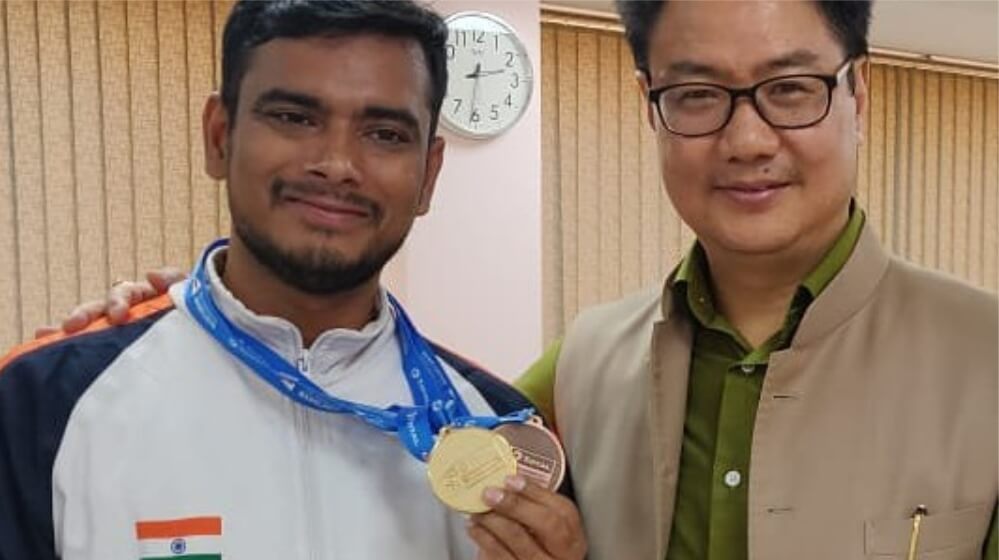 Actually, all the top players of the world have participated in both these events. So, it was a great & memorable achievement for me. All I can say is the year 2018 was a peak point of my career, I was at my best fitness level with the training provided by Gaurav sir and things were going perfect for me. Even, I had recovered well after my father's death and everything was going smoothly. But after that, I again had a casualty at my home, because of that I lost my focus again. But yes, those two events were the biggest achievements of my career and were not at all easy to achieve.
Tell us about your most memorable moment?
2016 Asian Games was the most memorable tournament of my life and career. Throughout that year, I was not performing up to the mark so everybody including my team lost hope in me and they had this thought in their mind that I'll not be able to win any medal this time. So I took it as a challenge and played with all my vigour and yes, I made it and won a gold medal in the tournament. It was a very emotional and important moment of my life.
Who's your role model and why?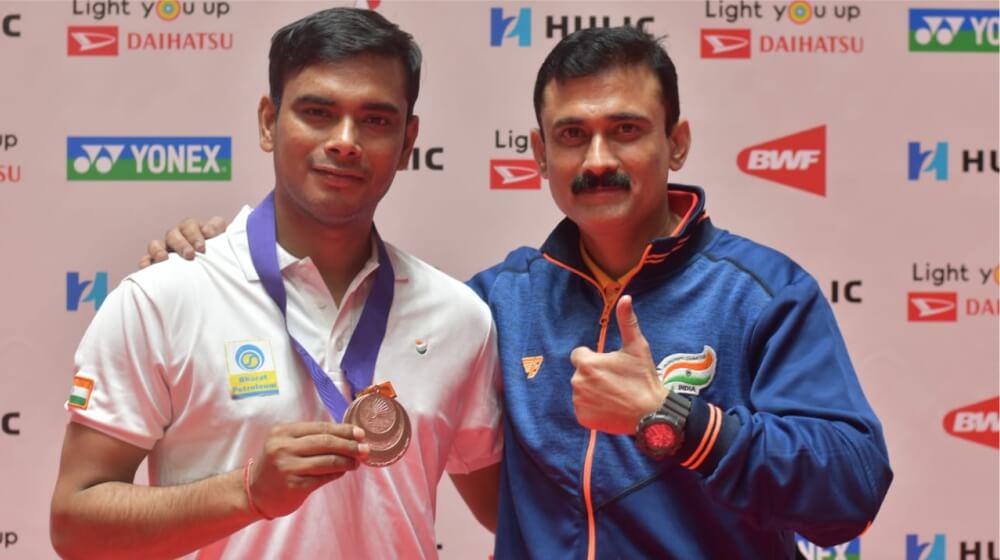 I actually have two role models. One is Vijay Ahuja sir, who is not associated with badminton but is very dear to me. He has helped me a lot in starting my career and even opened a coaching center for me where I used to give training to kids and with the money earned, I started doing my badminton practice and workout to improve my game. So he has a vital role in my career. And if I talk about badminton, then no doubt, it is Gaurav Sir, my mentor who guided me in every phase of my career. With his guidance only, I wouldn't have improved my game to this level. Even if I'm giving this interview right now, it's because of him as not only game, he also motivates us to talk to the world and present ourselves. He is not just a perfect coach but also a very good human being, and if ever given a chance, I would like to be like him.
Are you looking forward to coach the future of badminton?
There is a fact which no one knows that since 2011, I'm already training able-bodied kids and preparing them for national & international stages. I've also started training para-players sometimes ago and 3 girls among them were the ones to win all the three gold, silver and bronze medals at the National Games of last year. Right now, I'm training a boy Akshay Grover and preparing him for the upcoming National Championships.
You along with Pramod Bhagat won 2 gold medals in Doubles at Para-Badminton world championships 2019 in Switzerland. How was that experience?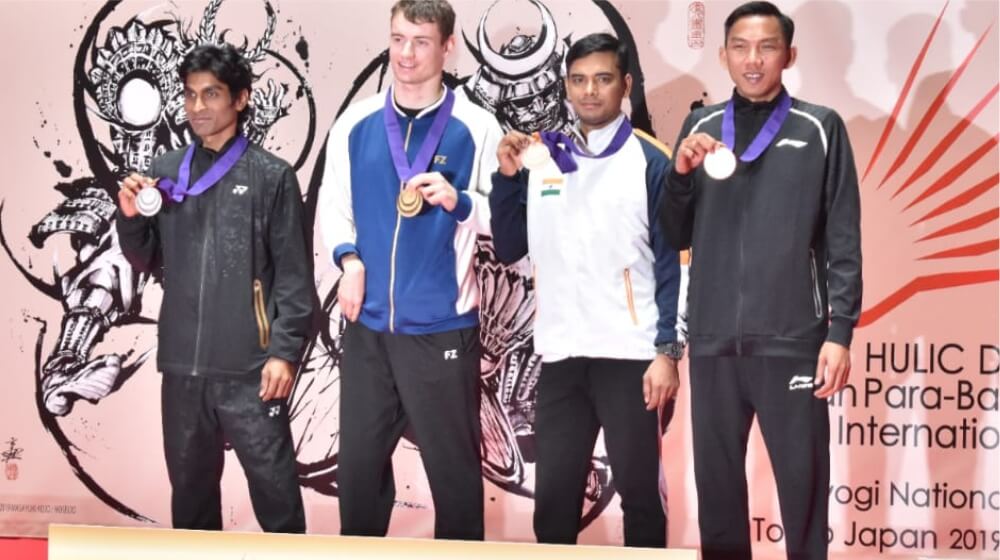 If I talk about Pramod bhaiya so first of all, he is my senior and we have a very good tuning. If you know, we are basically opponents during singles events but still have no rivalry between us. He always treats me like his younger brother, and we use to talk before all the matches. Our techniques are well known to each other, so whenever we play in doubles together, we perform like a perfect team. During 2019 World Championships, were disheartened in the second set after losing the first one. At that moment, he came to me, motivated me and said "If we win this match, we'll be called the world champions otherwise nothing. Now you decide what you want to do!" After that, we decided that no matter what, we'll put our full efforts and give our 100%. And what happened after that, the whole world knows that we became the world champions.
​What would Manoj Sarkar be if not an athlete?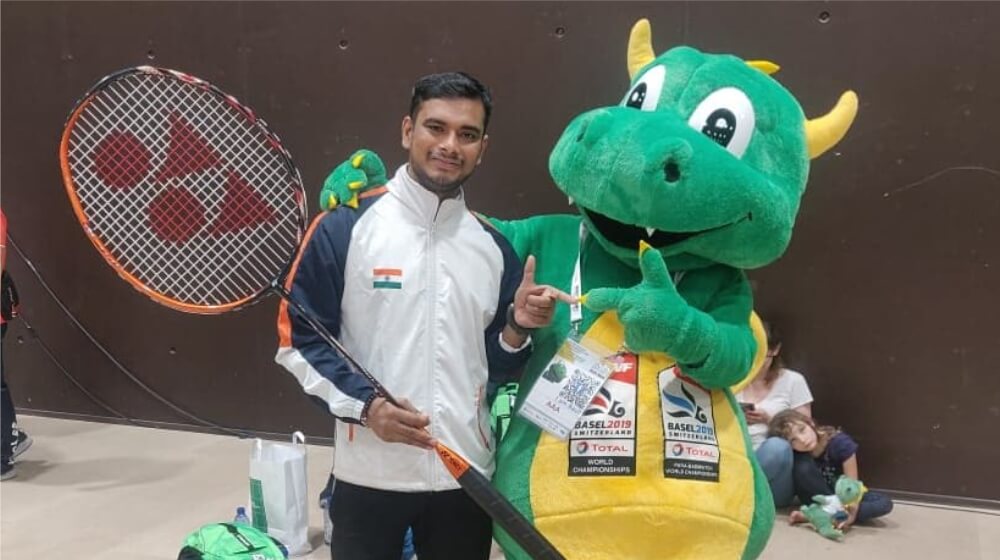 Earlier, I was very good at accounts and wanted to be a Chartered Accountant. I told my father about it so he only said one thing that "Work according to your status" and what I replied was "Status has to be made". But because of financial constraints, I never started that course. After that, I worked hard, focused on my game and reached here.
What are your expectations from Sportsmatik.com as a multi-sports community?
See I have struggled a lot in my life as earlier I wasn't familiar at all about Sports and the sports competitions. I just want that players like me who have potential but are unaware about the professional level of these sports should get familiar about them. You guys can reach them and let them know about the news and levels of competitions and can highlight them to show their real potential to the world. Sportsmatik is doing an excellent job regarding this thing and I wish all the best to you all.
The Sportsmatik community applauds Manoj and wishes him all the best for his future endeavours.
Manoj Sarkar is now a part of Sportsmatik.com. Checkout his profile at the link given below -