Every athlete dreams to bring medals for his country but not everyone has the courage to follow them. Today we have brought the story of a former Karate Player who was very clear about his goal and was very close to fulfilling his dream of representing India internationally but then adversity struck that made the journey difficult for him. Despite being disabled, he did not forget his dream and started with a new sport to become first paraplegic swimmer to hold the record for the longest open sea swim. Yes, we are talking about Indian Para Swimmer and TEDx Speaker – Mohammad Shams Aalam Sheikh who has proved that anything can be achieved with sheer dedication and perseverance.
He began swimming at the age of two in a pond near his home in Rathaus Village. It was his dream to become a Karate Champion. To get closer towards achieving it, he began learning the Shito Ryu style of karate under the guidance of Sensei Umesh Murkar. After years of hard work, he achieved a black belt in 2008 and won 50+ medals at the state, national and international championships. In 2010, he won a silver medal in the Asian Games trial, held in India. He realized that his dream to represent India in the Asian Games was close to an inch. But then, his life took upside down when he was diagnosed with an unexpected spinal tumour that paralyzed him below chest level and became 100% disabled after several surgeries.
However, this did not stop him from making a mark on the world stage as a champion. Despite being completely disabled, he initially learned to swim on his own to rebuild his nervous system and later made it into a confidence-building profession. His confidence led him to fulfil great undertakings and he surprised everyone by setting a world record. He started practising and first got a chance to participate in the Maharashtra State Paralympic Swimming Championships, where he won silver and bronze in freestyle and backstroke. This allowed him to compete in the National Championship so he is now a National Record holder in his category. He is an international gold medalist in Para Swimming and holds the world record in Open Sea Swimming for the longest time by a paraplegic person. He has represented India at the2018 Asian Para Games in Indonesia.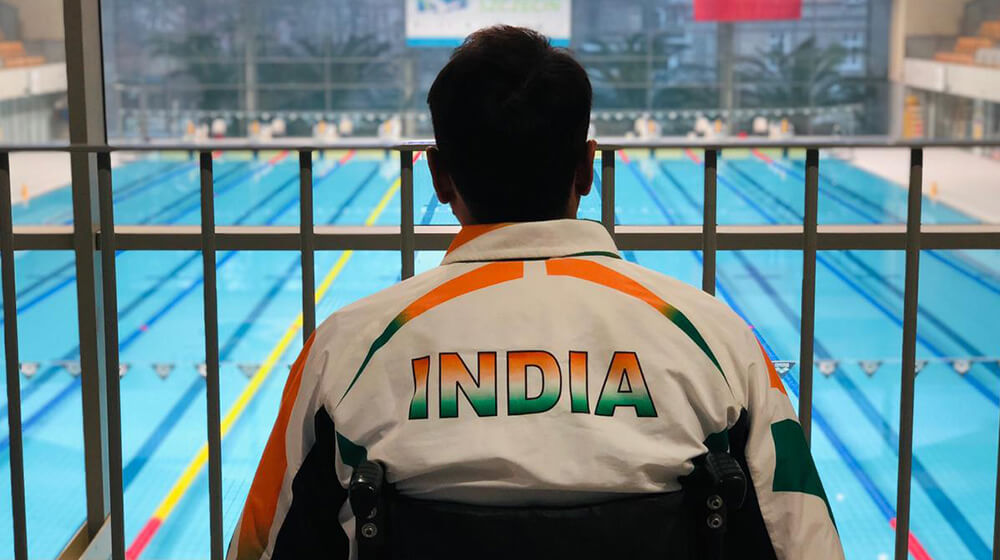 An Overlook on his Major Achievements:
2013 Jigar Award
Bronze at the 2016 Can-Am Para Swimming Championships
Hold the record for the longest open sea swim by a Paraplegic Person (8 km in 4 hours) in 2017
4 Gold medals at 2018 Indian Open Para Swimming Championship
Represented India at the 2018 Asian Para Games
2018 Youth Icon Award
2018 Bihar Khel Ratna Award
Also holds the record for Fastest River Swimming by Paraplegic Swimmer (2 km swimming in Ganga River) with 12:23.04 minutes in 2019
2016-2019 Khel Samman by Bihar govt
In an exclusive Interview with Sportsmatik, Shams spoke about his early days, experiences and situations that he faced in his para-sports journey and more. Here is the complete conversation -
When & how did you realize your passion for Swimming?
I belong to Madhubani district of Bihar where flooding is a normal thing. Since my area is very close to Nepal, so whenever water is released from there, floods arise. So it became a need for people living out there to know swimming. When I was two years old, I used to swim in the pond near my house where I used to cover the entire lake by swimming but wasn't aware that it can opt as a profession when I grew up. After that, I moved to Mumbai and began to study here. In 2010, I was diagnosed with a spinal tumour and had a lump in my spine for which I had to undergo an operation. Unfortunately, the operation could not succeed due to the mistake of doctors and then the area below my chest became completely numb due to which it lost the power and sensation.
I had to undergo another operation; although the operation was successful, till the time, I had lost enough. Afterwards, I went to the Paraplegic Foundation (rehabilitation centre) in Mumbai for exercise and physiotherapy. I met there with Rajaram Dhaak, an English channel Para-Swimmer. In a conversation, he told me that if you know swimming, do it, that will help in regenerating your nervous system and will be very good with your exercise. I had heard about aqua therapy before so I thought to start swimming. I started it as a form of exercise but later came to know that there are also swimming competitions in the Paralympic Games and other major games. I started participating in all these games and that's how I got into the sport.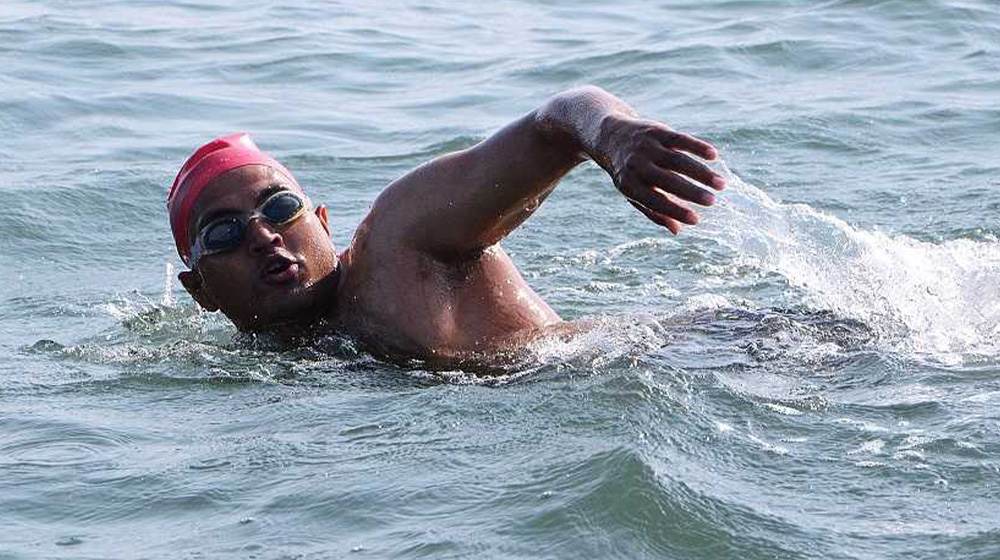 In the very beginning, you were into Karate, then how come you switched to swimming?
I used to play karate before my accident. I believe that once you are a sportsman, you're always a sportsman. So before the accident, I had a dream to represent India, which I could not do during my time practising karate. Although, I was a National Karate Champion, a silver medalist in the National Championship of AIKF, in which I was also selected for national camp and was going to participate in Karate in the 2010 Asian Games.
But because of my disability after the tumour, I could not move forward in karate and my dream also started fading to represent India in the Asian Games, but when I started swimming, I saw a hope to fulfil my dream again and I got out in this journey by having a thought in mind that I would do something in the Para Games. After eight years of hard work, I got a chance to represent India in the Asian Para Games in 2018.
How did you cope up with your medical condition? What is your success mantra?
The medical condition I faced was very difficult. To be honest, if even today I talk to those who are new in this situation and have such problems, they do not know how and what to do and that's where I guide them. So initially I was in the same situation because I didn't know how to cope up; I also used to cry at night, used to search about things in my mobile or laptop about paraplegia and its chances of recovery.
I feel that those who kept me in the deepest deception were the doctors because they always used to tell me that you will be fine in 15 or 30 days. Even before when they started my operation, I told them that I am a karate athlete and have to participate in the Asian Games, so they said that you can do everything after this operation. Everything happened so quickly and I believe that it was my fault to not consult other people about the operation. All I want to say is if any person like me, in any corner of the world, suffers from any spinal injury or has to undergo an operation, go to government hospitals because they have much experienced doctors.
And if I talk about how I cope-up from my medical condition, so the thing is, my mother always supported me. She told me stories about my maternal grandfather, how he used to practice wrestling and win. She always used to give me positive advice that everything will be alright. So all in all, she was my major motivation source.
In your initial days of swimming, what difficulties did you face?
When I went swimming at Dadar's Shivaji Park (Mumbai) in 2012, on the very first day, people started criticizing me. I was asked questions about my identity, my wheelchair and all. So Rajaram sir convinced them about my abilities. Some of them agreed afterwards and gave me entry to the swimming pool but gave me a float to tie so I did the same. Although, I had full confidence in myself that if a child like me can cross the entire pond at the age of 2 then it's not a big thing to me. I have a relationship with water like a mother-son relationship. So when I landed in the pool, I felt very normal as if I was not disabled. But that float was bothering me due to which I could swim only 5 meters. So I chose to remove the float and as soon as I did it, I crossed the entire 15-meter pool in a single attempt. After seeing this, people were very impressed and gave me a line in the pool there and asked me to practice in that line.
And the same problem, I faced 7 years later in Gurgaon in 2019, when I took a house there and went to take admission in a pool nearby. They didn't allow me and told me that the pool is 25 meters long so I will not be able to swim and drown. I told them that I'm an Asian Para Swimmer but they were firm with their decision. I talked to their director then and since he had already heard my name, he asked them to take me in. They asked me to give a trial even after that but yeah finally I got the admission.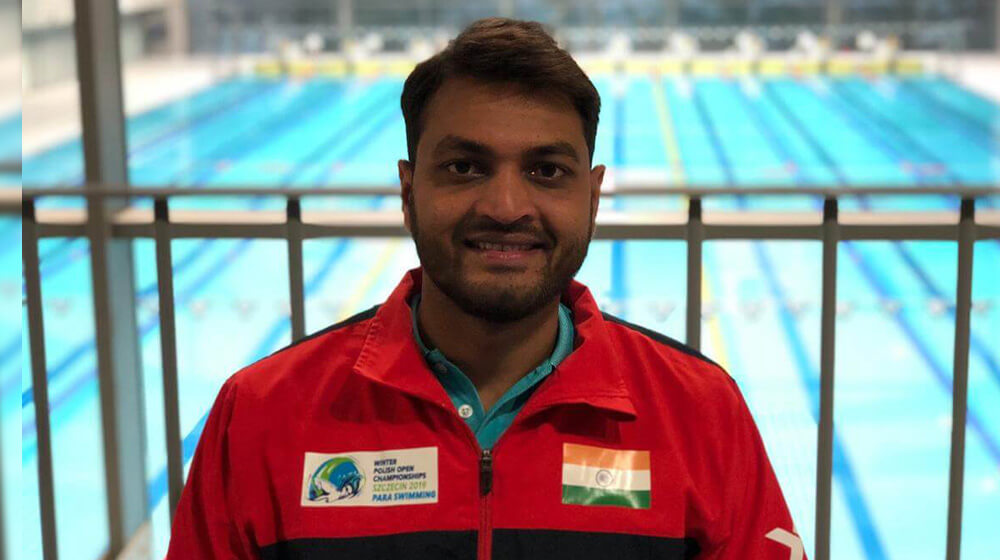 I want to tell everyone through Sportsmatik that people can go swimming or play any sport while in a wheelchair, and until this awareness spreads all the way, wheelchair athletes like me will have to suffer.
What is the role of Paraplegic Foundation of Mumbai in your Para-Swimming career?
The role of Paraplegic Foundation of Mumbai was that I got a chance to do physiotherapy there and met a lot of new people which was a great experience. I also got advice about swimming from the doctors there. So their role in my overall journey is quite important.
You hold the record for the longest open sea swim by a paraplegic person, set in 2017. Tell us about the experience.
Before 2017, I would like to talk about 2014 when I completed the Open Sea Swim in Mumbai for the first time. It started in December 2013 organized by Greater Mumbai Aquatics Association every year in the Gateway of India. I took part in this event for the first time in 2012 which was a 5 km open sea swim, but couldn't complete as I haven't practised that much. In December 2013, I participated again in the same event organized by Maharashtra Swimming Association at Malvan Beach, Maharashtra. It was a 2 km swim that I completed in half an hour which boosted my confidence. Also, the water there was quite good as compared to Mumbai.
In this way, I started practising more. From 1-hour, I increased it to 3 hours. When Rajaram sir saw me swimming, he told me that if I can swim for 3 hours, I can easily swim 5 to 6 km ahead. There is a swimming event every year organized by the Indian Navy, so in 2014, I participated and completed the 6 km swim in 1:40:28 hour which was my first successful big event, which was recorded in the Limca Book of Records as well.
After that, in 2017, a Wheelchair Accessible Beach Fest was organized by UMOJA, a travel company in Goa. Through it, they wanted to raise awareness that disabled people can also come to the beaches and enjoy their life if there is accessibility. So they contacted me and asked me to break my own record by participating in that event. They were providing all equipment like lifeguards and all; so I decided to participate in the event. I was doing my MBA from Chennai at that time but I took permission from college and went there. It was in my mind that when I can swim 6 km in 2 hours then will be able to do 8 km in 2.5 hours. But when I actually started swimming, the course was quite difficult because it was 5 km against the tide from Condolim to Baga beach and the rest parallel to the tide. So it took me a lot of time and I completed in about 4 hours and 4 minutes. So it was a tough swimming event of my life. But yeah the event was officially recorded in the Limca Book of Records and World Records Academy.
Fear of anything makes you lose it everytime. Never give up even when there is no hope. Just aim big and keep working for it.
You also hold a record of Fastest River Swimming by a Paraplegic Swimmer, which was set in Ganga River at Patna by last year. What difficulties you faced and how was the experience?
During this event, I did not face any hurdles in swimming because I was already experienced and since Ganga River is quite familiar to me so I did not face any such problems in that. But yeah, the actual problem I faced in the journey to Patna. I actually got a call from the organizers on 3rd December 2019. And the event was on 8th December. So when I checked for the train tickets, it wasn't available and the flight ticket was very expensive. Since I had the thought that if I missed this event, I have to wait till next year, so I thought to participate in it no matter how. I planned to travel in train's disabled compartment and went to catch Sampoorna Kranti train. But when I went to the station, I came to know that there is no disabled compartment in that train which was quite shocking for me. Now I was in a dilemma as I could not leave the train. So I climbed into the general compartment with some help but throughout the journey, people kept mocking me. And since I had to sit on a wheelchair for 12 to 13 hours, my feet got swollen. When I reached there, none of the organizers arrived there yet but a person came there and said to me that he knows me and saw me in last year's (2018) Khel Samman event of Bihar's state government, in which I got the award. He offered me to wait in his car and rest for a while. After that, I participated in the event and made a swimming record. Now again I had to face the same painful journey because my ticket was not confirmed and the train was also the same. But this time I was very happy because my goal was achieved. So it was my overall journey to Patna; I even received an award from India Book of Records for this achievement, but the journey was indeed tough.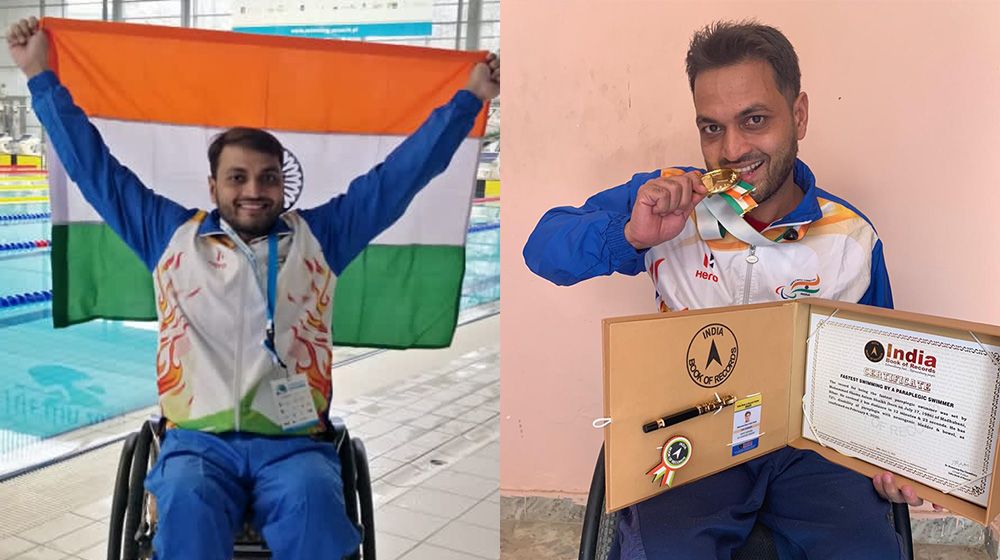 Who is your role model?
There are many role models in my life. If talking outside of swimming, Dr. APJ Abdul Kalam is my favourite leader and I follow his principles very much. Then, my mother, she is no longer in this world but she has given me a lot of inspiration. She has supported me in every phase of life and even during her last days.
Do you have any coach? Or do you have any plans to coach in the future?
I would like to tell you that the number of coaches for Para sports in India is very less. Even today, I haven't found any coach who can train me to perform better. Whenever I meet coaches of top-class swimmers in India, I approach them to train me but they say that they don't even know me. Most of the para-swimmers in India do not have a coach, only some have them because they have enough money to afford their fees. But I have neither had a coach nor any sponsor. When I went to the United States, I learned a lot from their coaches and somewhere I have implemented all those things in my performance. So yes, I will definitely pay attention to this issue in the coming times. I am already trying to learn better so that I can guide people through my experience.
Kindly share your training routine.
Talking about my training, I told you that when I came to Gurgaon, I had an issue with the swimming pool in the beginning. But after my admission there, I used to practice a lot and yeah I also do workout and gymming here for 3 days a week, so that's how my training routine looks like.
What are your future plans in sports? Are you looking forward to coach the young athletes in future?
Future plans are not decided yet due to COVID-19. Earlier this year, I was about to participate in the IWAS World Games in Thailand which is now postponed till December. If everything goes well, I'll participate there. As you know that now lockdown is slowly ending, and pool centres are opening now, so I will be able to go there and do my training like before. I think we need only 15 to 20 days of training to get into our rhythm. If everything goes well, then first I will participate in the IWAS World Games. Also, my aim is to participate in the 2022 Asian Para Games representing my country and to win a gold medal. This will be my 2nd Asian Para Games and I think by then, I will have a lot of experience. Also, I hope that by that time I could get good sponsors who can help me further.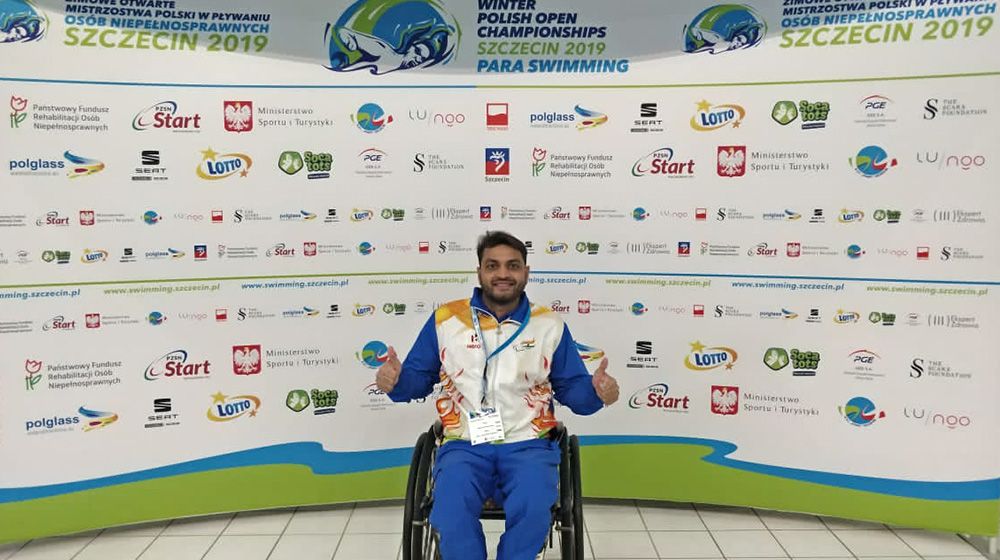 Tell us about your core passion and long term vision?
My long-term vision is to bring the aqua facility to the top in India. Also, our Para sports need more attention at the grass-root level and especially in rural areas. Because I have seen that the road map made by the Indian Paralympic Committee for the development of para-sports is not so clear.
When I went to the United States, I saw their talent search and acquisition program which was very impressive and their talent search pipeline was also much better, whereas there is nothing like that in India. We do not have better coaches, neither such leaders nor do we have experienced people associated with Para sports. I will not blame too much but the reality is that even today our Para sports are not being treated like able-bodied sports in India. Even somewhere you also know that there are many training centres for normal athletes in our country, but there is no training/ excellence centre for disabled athletes, so I believe that in all these things, we are lacking somewhere. I feel the government should think about us as well and they need to take some action on this.
What advice would you like to give to the aspiring youth?
More than youth, I would like to give an important message to their parents because I keep going to colleges and universities and see that the mentality of the parents is such that they want their children to just study. I believe that parents should change their mentality towards their children's future because every child has his/her own specific interest. Our government has also taken a good initiative by starting the Khelo India Youth Games where the youth of our country have the opportunity to show their sporting talent. I would like to request our government to organize Khelo India Para Games. It will be very good for athletes like us. And in the end, I would like to speak for the youth that whatever you do, do it with all your heart and believe in yourself that you can achieve your dreams.
What type of facilities you are receiving from our Government to participate in sports and what are your expectations?
In official championships in which I have represented India, I only get the cost of transportation from the government. In 2017, I went to participate in the World Series which was held in Germany, so all my travel expenses were taken up by the government itself. But expect that we do not get any such support in terms of training and all.
And if I talk about expectations, so I believe whenever an athlete brings a medal for the country, all they look for is respect and honour. In able-bodied sports, they do get it but in para-sports, we don't; even we do not get such facilities that are available for normal athletes. If I talk about Haryana or Rajasthan, these states have good facilities but we do not have any such policy in Maharashtra or Bihar yet. Somewhere I feel that The Rights of Persons with Disabilities Act, 2016 should be implemented and the right to equal opportunities should be given to everyone.
What are your views about the initiative taken by Sportsmatik?
First of all, I would like to say that I am following you guys from some days and I have found that every day you guys post something positive related to sports and also wish sportspersons on their birthdays daily which is a very good thing because the most valuable thing for a sportsperson is recognition. All these things mean a lot to sportspersons like us. So the work that you guys are doing is amazing as you are promoting players like us and connecting us with the world. I thank the team of Sportsmatik and want to convey my best wishes to the team to continue doing well and keep moving forward.
Rapid Fire!
| | |
| --- | --- |
| Favourite tournament that you have participated | Asian Para Games |
| Favourite sports other than Karate or Swimming | Football |
| Favourite Athlete | Sachin Tendulkar |
| Favourite swimming location | Ponds Forge International Sports Centre in Sheffield, England |
Now his aim is to prepare for the 2022 Asian Para Games. He strived to break all the stereotypes attached to para-athletes by setting a mark of his own. The Sportsmatik community applauds Shams who has made everyone believe that you can overcome any obstacle if you have strong will power!