It is rightly said that simplicity is the ultimate sophistication and the World Billiards Champion Revanna Umadevi is a live example of this phrase. While having a word with this Snooker Ace, it doesn't seem that we are talking to a lady who has shown her exuberance and aplomb through top-notched performances both at national and international level. Honest, humble and persistent. These are the qualities that define her personality. An ordinary typist who realised that Billiards is her real calling; courageously moved ahead and never looked back.
Achievements –
Ranked No.1 in national level Billiards in 2002, 2008, 2011, 2012, 2014 and 2018
Ranked 2nd in national level Snooker in 2002, 2003, 2004, 2007
Earned a bronze medal at national level Snooker in 2007
Honoured with the Ekalavya Award by the Government of Karnataka in 2009
Became the World Billiards Champion and 8 Ball Pool National Champion in 2012
Received the "Nari Shakti Puraskar" from the President of India Mr. Ram Nath Kovind under the Chairmanship of Smt. Maneka Gandhi, Minister for women and child development department, being amongst the list of 30 great women of 2017 in India
Revanna Umadevi story is an inspiration to the world, at Sportmatik.com we wanted to help share her journey, so we contacted her and she heartily welcomed us. We are sure that you will be amazed when you will read about her as well. Let's get started then.
Share your experience of becoming the World Billiards Champion in 2012?
It was a feeling of joy and I was on cloud nine. I received a phone call from one of the Media houses from Bangalore. I even did not note down the scores of any matches. I was completely shell-shocked as it was never expected.
Define yourself in one word.
FIGHTER
What were your dreams of childhood?
I was like any other normal child with no such dreams.
Why did you pick up billiards over table tennis?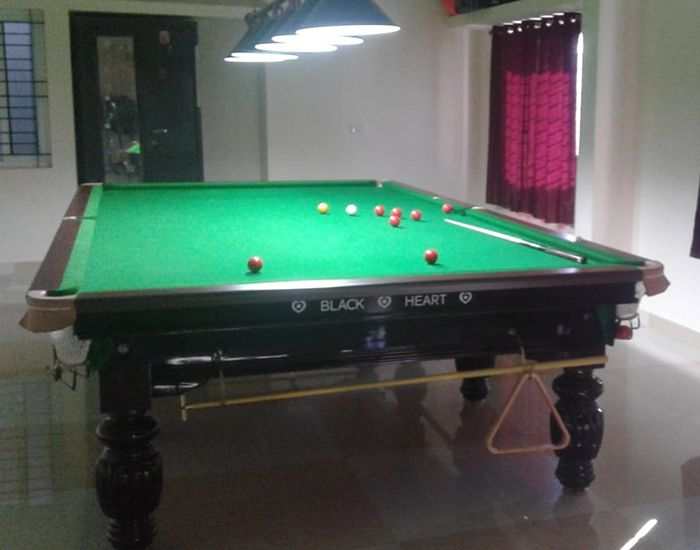 My office was in Lalbagh, Bengaluru and the atmosphere there was beautiful. I enjoyed working there and used to go to the Karnataka Government Secretariat Club to play table tennis during lunch hour. There, I used to wait for one of the coaches. During that time, I used to sit and watch Billiards as the Billiards room was next to the Tennis room. I was attracted by the colourful Billiards balls and the green table top. Certainly, I didn't know how to play Billiards. There was something in it that I got hooked up with the sport and eventually I thought THIS IS IT!
Who is your role model?
Dr. S.P Muthuraju (Rajkumar), Indian actor and singer of Kannada Cinema. I have watched his movies. I am much fascinated by the way he worked and achieved fame yet remained humble.
Which sport do you like apart from billiards?
I like football, it's my favourite sport. I watch the World Cup every time.
Which sportsperson do you like the most?
I like the Snooker legend Mr. Ronnie O'Sullivan from the UK. He is a genius and very sweet on the table.
What quality should one possess being a billiards player?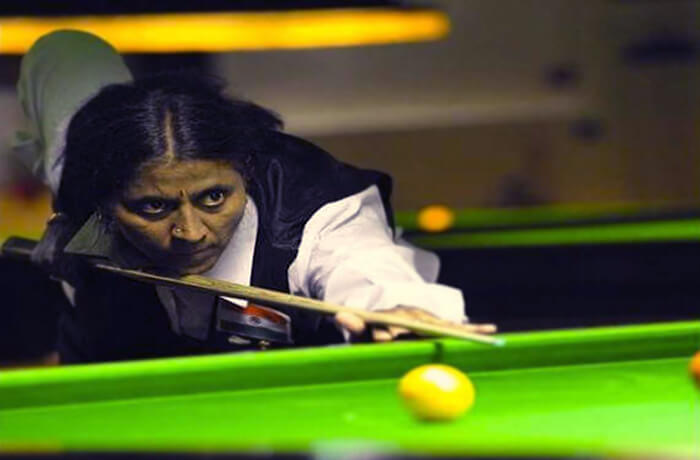 Hard work, dedication and an ability to be positive even in a negative atmosphere. One should have confidence in self and always avoid being negative, having a positive attitude.
What is your philosophy on discipline?
Discipline means having confidence and training hard for success. One's success is determined by one's level of discipline and perseverance.
When did you win the first National Championship and what was your reaction?
I won the Billiards Nationals in 2002, it was a great feeling. I did not know how to speak that time and could manage to speak English and Hindi.
How long did it take you to win the World Women's Billiard Championship after winning your first National Championship?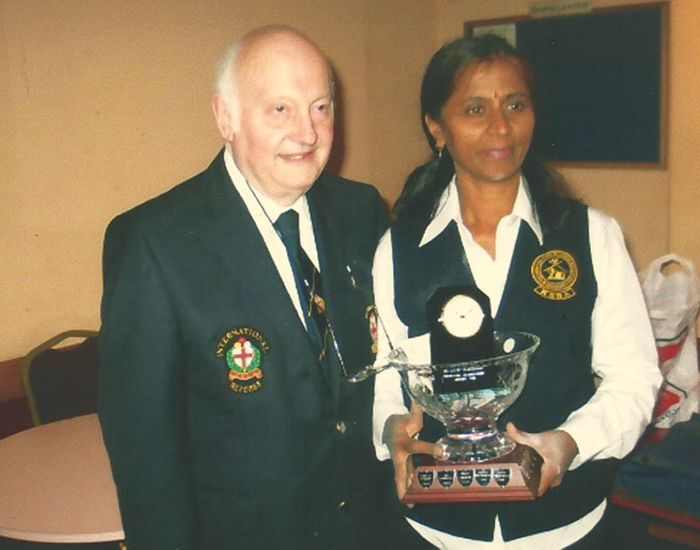 It took me ten years to win the World Billiards Championship in 2012 and also Senior Snooker Championship because I was working and I was practising only during the lunch hour and after the office hours.
What were your best-cherished memories in your sports career so far?
As soon as I won the World Billiards Championship, there was WLBSA President Mandy Fisher and Phil Mumford who asked me "If we invite you to play, would you play?" I was surprised and said "Yes". A few months later, I received an invitation to play in the World Billiards Championship 2012. There, I got the chance to play with Billiards Legend Mike Russell (Points format) and in the time format; I was qualified from the group for top 32. There, I played with our Billiards Legend, Geet Sethi. This was the best memory of my sports career.
How do you prepare yourself before a tournament?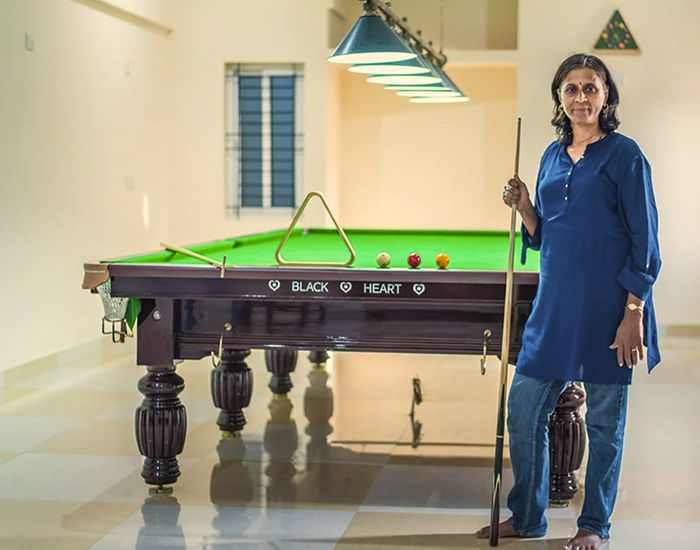 There is no preparation. I wake up at 6:30 am in the morning and prepare breakfast and lunch. I get ready and go to office like any normal government servant. I work in the office. During the lunch hour, I practice for some time, again work in the office and go to practice in the evening. After practising for 2 to 3 hours, I go home, cook food and eat with my husband Nagaraja and go to sleep at 12 at night. This is my everyday routine.
What would you be if not a billiards player?
I would be a homemaker, working as a typist in the Horticulture Department.
What triggered you to take up billiards?
I became a member of KSBA which is also called as "Mecca of cue sports". Now, I could afford to practice more in the right place and spend more dedicated hours. In the first year (1996) of my sports career, I became State Snooker No.3 and in 1997, earned the No.3 position in Billiards National. These achievements gave me the confidence to go forward in the sport. It is all because I love this sport.
What were the hurdles that you faced during your athletic career?
It was easy to play the Nationals because we were sponsored by the KSBA for reaching in the top 1 and 2 in the State Championship. We needed a lot of money to play the World Snooker or Billiards Championship abroad, so any tournament abroad meant money from my savings or I have to pledge my jewellery. I am very fortunate that my husband always believed in me and supported me financially as well. I never thought that the financial crisis proved to be a barrier for me.
Tell us more about the coaches and training you have in your career so far?
After two years since I started playing at KSBA, there was Shri. Arvind Savur, Great Champion, Arjuna Awardee and Dronacharya Awardee who started coaching me. I used to go to his house for coaching. If he had not taught me, I would not have been a champion. Also, at KSBA; I was trained by Shri. S. Jairaj, former coach of National Billiards Team and M. G. Jayaram, national champion & a great player. Their help, mentorship and training took my game to a higher level.
What has your sport taught you as a real-life lesson?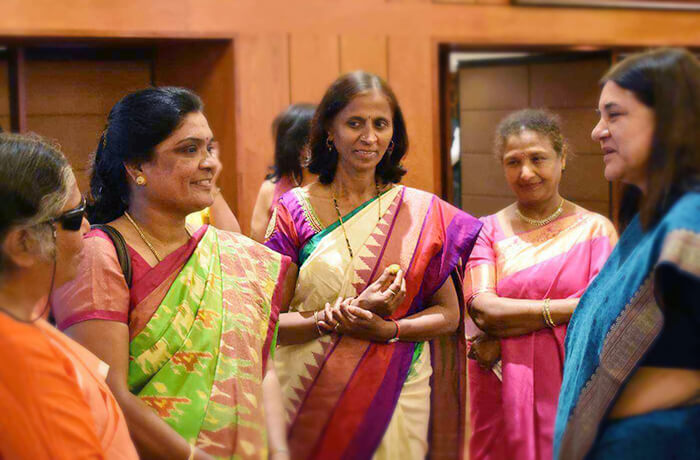 As a sportsperson, you need to have patience to fight against the odds. I believe more in efforts rather than big talks. My answers are on the table.
What is the role of Media in highlighting your efforts and achievements?
In a sportsperson's life, media coverage is very important. That time, when I was playing at world level, media published my photos and articles that helped me a lot to get in the limelight. Even today, they are doing an excellent job. Because of them, my achievements and efforts were highlighted and I received the Nari Shakti Puraskar.
How was your experience when you won the Nari Shakti Puraskar?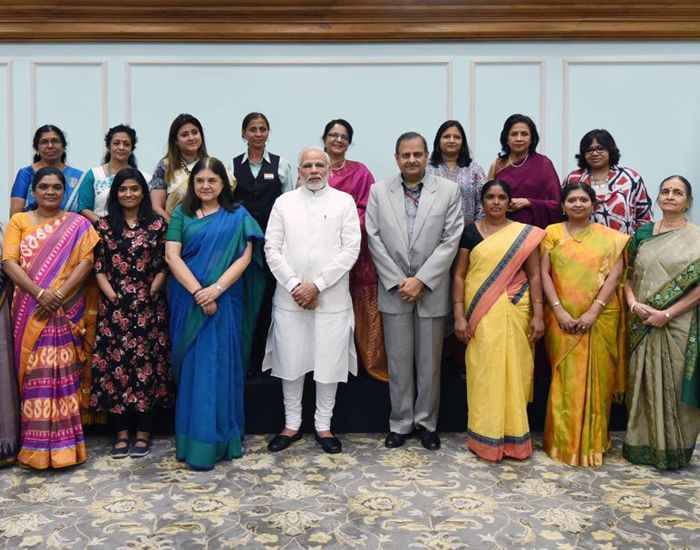 I was amongst the 30 people who were honoured at the Rashtrapati Bhavan. I did not expect this. I, along with my husband went to the Rashtrapati Bhavan. Mrs. Maneka Sanjay Gandhi was also there. Women belonging to different niches of society were honoured for the spirit of courage. It was a wonderful moment to receive the Puraskar from the honourable President Mr. Ram Nath Kovind.
How do you stay so humble?
No, I am not humble. I am very aggressive. I only concentrate on my practice and never thought of what I might achieve. I was an ordinary typist in the horticulture department. I just love to share my story with everyone.
Why do you think youngsters should take up billiards or snooker as a sport?
Youngsters should take up billiards or snooker seriously as they are getting more opportunities now. There are invitational tournaments and even the Government is now providing funds. But, even if they take up any sport; all they have to do is to play with respect and enjoy the game.
Finally, what next are you looking forward to, once you retire?
I am not retiring right now, maybe after one or two years. Once I get retired, I will start coaching the burgeoning stars to level them up for the big moves in their sports career.
What do you think about the initiative taken by Sportsmatik.com?
It is very Good! I have not seen such a platform earlier and the efforts to bring sportspersons and related entities together as a community is a brilliant concept. You guys have done a commendable job. I will always look forward to helping them as I am also for the love of sports.
Revanna Umadevi Nagaraj is now a part of Sportsmatik, Checkout her profile at the link given below-​