Mountaineering is one of the most hazardous and risky sports around the world. And why not? After all, your competitor is none other than nature itself. No matter how hard you prepare, once you're on ground zero, it is appropriate that you and the magnificent mountains appear to rise towards the interminability. Today we are going to share Priyanka Mohite's life experiences and risks, and how she started exploring the mountains at a very young age. Following this year, Priyanka became the first Indian woman to scale the fifth-highest peak of the world Mount Makalu (8,485 m).
Career Achievements -
Priyanka became the youngest girl from Maharashtra to summit the world's highest mountain Mt. Everest (8,848 m) on 22nd May 2013.
Priyanka had also conquered Africa's tallest peak Mt. Kilimanjaro (5,895m) in 2016 which is located in Tanzania region.
After two unsuccessful attempts, she successfully summited the Mt. Lhotse (8,516 m) on 16th May 2018.
Following this year, she became the first Indian woman to the summit Mt. Makalu (8,485 m) on 15th May 2019.
Sportsmatik got a chance to connect with Priyanka Mohite, where she showed up her love for the mountains. Here is the complete conversation -
How the thought of mountaineering struck your mind, and how have you started with it?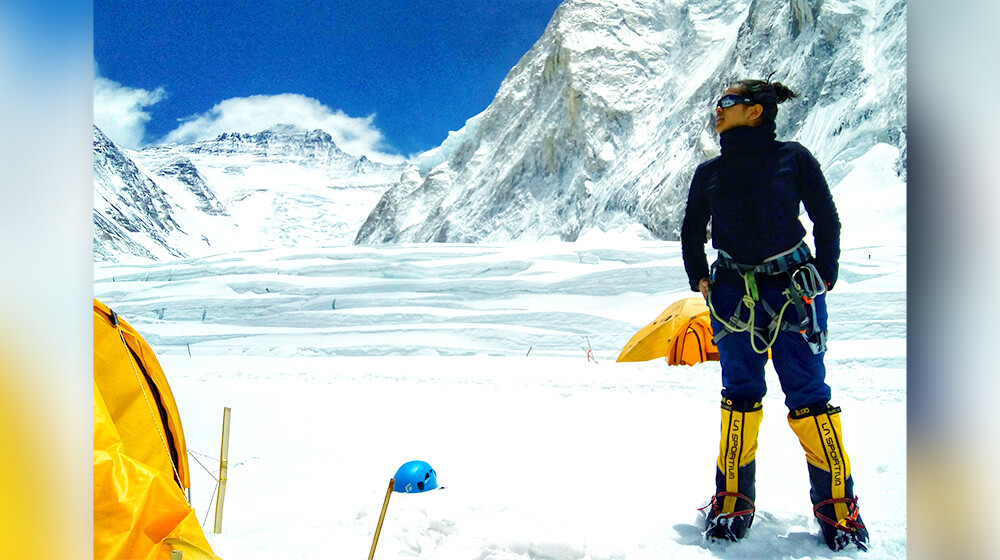 I am originally from the city of Satara, Maharashtra, which is surrounded by Sahyadri hills. I started north trekking exactly when I was in 7th standard. But before that, I used to go with my cousins ​​and roam around at Sahyadri hills. Later, I continued to follow my passion for trekking, rock climbing and all that. I did a basic mountaineering course from the Nehru Institute of Mountaineering in 2010, where I got Grade A which led me to pursue my passion for mountaineering. I also completed an advanced mountaineering course in 2012. Even I climbed my first peak, which was Mt. Bandarpoonch, at the height of 6316m during the course, and that's how things started.
After 12th boards, you decided to pursue mountaineering, despite securing a seat in biotechnology. Did your parents support your decision at that time?
Yes, definitely. After my 12th examination in 2010, I did my basic mountaineering course. But my parents only gave me one chance because, in the mountains, it is all about acclimatisation whether you are physically fit or mentally strong. Whatever the situation is, you need to acclimatise properly. So I tried my level best and reached 17,600 feet near to Gangotri Region. That was an excellent achievement for me. So yes, my parents supported me to pursue my passion for mountaineering.
According to you, what is more challenging in the mountains? Zoomering or Rappelling?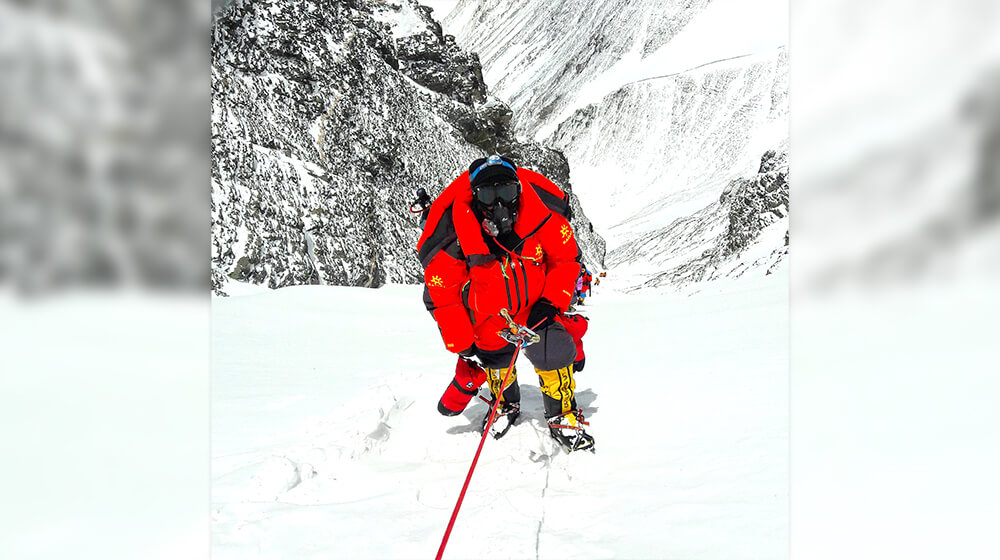 Everything is challenging in the Mountains, from packing your bag, tying your shoe to waking up at 2 am. Climbing in ice with ice axe is more challenging. There is no doubt that climbing is essential, but descending is more critical. So after my summit, I always focus on my descend, and while doing it, I used to rappel very carefully because rappelling is all about the body balance. It's even quite challenging to put the anchor on the rope while rappelling down. So I believe that everything in mountaineering is very challenging.
Knowing that the oxygen level at Mount Everest becomes the lowest after Camp 4, you have continued summiting. As a Mountaineer, how much courage is needed for this?
I have prepared physically and mentally already, but after 7,400 metres after camp 3, I put an oxygen cylinder. And it was like a calculated risk for me. According to my speed, I use three oxygen bottles from camp 4 to summit and summit to camp 4, so I was thrilled that I put the oxygen because it's not that tiring without an oxygen mask, so I put it and headed towards my destination. So yes it was like a new experience for me, but ya I did it at the top of Mt. Everest.
Some people discouraged you from going to Mount Lhotse because of few unsuccessful attempts before. But in spite of this, you decided to revisit Mount Lhotse in 2018 and also summited successfully. What would you like to say about this achievement?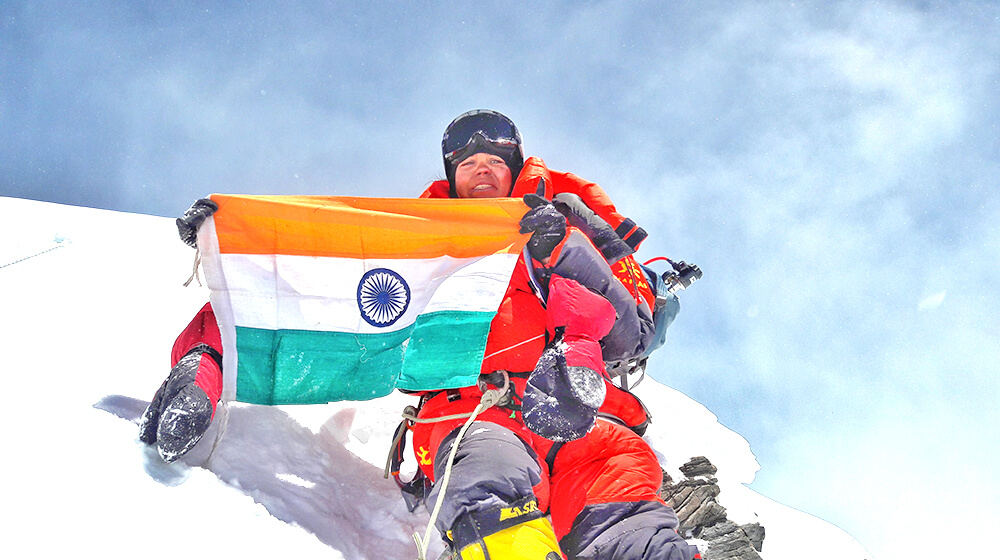 Yes, I failed my two previous attempts on Mt. Lhotse because I was not that good in my physical fitness and everything. And also in my earlier attempts, I could not go ahead of the base camp because, In 2014, all expeditions were cancelled, after the death of 16 Sherpas in a crash in the Khumbu Snow Avalanche. And in 2015 there was a massive earthquake, I was a part of the rescued team. I was traumatised to see so many dead people around me, so I was not able to climb. And somewhere, bad luck also struck me as I have lost my sponsorship and everything. But in 2018, my inner voice prompted me to try it again after which I successfully summited the Mount Lhotse, and it was quite good weather at that time, and everything was okay. Climbing on Mt. Lhotse is quite tough than Everest. So all I can say that it's my first attempt where I actually started climbing from base camp to summit and safely back.
You are also the first Indian woman to scale Mount Makalu. How did you feel when this record has been created?
Actually, I knew that there are only 2 or 3 people who summited at Mount Makalu from India because Makalu is a challenging, toughest and tallest mountain to climb. And I knew that no Indian women never been on Makalu. So I've decided that I'll go and climb at Makalu this year. It was a fantastic thing for me because that was my 3rd eight-thousander mountain. When I came to know that I became the first Indian woman to summit Makalu, I was thrilled, and I had no words because it was really amazing feeling that there are no women from India who climbed Mount Makalu, but it was me.
You got praises from the great Sachin Tendulkar himself. How overwhelming was the experience?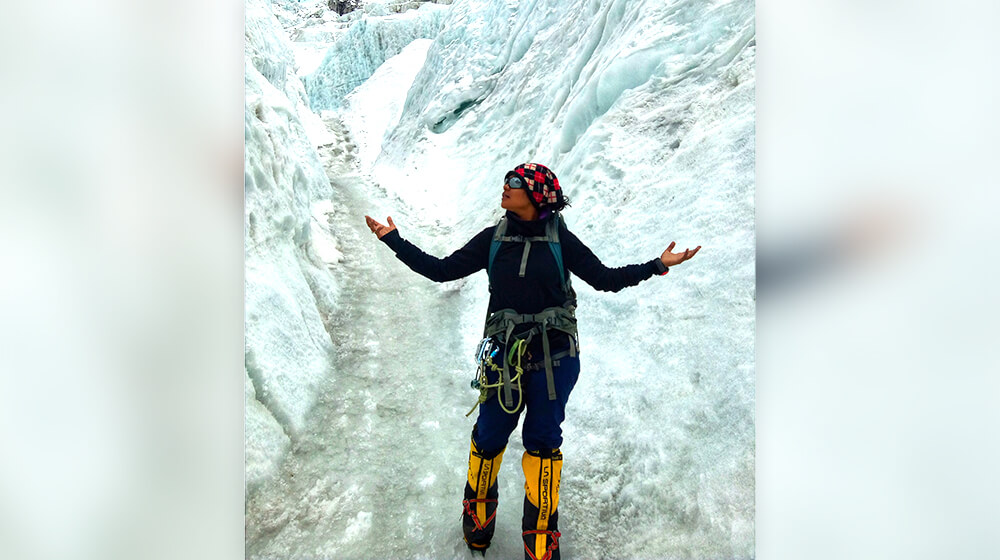 Yes, I had the opportunity to interact with him in November 2018. When I met him, it was an amazing conversation. He has a different voice, energetic and a very positive vibe. When I met him as a fan, he was terrific. The way he speaks is impressive, and I was just mesmerised. And when he tweeted and congratulated me for climbing the Mount Makalu, I was so happy on that day, and that was the happiest day of my life.
You have conquered some of the highest peaks in the world. Who helped you on your journey so far?
There are so many people who helped me on my journey. My Coach Shreshtha sir from whom I learnt so many things. And also there are some of the other mentors like my leader Col. Rana helped me a lot, of course, my family always there with me. And if I talk about the sponsorship part, so the Former Governor of Sikkim Shriniwas Patil who always helped me. The Politician of Maharastra Sharad Pawar also helped me. If I talk about Makalu Expedition, one of my company colleagues sponsored me the whole for that expedition. So in my mountaineering journey, there are a lot of people who helped me, and I would never have done all this without their support.
According to you, how difficult is mountaineering for women in India? What message you have for them?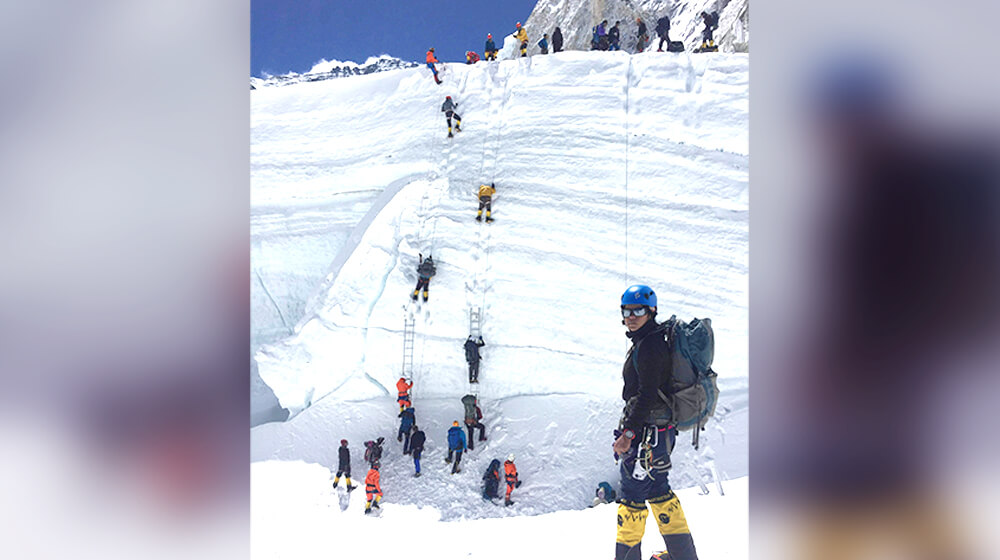 In Mountaineering, some women are really doing a good job, but eight-thousander peaks are a bit difficult, and I don't think that there are so many women who are trying to scale them. After my Everest summit, I've decided that I'll go and climb these peaks. There are a number of girls who are in mountaineering, so it feels really good but not in eight-thousanders. In reality, only 2 or 3 are trying eight-thousander peaks. So the message I have for the Indian women is "Climbing on 8000m peaks is a tough job, but if you are fully prepared, then you can easily climb on those peaks. Also, you have to be really-really strong physically and mentally before attempting any 8000m peaks. So prepare fully and then just go for it."
How does it feel to see the world from the top of Mount Everest?
This is the world's best feeling when you are on the world's highest spot, at the top of Mt Everest. You would not believe, but I always used to imagine in my practice session that whenever I reach the top of Mt Everest, I will shout and tell the entire world that I made it. But later, when I was on top of the Everest, then I found that I was covered with the clouds so there was nobody to listen and that's the real thing. You can't see anything, except for the small mountains and their top from the top. And for me, it was the best feeling ever.
Which summit is the most memorable?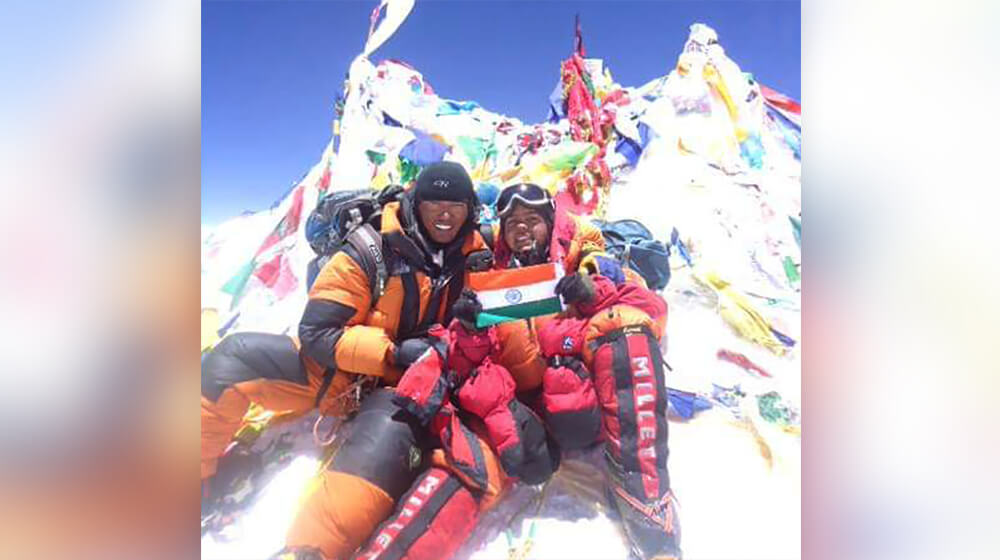 Every mountain has its own story and of course, memorable also. Everest is my first eight-thousander, so it is a pretty special mountain summit for me. If I talk about Lhotse, I gave two trial attempts, and it takes five years from 2013 to 2018 to reach the summit of Lhotse. And if I talk about Makalu, I summited the peak at 15th May, and that was my mother's birthday, so it was really special to me that I summited this peak on my mother's birthday. And yes, every mountain is memorable. I can't compare it.
What hurdles you have faced in your career so far?
The major hurdle is getting a sponsorship to climb the eight-thousander mountains, as it's costly. In Mountaineering, as I was descending from the summit of any eight-thousanders, it needs more technical skills. I have had a lot of difficulties getting sponsorship for my climb. I am still under three lakhs to pay my agency for the ascent of Mt. Makalu. They will give my certificate on depositing the entire amount. So, you can imagine how difficult and challenging it is to walk on it and still feel positive. Climbing 8000 meters, it is a little tricky without oxygen, but thankfully no injuries have been happened till now.
What was the reaction of the society when you decided to be a mountaineer and have you faced any criticism?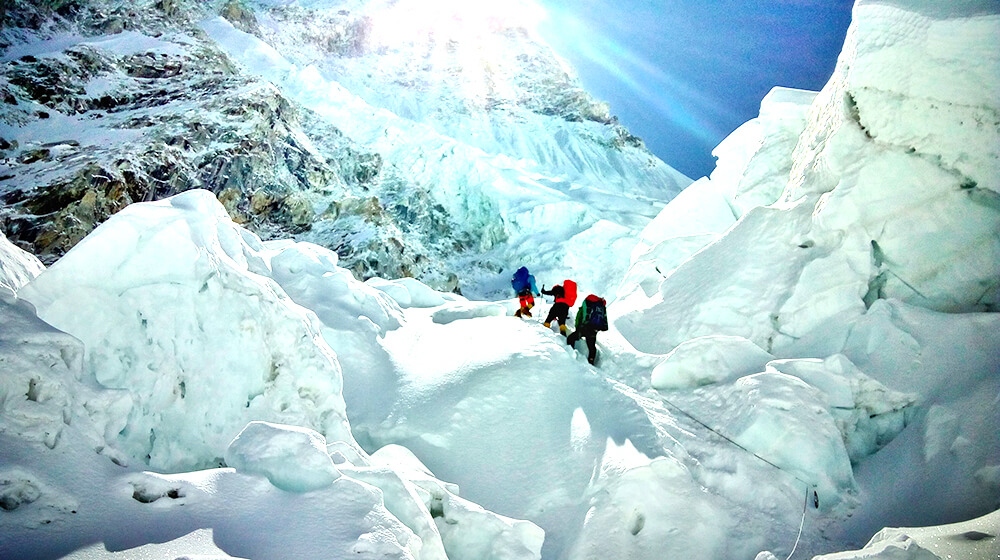 Mountaineering is not such a famous sport, so I have to go and tell people what I am doing precisely because many people asked me what I will do after climbing the mountains. Before the beginning of my mountain journey, it was tough to convince the people, my parents were already confident but not the other people. As well as mountaineering is a male-dominated field, I have always faced a lot of unwanted criticism. I think discrimination has something to do with my gender. Girls are always expected to stay at home or do low-risk work. But now, it's time to break the stereotypes and follow my passion confidently.
What are your future goals and upcoming tours? Could you tell us in brief?
I've planned to climb the world's top 14 eight-thousander mountains, and I've finished the three so far. The remaining is in my bucket list, and by next year, I will go climbing the Mt. Kanchenjunga and Mt. Annapurna, and I am preparing myself for this.
Each climb demands you 100 percent, and if you miss something, you are most likely to suffer injuries. What would you like to say about it?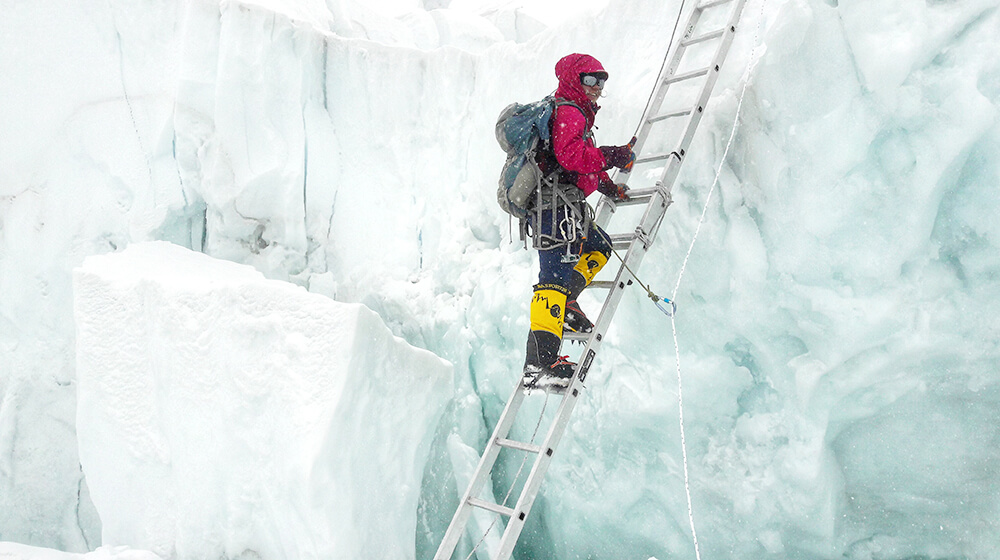 Yeah, I always make sure that I am physically and mentally fit before going to climb the eight-thousander peak because the options are less. So I prepare for everything and then look for the sponsorship. I don't want to take any single chance that I miss anything because of my practice. But in front of nature, there's nothing so whenever I feel that it's a call from nature that will be the day when I will stop my climb.
What is your strategy before starting any climb?
Every year I decide that I will look for Sponsors, and then I'll start my practice. I have already selected one agent and one Sherpa who always climbs with me, and those are from Pioneer Adventure from Nepal. So I use to go with them, and before any climb, I consult with Colonel Rana because he is having significant experience in the mountains. The height inspires me, and I think of the adventure all the way to the summit and then descend. Summit is only half for me; getting down safely is a success. That is my strategy before starting any climb.
Have you ever received any funds from the government to summit at the world's highest peaks?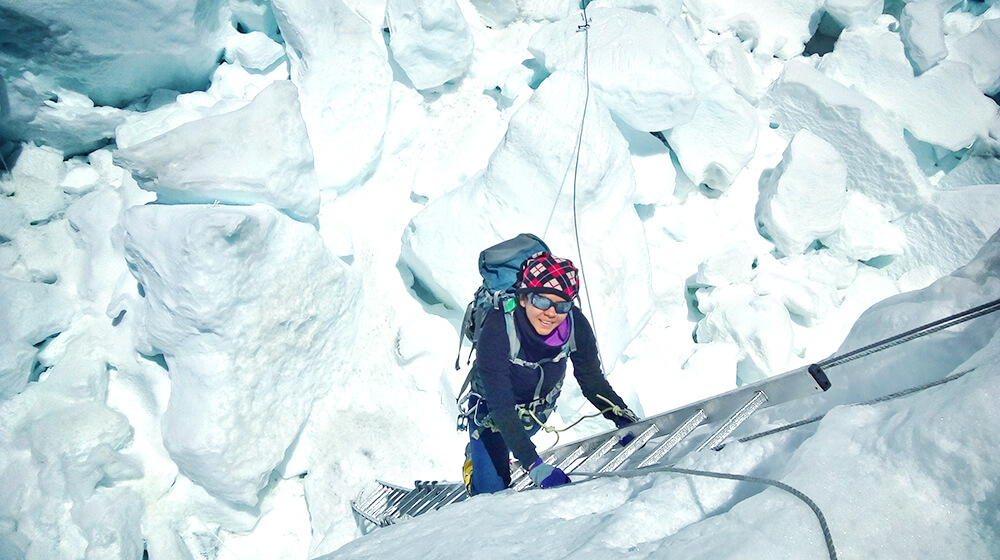 Unfortunately no, I didn't get any support from the government. The Maharashtra Government has even declared, but no such luck.
What are your views about the initiative taken by Sportsmatik.com?
Ya, it's really amazing because through this platform I will come to know about so many other athletes who are doing excellent in their career but didn't get any such recognition and also the other people will get aware of my talent. So, it's an outstanding initiative by Sportsmatik.