Many Indian athletes are physically challenged, but they are still establishing the benchmarks at various sporting events. These include Inshah Bashir, the first female wheelchair basketball player who comes from Beerwah area of ​​Budgam district in Kashmir. Inshah was a basketball lover since childhood. At the age of 15, she got wheelchair-bound after meeting with an accident, causing a spinal cord injury. She fell from the balcony of her own house. At the time, she was in the 12th grade. But this brave girl embraced all the challenges that arose in her way and decided to emerge as a basketball player despite being in a wheelchair. And what inspired Inshah to adopt the sport? Other people in wheelchair playing basketball who were similar to her, during a visit to the Shafqat Rehabilitation Center in Srinagar and has never looked back since. In 2017, Inshah qualified for the National Championship in Hyderabad. She has also participated in the Sports Visitors Program 2019 in the United States. Inshah's goal is to make her nation proud by outperforming other teams. Her story remains an inspiration to anyone who wants to pursue their passion no matter what circumstances they face.
An Overlook on her Major Achievements -
She participated in the 2017 National Wheelchair Basketball Championship, held at Hyderabad
In 2018, she also played with Delhi Team at the state level in New Delhi
She played a national level tournament in Tamil Nadu in 2018
She represented India in Sports Visitors Exchange Program in the USA in March 2019
She participated and represented J&K in 2019 as a captain of the team in Mohali
In an interview session with Sportsmatik, she shared the struggles and experiences of her life and despite being on a wheelchair, how she is breaking all the stereotypes. Here is the full story -
When did you realize your passion for sports? How have you started?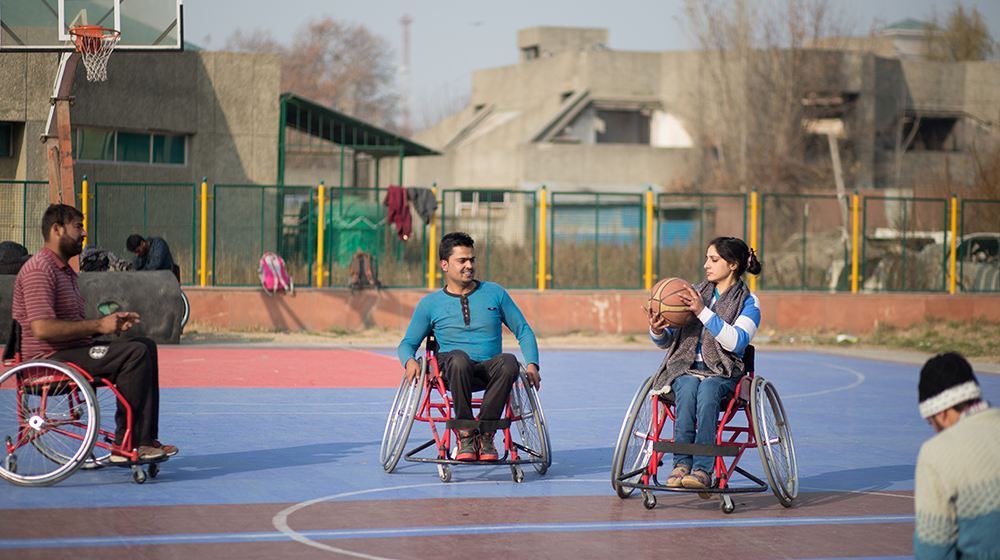 I was very enthusiastic about sports since my childhood, but after the accident, things have changed. I was depressed because of the disability I was suffering, but it was my father who used to encourage me to not give up by saying that "Nothing is Impossible. He motivated me a lot after which I decided to change my life for good and joined a rehabilitation center in the valley named Shafaqat Rehabilitation Center, where men wheelchair basketball team used to practice. I watch them play and thought if they can play then why can't I? They suggested me to join them. At first, I felt that I might not be able to do it, but eventually I did which made me realize that the sport is interesting and convenient to play on a wheelchair. Opportunities were limited, so I used to learn and play with the boys and some of them supported me very much.
Then I qualified for the district and state-level games. Since there was no women team from J&K and I was the only girl that too on a wheelchair, I was noticed a bit more. Luckily for the Nationals to be held in Hyderabad, a Rest of India team was being formed in which I was recommended by the ICRC there. When I visited Hyderabad, I saw many pro players there that made me nervous but it was my father who motivated me not to give up and give my best. After that, I performed very well and got selected in the Rest of India team. So this is how my basketball career started.
Why have you picked up basketball only? Do you have an interest in other sports also?
Yes, I like shooting, shotput and other individual sports because I feel there is still not much scope for basketball in our country and my ultimate aim is to win a gold medal for India. But so far I have not found any platform where I can go ahead in any individual game, neither have I found a good coach nor any good opportunity. But once I get it, I'll not let it go. Basketball is now an important part of my life, with which I will not give up and will work hard for it. I hope one day, I will definitely win a gold medal for my country and make everyone proud.
Tell us about your basketball team and in how many events have you all participated till now?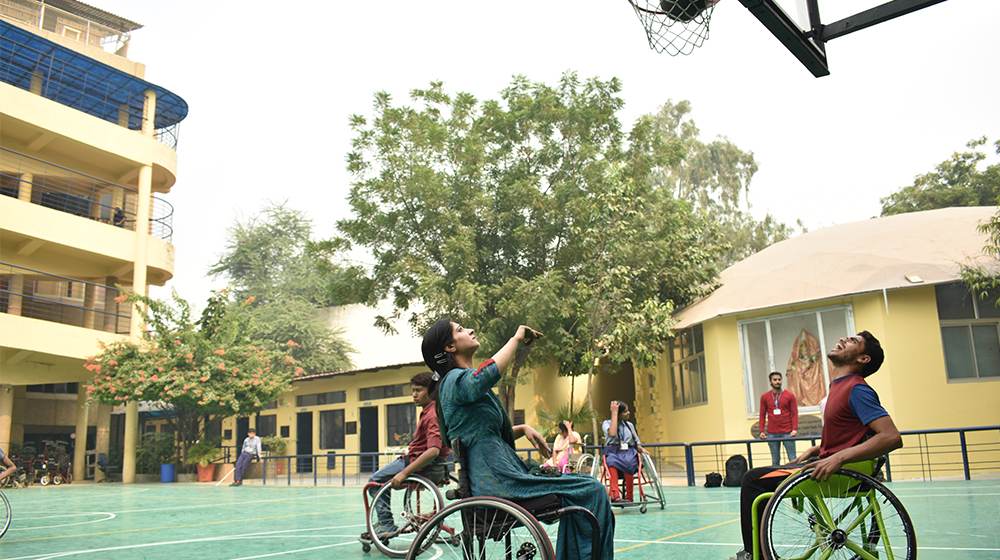 So far, I have performed in 3 nationals and one state-level event. First I played with the Rest of India in 2017, second with the Delhi team in 2018 and third I played with the Jammu and Kashmir team as a captain in Mohali. If I talk about the USA event, I represented India in sports exchange program there which is a very big achievement and a proud moment for me.
Who is the current coach of your team?
First I would like to credit the coaches who led me to this place and helped me a lot in learning and making people aware of basketball in J&K. I was called by the Wheelchair Basketball Federation of India to Chennai for the camp where I met Sawarna Mam who is from Maharashtra, and Varun Ahlawat Sir from Delhi. Both of them were very much impressed with my enthusiasm for sports and supported me a lot in reaching the USA as well. I will never forget the contribution of both of them in my life. Even once I told both of them that I do not have any sports background so things are difficult for me but they still encouraged me by saying that the passion for sports in me can change a lot of people's lives. Talking about my current coach in J&K, his name is Shahid Raza who is coaching my basketball team. He is an outstanding coach as he himself learns first and then guides us.
You were invited by the US Consulate to participate in the Sports Visitor Programme 2019. Tell us the full story!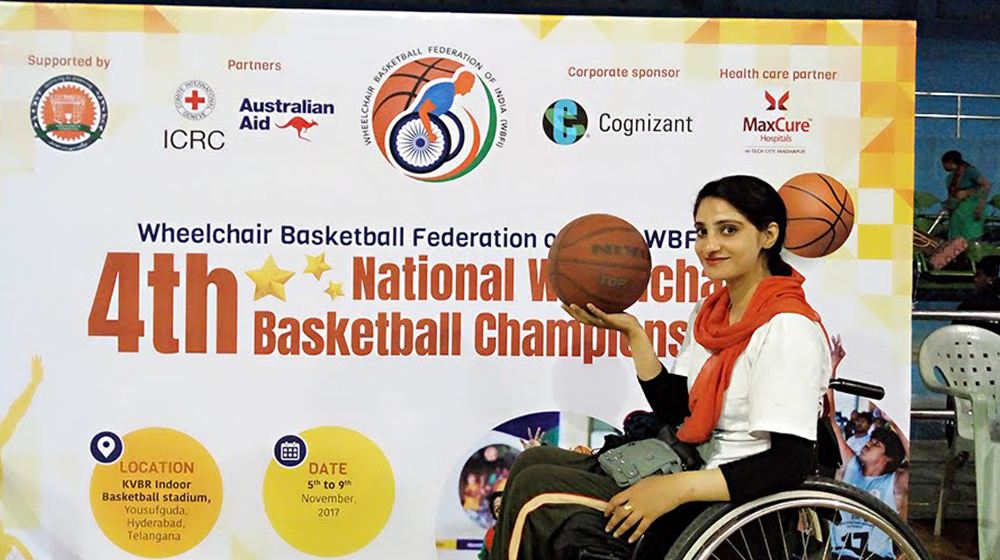 This was the case of 2018 when I went to represent Delhi Team; there were a lot of coaches and selectors who were there for the selections of players for the tournament in the USA. I was not confident about my selection in the team but just wanted to give my best and eventually did the same. It was not less than a surprise that I was actually selected for the US Sports Visitor Programme and I was so delighted that I called my father and gave this good news to him. He was so proud of me. So yeah, it was the best day of my life.
Does Kashmir have any sports training academy?
Yes, there is an academy, but unfortunately not for the differently-abled people. Even in the indoor stadium, we have no facilities to play. But I would like to thank media as they support & highlight players like me very much, just like you people (Sportsmatik) are doing. After seeing me featured by the media, now many girls are actually motivated to play sports, but still, our state needs to build academies for differently-abled players too.
Have you got any support from the Government or Sports Ministry till now?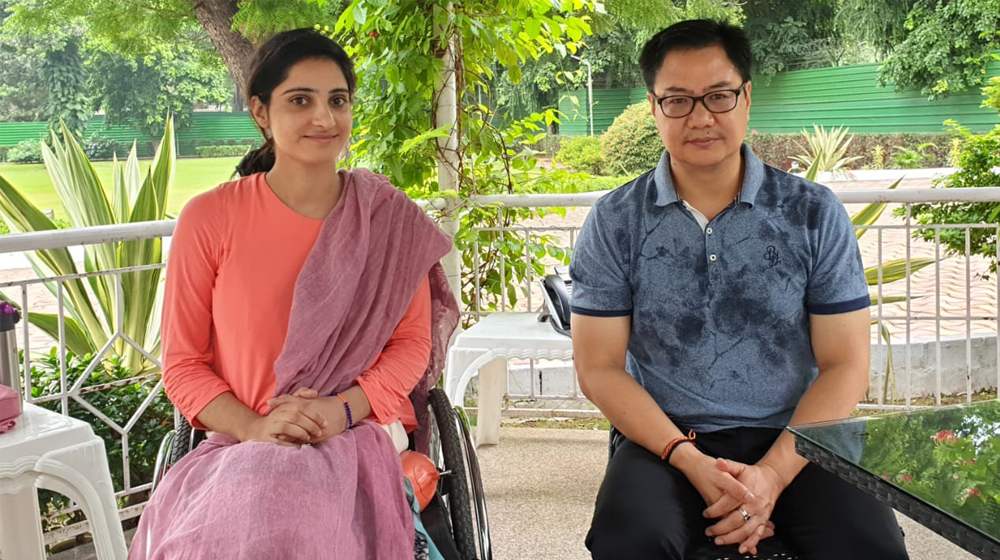 Initially, there was no support from the Government at all but now things have changed. When our sports minister Mr. Kiren Rijiju came to know about me, he supported me a lot mentally as well as financially. Kiren sir came to know about me when a media person of "Zindagi with Richa" contacted him and told him that I don't have a sports wheelchair to play. Kiren sir immediately sanctioned an expensive sports wheelchair for me. I haven't received it yet but I will get it soon. Earlier, I used to play by borrowing other people's wheelchair and sometimes practising on my regular wheelchair. He encourages athletes like me a lot and has also helped in my recent two surgeries. I've met him twice and he also tweeted about me. This is very motivating and for that, I want to thank him wholeheartedly. Recently I was also selected in the National Selections Camp, in which he helped me in tickets and everything else. So yes, now our Government has started supporting us.
What is your fitness and exercise routine?
I use to go to the gym in the morning and evening daily. Whenever there is a game, I have to be very active, so sometimes I practice for even 18 hours and when there is no game, I go to the gym two times a day and do the daily exercise. I also take rounds in the morning in my wheelchair. Diet is an integral part of a player's life so we have to take special care of it as eating oily or unhealthy is absolutely forbidden in order to control weight.
What are the challenges you have faced in your sports career until now?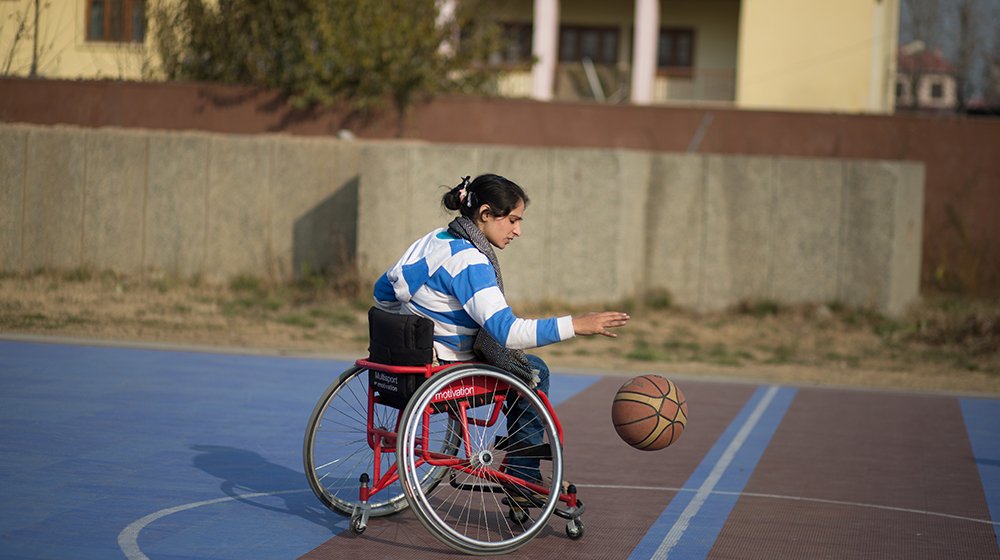 I have faced a lot of hurdles in my life, but there were three major problems that I had to face everywhere - Being a girl, Being a disabled and Being a Kashmiri. Initially, even my parents were not in support because they too felt in-secured about me going out from Kashmir. At the same time, people also discouraged my parents that she is a disabled girl, how will she manage everything and all. But it's a fact that you can't stop living because of the fear of death, all you have to do is to stand and fight from the situations. So yes, I have faced many challenges in my life and convincing my own family was difficult too. But I did not give up and met every challenge that came across my way. That's why today I'm here.
What advice would you like to give to aspiring athletes especially girls?
I believe every girl in our country needs to be encouraged and given more support as still in some regions, they are thought to be less capable than boys. I want to say that we girls are also physically, mentally and emotionally strong like boys. If given the opportunity and a platform, then girls also can raise the flag of our nation high in the world. So each girl should go for their passion and dreams and try to pursue it with all the vigour.
What are your views about the initiative taken by Sportsmatik?
Yes, I have read about Sportsmatik and believe that you guys are doing a great job. I saw that you had taken a lot of interviews of prominent personalities and now covering my story so I really felt good and thankful and hope that you continue to do the same work that will bring a lot of change in our country and increase the awareness. I also hope that Sportsmatik keeps bringing the story of the athletes like me into the front of the world so that more people will be motivated to pursue their dreams.
The Sportsmatik Community salutes the invincible spirit of this brave woman who is climbing new heights in the field of sports and setting a precedent for many others to follow her.
Inshah Bashir is now a part of Sportsmatik.com. Checkout her profile at the link given below -