Bhakti Sharma, a 30-year-old swimmer from Udaipur, has been selected for the Woman of the Year Award by the World Open Water Swim Association of America. In 2010, Bhakti Sharma received the Tenzing Norgay National Adventure Award from former President Pranab Mukherjee. In January 2015, she made a world record by swimming 2.3 km at a temperature of 1°C (34 ° F) in 41.14 minutes, breaking the records of Lynn Cox (USA) and Lewis Pugh (England) in the Antarctic Ocean. She is the first Asian woman to set a record in open swimming in Antarctic waters and the youngest woman in the world.
Bhakti also held a swimming record in all five oceans of the world. She has mastered swimming in ponds, rivers, seas and oceans. Bhakti Sharma holds several world records to her credit in long-distance swimming. She has swum the longest distance of 36 km. It is worth noting that Bhakti started swimming from the age of two and a half, trained by her mother, Leena Sharma. Her first open water (sea) swim was in 2003, it was 16 km swim from Uran harbor to Gateway of India, after participating in several state and district level competitions. She was only 14 at that time.
Along with her friend Priyanka Gehlot and mother-coach Leena Sharma, she holds the Asian record at the English Channel for the first swim by a 3-member women's relay team. Bhakti also holds a world record with her mother, for the first mother-daughter duo to swim across the English Channel, which they achieved in 2008.
Bhakti is the only the third person in the world to have swum in the Arctic Ocean, and in 2015, she scripted the history by becoming the youngest to swim in all five oceans by swimming in the Antarctic Ocean, a feat that earned her a well-deserved recognition from Prime Minister Narendra Modi.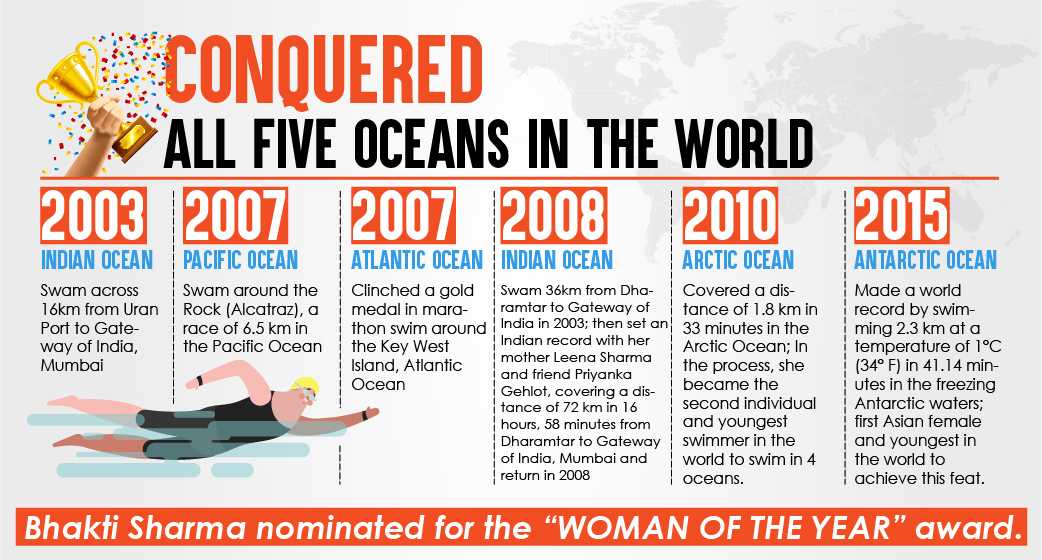 Her Journey for the Glory -
| | |
| --- | --- |
| 2003 - Indian Ocean | Swim across 16km from Uran Port to Gateway of India, Mumbai |
| 2004 - Indian Ocean | Swam 36km from Dharamtar to Gateway of India, Mumbai in 9:30 hours |
| 2007 - Pacific Ocean | Swam around the Rock (Alcatraz), a race of 6.5 km in the Pacific Ocean |
| 2007 - Atlantic Ocean | Clinched a gold medal in marathon swim around the Key West Island, Atlantic Ocean |
| 2008 - Indian Ocean | Set an Indian record with her mother Leena Sharma and friend Priyanka Gehlot, covering a distance of 72 km in 16 hours, 58 minutes from Dharamtar to Gateway of India, Mumbai and return |
| 2010 - Arctic Ocean | Covered a distance of 1.8 km in 33 minutes in the Arctic Ocean; In the process, she became the second individual and youngest swimmer in the world to swim in 4 oceans. |
| 2015 - Antarctic Ocean | Made a world record by swimming 2.3 km at a temperature of 1°C (34° F) in 41.14 minutes in the freezing Antarctic waters; first Asian female and youngest in the world to achieve this feat. |