Today, September 24, 2020, has become an important day in the history of swimming sports when Google dedicated a special doodle to honour the late
swimming
champion, Arati Saha, on her 80th birth anniversary.
She was born on 24 September 1940 in Calcutta, taking an unconventional career option as a swimmer to break all the barriers. Arati learned to swim at the age of 5 on the banks of the Hooghly River. She won 22 medals before completing a decade in her career. Arati became the first Asian woman to cross the English Channel, a landmark that was primarily dominated by men. She even became the first female athlete to be honoured with the Padma Shri.
Kolkata-native artist Lavanya Naidu drew today's doodle. She was an avid stamp collector as a child in the 90s and remembers her excitement at seeing her hometown hero Arati on a stamp. Naidu hopes her drawing will help inspire people around the world to "dream big, no matter where you come from."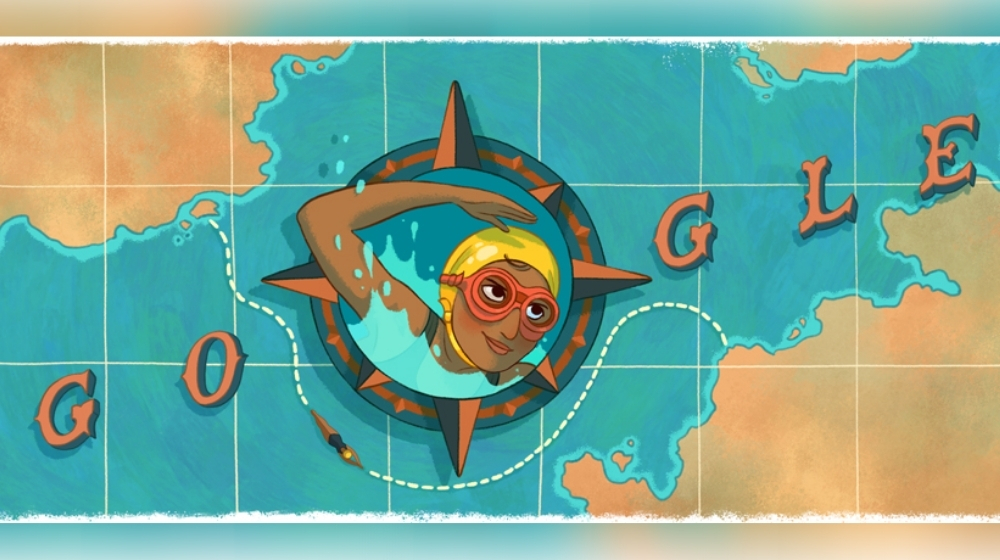 Photo Credit: Google Doodle
Her Journey of Records
She won her first gold medal in 110 yards freestyle event at the Shailendra Memorial Swimming Competition in 1946. Between 1946 and 1951, Arati participated in various state-level swimming competitions during which she won around 22 medals in several events for her home state Kolkata. She participated in events such as 100m freestyle, 100 m breaststroke and 200 m breaststroke.
In 1948, she won two silver medals in 100m freestyle and 200m breaststroke, a bronze in 200m freestyle at the National Championships held in Mumbai, which was her first victory after India achieved independence. She also set an all-India record in 1949.
In 1951, Arati broke the Dolly Nazir's all-India record in 100m breaststroke. The same year, she also set a new state-level record in 100m freestyle, 200m freestyle and 100m backstroke.
At the age of 12, she joined the first Indian team to participate at the 1952 Summer Olympics which were held in Helsinki, Finland. Arati was one of the four female contestants and the youngest member of the Indian contingent. Although she did not win any medals, she was still representing India at the international level, an achievement in itself, especially when the presence of women was almost invisible in sports.
English Channel Victory
After the Olympics, Saha focused on breaststroke practice, which is consistently her best category. In 1952, she came up to congratulate Bangladeshi swimmer Brojen Das when he became the first Asian swimmer to cross the English Channel. Das recommend Arati's name to the organizers of Butlin International Cross Channel Swimming Race for 1953 event. Despite her popularity and comprehensive support, she struggled to raise funds to travel to England until the Prime Minister of India, Jawahar Lal Nehru, offered his support to her.
Her training routine was more than rigorous. At one point, she swam for eight hours straight in the pond at Deshbandhu Park and then doubled her time. After six years of training, she travelled to England on July 24, 1959.
Arati's first event was fraught with setbacks. Her pilot boat arrived almost an hour late, and so she lost her favourable conditions to start under. Saha reached five miles off the English coast but had to return for her own safety.
On September 29, 1959, Arati made her second attempt to cross the English Channel. She went on for staggering 16 hours and 20 minutes, covering 42 miles to reach the English shores, where Arati hoisted the flag of India. Her achievement was appreciated by the whole of India, including many prominent personalities like Vijayalakshmi Pandit, Jawaharlal Nehru, and many more. On 30 September, the All India Radio announced the achievement of her.
Arati married her longtime manager, Dr. Arun Gupta, after her historic victory in 1959.
Recognition
Since, she broke the stereotypes in almost everything she did, winning an award was no different either. In 1960, Arati received the Padma Shri for her commendable achievement in sports. Department of Posts celebrated her conquest by issuing a Rs.3 denomination postage stamp.
Years later, on August 23, 1994, Saha died of acute jaundice and encephalitis, just a month before her 54th birthday, after fighting for 19 days in a row. Although she died a little earlier, her extraordinary accomplishments, achieved at a very young age, will always remain with us. She is an excellent example for anyone who feels that achieving so much at a young age is impossible.