Shovel Racing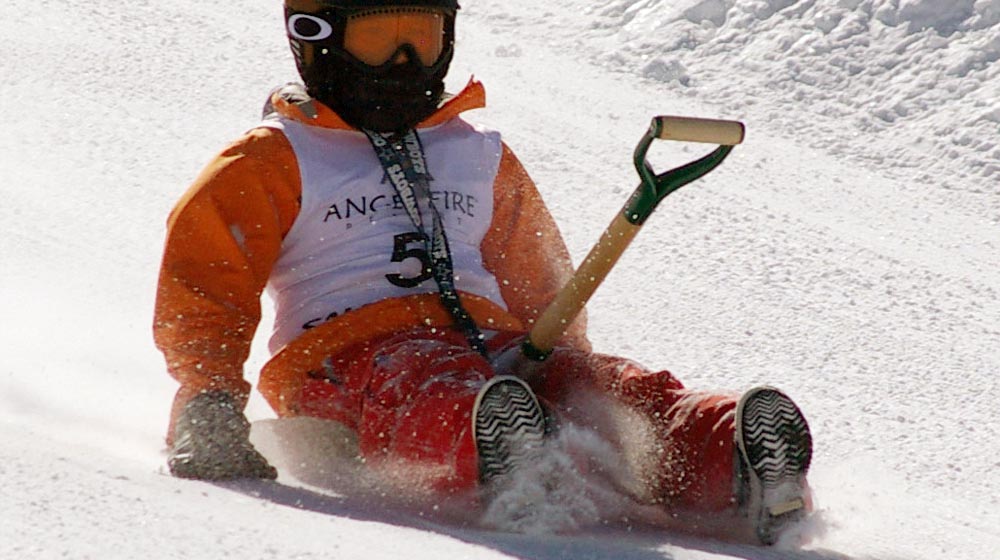 Photo Credits: Lynn Eubank / commons.wikimedia.org
Every time there's a mention of the shovel, our brain technically relates it for clearing the sidewalk. But isn't it amazing to know that this shovel is also used for playing the fastest and weirdest sports in winters? Shovel racing involves racing down a snow-covered mountain while the participant sits on the shovel. This sport started in the 1970s in New Mexico, as a way to ski lift the individuals to get down from a heightened hill. The shovel is used as a sled in these sports. The fun aspect of this sport has attracted many people and since then, Shovel Racing has been included in worldwide competition. Riders used to decorate their sleds with vivid colours and design. There occurs a wide age range in the competition where students to retirees all get to participate.
Toe Wrestling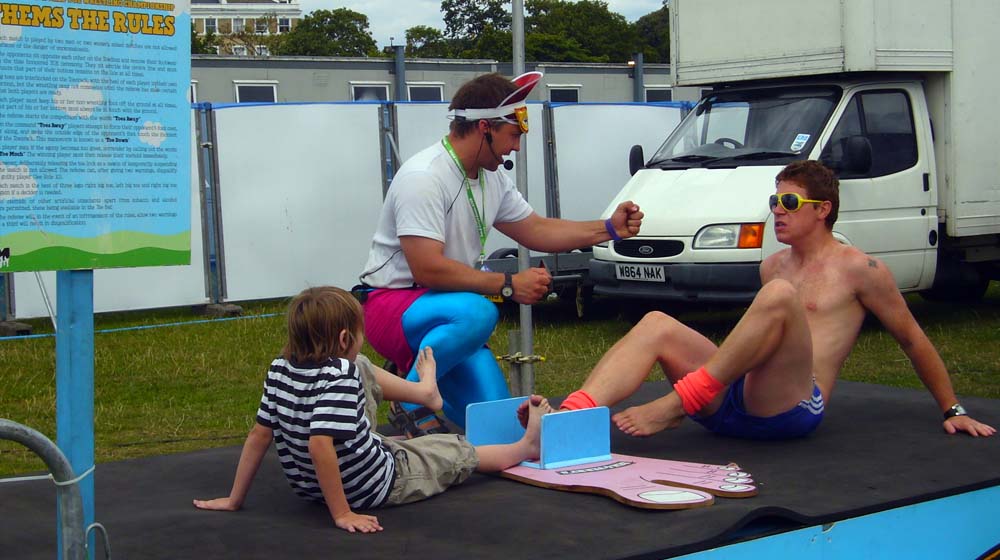 Photo Credits: Sarah / flickr.com
Wrestling has always been widely popularized among the people. Whether it's an arm wrestling or in box, cheers never end up for this sport. But to everyone's surprise, wrestling with the toe is a great gig too, and has successfully emerged out as an international sport. This game was invented by 4 drinkers in Ye Olde Royal Oak Inn in Wetton. This sport is similar to arm wrestling where two opponents link their toes and attempt to pin the other opponent's foot for three seconds. The World Toe Wrestling Championship has been ongoing since the 1970s, and with every successive year, it is gaining more and more popularity. Former players Ben Woodroffe and Alan Nash are the co-owners of this sport. The events also took place in India, China and Pakistan.
Chess Boxing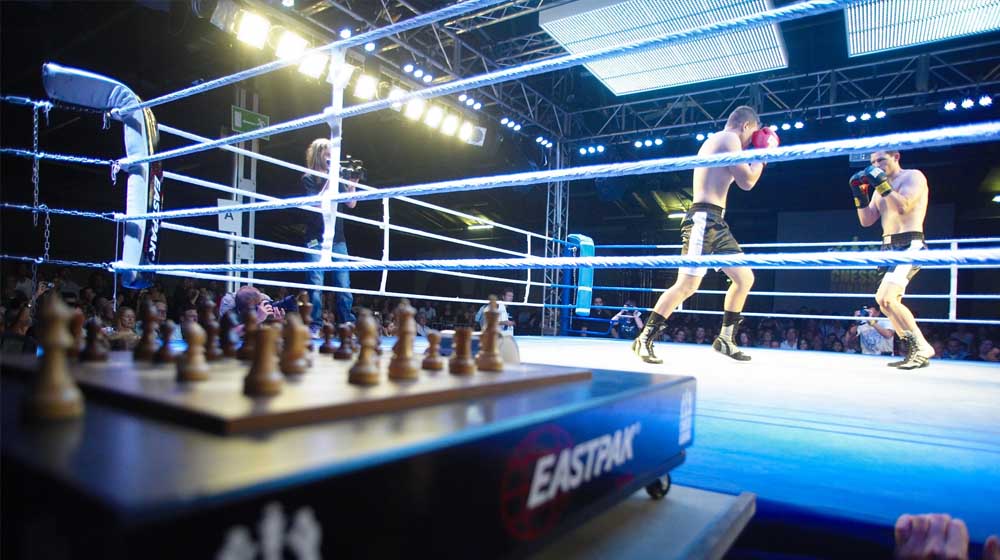 Photo Credits: WCBO / commons.wikimedia.org
The new unique game where brain meets brawn. The most curious combination of four-minute speed chess and three-minute boxing. The new-age hybrid game where the players need to use their brain and intelligence and then head for boxing. Chess boxing was invented by Dutch artist Lepe Rubingh as an art performance. This game has been widely popularized in India, UK and Russia. The first chess boxing competition took place in Berlin in 2003. This chess boxing event includes 11 rounds, five rounds of boxing and six rounds of chess and a triumph in either chess or boxing wins that ends the entire contest. Each round lasts three minutes; each player is subjected to a time control of 9 minutes with no addition to make all their moves. The World Chess Boxing Organization (WCBO) is the leading organization for international amateur chess boxing.
Extreme Ironing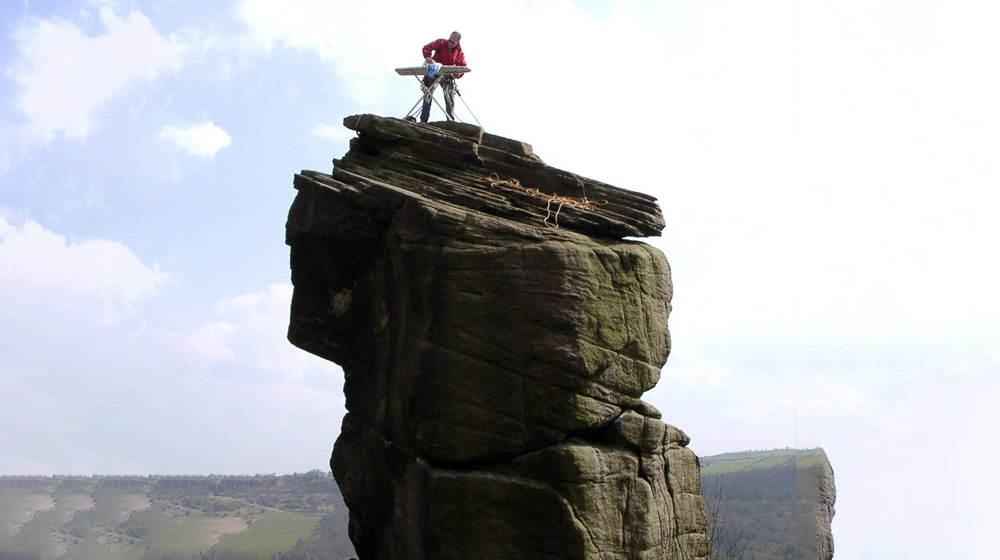 Photo Credits: Phil Shaw / commons.wikimedia.org
Everybody knows how to iron, but extreme ironing is a never heard before sport. This unique sport lets the participants took their ironing boards to the remote location and iron the clothes there. This adventurous yet dangerous sport combines thrill and fun at the same time. The Ironists' performances are conducted solo or by groups. They need to take their clothes to the most extreme and inhospitable places such as the Antarctic, Welsh bog etc. Other preferred locations of the players include mountainside which offers difficult climb, underwater, in between of the M1 motorway race or in a forest. This extreme sport came into play by Tony Hiam in 1980 in England. On June 16, 2018, a freediver Roland Piccoli, ironed his clothes at a depth of 42m in Montegrotto Terme Italy. This breathtaking performance has amazed every spectator.
Parkour and Free Running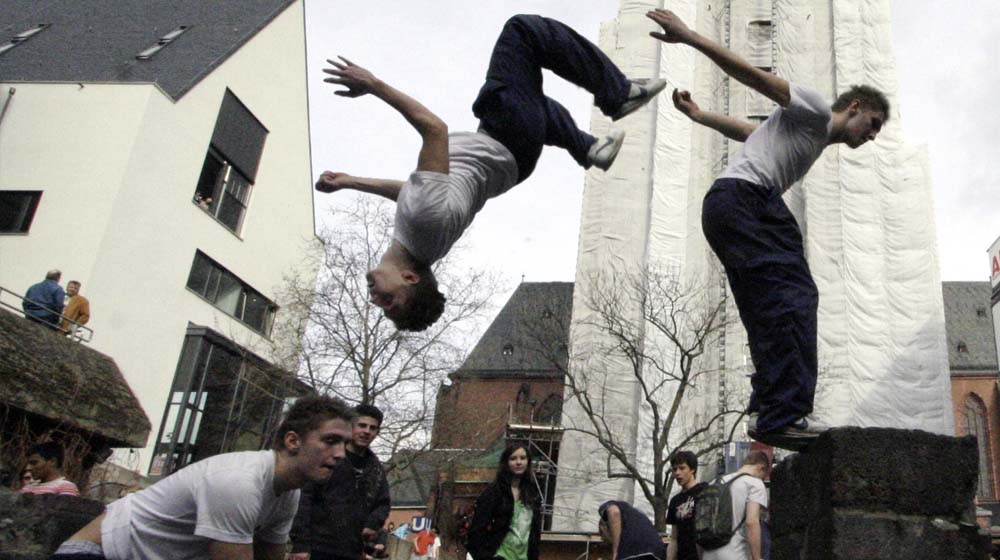 Photo Credits: Heptagon / commons.wikimedia.org
Parkour is a sport which demands speed and guts of an individual to move from the first point to another by crossing military obstacles. It includes running, free running, climbing, swinging, vaulting, jumping, rolling, crawling and other physical endeavours to complete the challenges. The roots of its origin held from Western Europe. Georges Hebert, Raymond Belle and David Belle are some of the prominent names who developed this strictly disciplined sport. World Freerunning and Parkour Federation along with MTV have produced various Parkour related shows since 2007. Free running is also kind of similar to Parkour, where runners include flipping and spinning. Free runners get to create their own moves, flows and lines on a different landscape. Free running was founded by David Belle in 2003.
Wife Carrying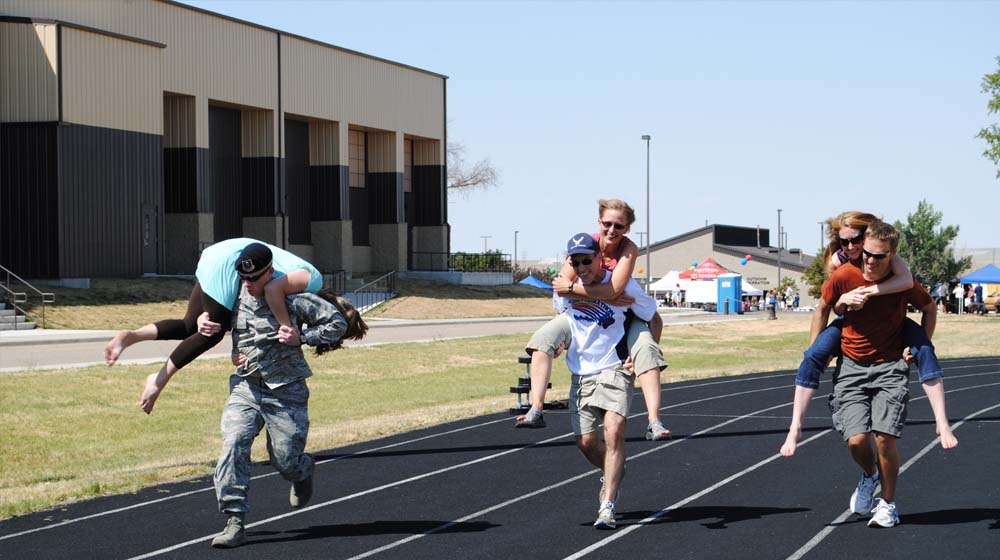 Photo Credits: U.S. Air Force photo/Cortney Paxton / commons.wikimedia.org
The very famous "Dum Lagake Haisha" movie has won everyone's heart with its crazy concept of the wife carrying tournament. But to everyone's surprise, this rare game actually exists in our modern world. It is a unique yet crazy contest in which male competitors' race while carrying a female teammate. In earlier times, this event was performed only by couples. The female partner is being carried either by a classical piggyback type or via fireman's style or even Estonian style. The idea of this fun event was laid at Sonkajärvi, Finland. Every year, the Wife Carrying World Championships have been held annually here since 1992. The paths to cover by the participant are filled with sand, fences and water pool. This makes the game very fascinating for the viewers.
Dog Surfing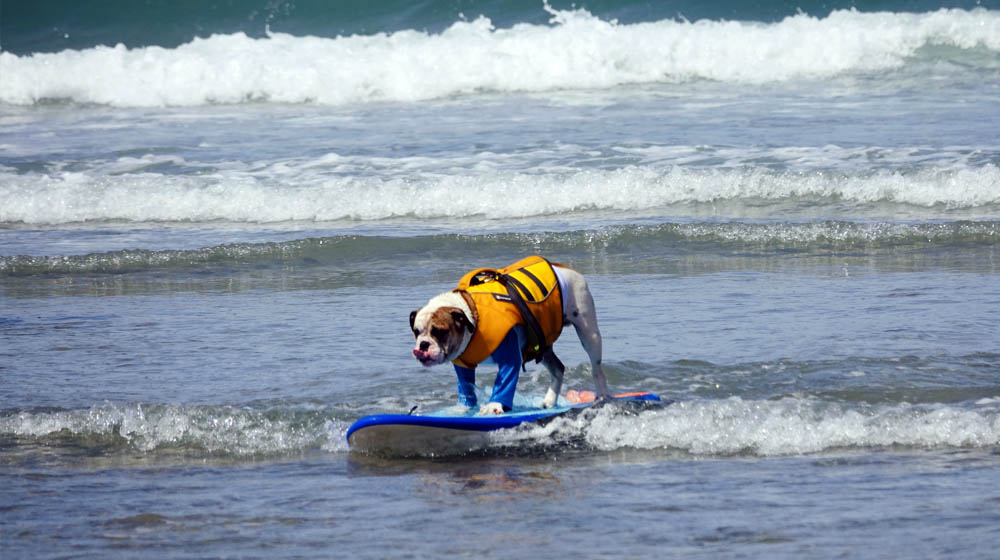 Photo Credits: Mike's Birds / commons.wikimedia.org
Dogs are the most loyal, protective and friendly living beings. They are trained accordingly to serve their masters. In Dog surfing contest, dogs are highly trained to surf in water with the aid of surfing board, bodyboards, skimboards etc., either alone or with a human on board. This event was first started in early 1920 in the United States. By 2019, this sport has been widely popularized in other states such as California, Florida etc. and among youth. The videos of different dogs skating on the sea are widely loved and gets viral too.
Wood Chopping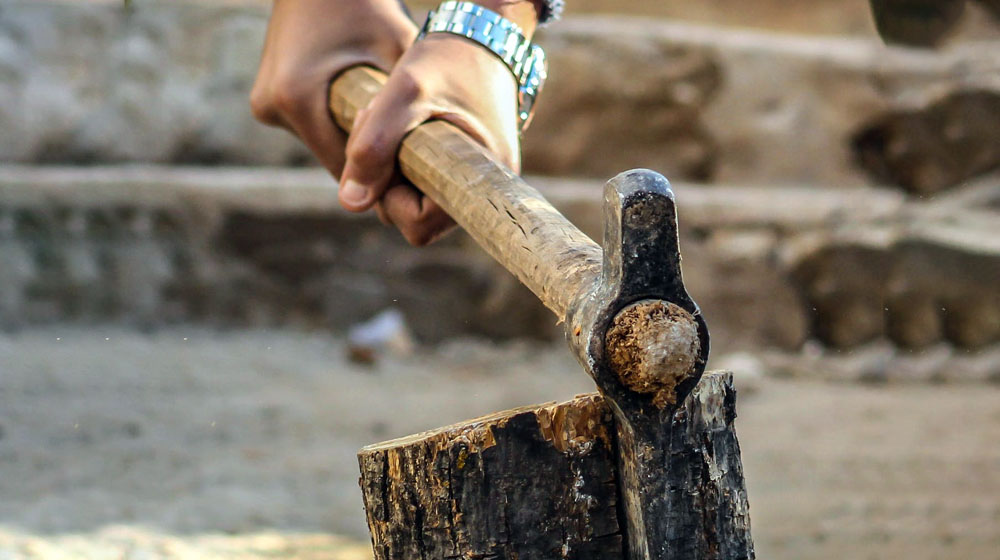 Photo Credits: Pexels.com
Wood Chopping is a traditional profession and a daily requirement chore in the ancient age which has made the modern world still perform this task in the form of sports. In wood chopping competition, the participants, also known as Axemen, need to cut or saw a log or any kind of wood in a minimum amount of time. Usually, these competitions are performed in state fairs and agricultural shows. The sport held its roots from Tasmania in 1870. The first-ever Wood Chopping Championship was held in 1891 in Latrobe, Tasmania. This event is widely popularized in Canada, Germany, Netherlands, Norway, Switzerland, etc. where forestry has been an important part of the economy.
Quidditch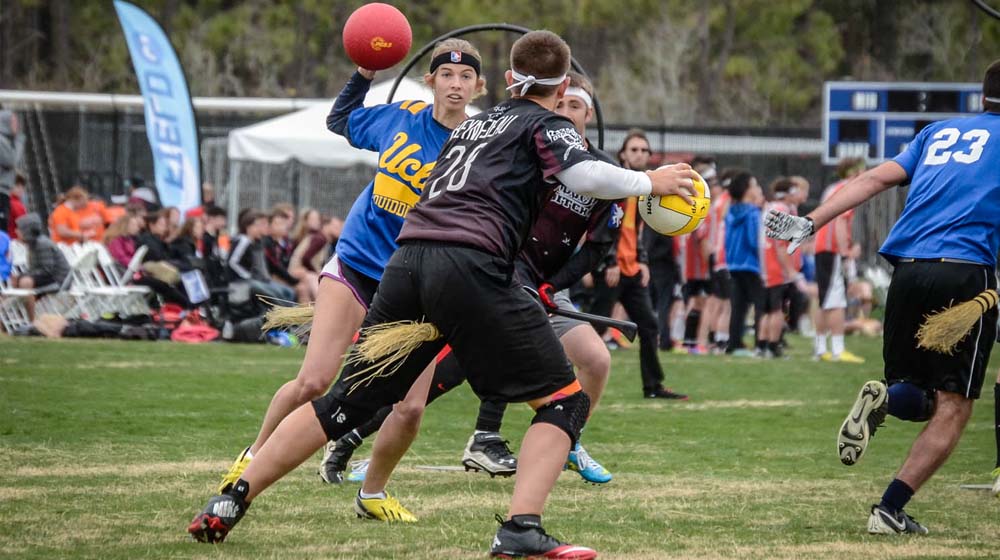 Photo Credits: BenHollandPhotography / commons.wikimedia.org
"One quaffle, three chasers, two bludgers, two beaters, one snitch, one seeker" these were the initial introduction about the Quidditch in our world. Well to any Potterhead, it's not a big surprise. J.K Rowling, the well-known author of the popular Harry Potter series, has first mentioned these games for magicians where they fly on their broomsticks and chase the enchanted ball. It's a game where two teams of seven players each, goes against each other on a pitch of 60 yards. This match is also referred to as Muggle Quidditch as the players lack any kind of magic in contrast to the world of Harry Potter. This game is widely popularized in today's modern time. With every passing day, new improvements and advancements are emerging. The original World Cup was held in London, 2012 where five national teams participated from around the world to compete with each other.
Bathtub Racing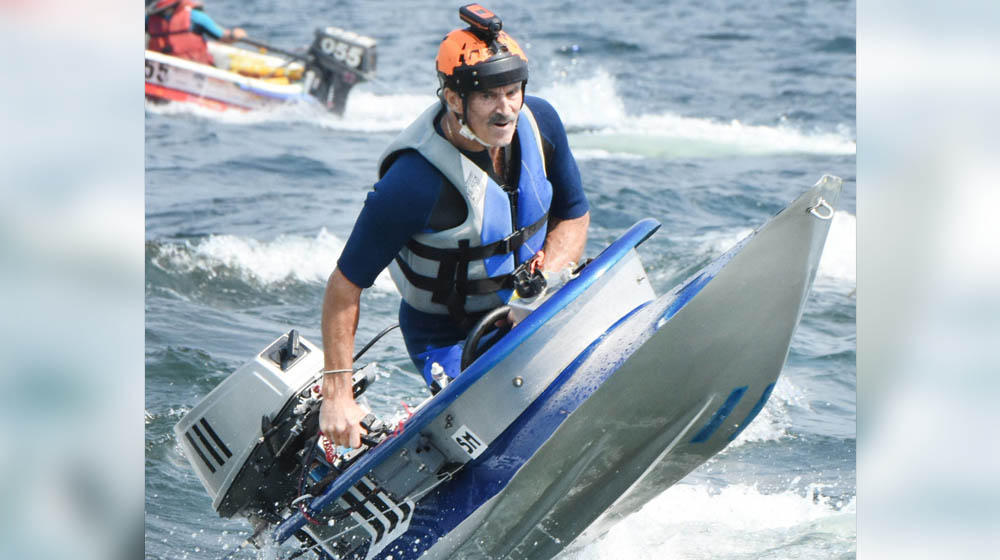 Photo Credits: Surreynowleader.com
"Splish Splash Speed! Get ready for the fast-paced, action-packed International World Championship Bathtub Race in Nanaimo" the headlines read. Well, along with other weird, uncommon sports, Bathtub Racing is another uncommon, weird and one of the craziest sports in the world. Here the participants use their bathtub as a boat. This funny and adventurous racing has emerged from Nanaimo, British Columbia. Frank Ney, the mayor at that time was the biggest supporter and promoter of this sport. The first time this sport was introduced in 1967, and still being held in Nanaimo where around 200 tubbers participate in every type of watercraft competition. This sport is massively loved and enjoyed by the local citizens and is held annually as a part of Sea Fest. The race is held on July's last weekend of every year.