There is a rule of life that you cannot fulfil your dream until you face challenges in your journey. India's first female professional stand-up paddler - Tanvi Jagadish has also faced many challenges in her life to fulfil her dream. She always had a dream to represent India in international events. She was only nine years old when she went surfing for the first time with her grandfather at Mantra Surf Club during her vacations and then developed such a love for the ocean that she has embraced it for a lifetime. By 2013, Tanvi had started participating in national events and made her mark as India's first female SUP racer, finishing first in the nationals. It was April Zilg, a USA surfer who played an important role in Tanvi's life by teaching her many significant skills for the sport and inspired her to represent India at the World Championships. According to Tanvi, it was an honour for her to meet April Zilg.
From being a water baby to having a full-fledged career in this not-so-famous sport, the Mulki's girl has definitely made India proud internationally with her sheer talent, skills and hard work. Tanvi made her international appearance in 2016 and became the first woman to represent India at the World SUP and Paddleboard Championship organized by the International Surfing Association. Her life follows a cycle - morning surfing, afternoon teaching, evening stand-up paddling, learning and so on. There is a great talent in what she does and won a zillion hearts with her achievements for India. Tanvi also runs her surf school "KADAL Centre for SUP-SURF-YOGA", where people can go learn surfing and stand up paddling from her.
An Overlook on her Major Achievements:
National Level -
She is a 6-time National Champion winning the titles at the Women's National Stand-Up Paddling Championships:
2015 Covelong Point Surf Festival
2016 Manapad Surf Festival
2016 Indian Open Surfing
2016 Covelong Point Surf Festival
2017 Indian Open Surfing
2018 Covelong Point Surf Festival
Finished at the second place at the 2016 Manapad Surf and Sail Festival as well as at the 2017 Covelong Point Surf Festival
Finished in the third place at the 2017 Indian Open Surfing Competition
International Level -
Third place at the 2017 SUP Surf Pro-Am, held in North Carolina, USA
Third place at the West Marine Carolina Cup, held in North Carolina, USA
Honoured with the International Grom of the Year award in 2017
She is also the bronze medalist of the 2018 Singapore Ocean cup (Asian Series - Open women's category)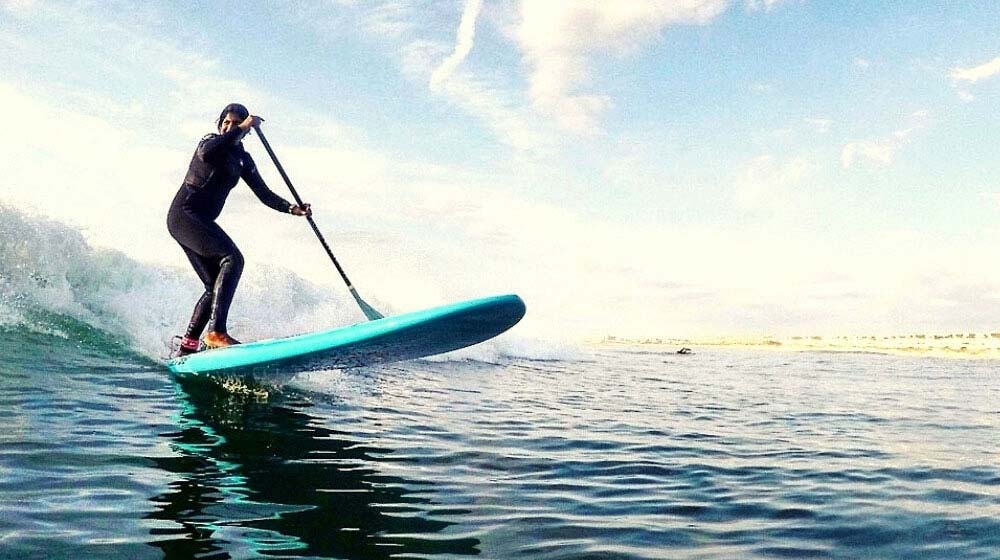 In an interview session with Sportsmatik Community, Tanvi spoke about her surfing days, experiences which she faced in her stand-up paddling journey and more. Here is the complete conversation -
Tell us how your sporting journey started?
I was 9 years old when my grandfather used to take me and my cousin to the Surf Ashram (Mantra Surf Club) in Mulki (a town near Mangalore) as my grandparents' house was there. He took us to the place because he wanted us to learn surfing and I was super nervous because it was all new to me and my mother never let me get into it. Every weekend or holiday, I used to go surfing but because of my crazy tan and blond hair, my mother began to doubt it. And then one day she came to know about my surfing and she was totally shocked. But my best friend and cousin managed to convince my mother to let me surf. In 2013, I was recognized as India's first female professional stand-up paddler because there were no females in this sport before from our country. So I was extremely happy at that time to be the first one in India. Now I can say that surfing is the best thing that happened in my life.
What exactly is the difference between surfing and standup paddling?
Surfing can be done only in the ocean and it's like a small surfboard where you slip on the board and paddle with your hands, and stand-up paddling is more like fun to me as it's a bigger surfboard and you have a paddle to move around and it can be done in ocean, pond, lakes or rivers. So there are a lot of things that you can do in both the sports individually but it's very hard to choose one of these sports. Even I like both sports and enjoy them equally.
"People see this beautiful world from the land on ground but we Stand-up Paddlers see this beautiful world from the ocean, ponds, lakes or rivers where a water body is our definition of a playground."
How many difficulties did you face in the initial days of surfing? What have you learned from the sport so far?
I feel in your initial days, people judge you a lot. Society is always talking so much about you and there are a lot of things that can bother you. But what I thought is - there is no point in even talking to them and one shouldn't even respond to them. If you will always walking on and moving forward, you will be the best version of yourself and will be able to make your country proud. Do everything to make your dream come true and achieve your goal. And I think what I have learnt from the sport is just to be calm and have patience, just like the ocean. Ocean has the power to crush you as well as it has the power to take care of you so I've adopted that quality from it.
You are one of the first professional women surfers in India. How does it feel to represent your country?
It feels amazing! When I got the chance to go to the World Cup, I had no words to say because it felt so good when I became the first person to represent our country internationally in this sport. Everything was new for me and I feel when you reach such a point, you have to go through each of the levels to be the best version of yourself. So it's really a big honour for me and I am happy to say that I worked hard for it to just go there and further requested people to help me in my training and funding. I am a very curious and stubborn person and I always believe in one thing that if you have true intentions and work hard for it, the universe always does miracles & wonders in your life.
In 2016, you represented India in the first World Cup event. Share your experience.
It was my first event and was quite hard for me because I had no idea what has happening when I went to represent our nation in my first World Championships. The sport was not recognized and even I didn't have any proper training and equipment for that event. But the thing is, I trained myself and I knew that I could do it. My family, friends and also some sponsors raised funds for me and when I made it to Fiji, everyone was happy and content to see me representing India at the World Championships because I used to practice surfing for internationals and they all were very supportive and encouraging to me.
The people out there were also very excited to see an Indian girl because this was the first time when India went to the SUP World Championships. So yes, that's how it was and the opening ceremony was great too, I was so amazed to be there to represent my country. And then the racing started, I was super nervous at that time because I was racing with some girls who were one of the best surfers in the world; I felt like how can I even compete with these people but my grandfather motivated me with his words and I competed in that event for 18kms in the waters of Fiji. At the time I finished the line, everyone started shouting India-India, so I feel really amazed. It was a huge experience for me at the mere age of 16.
In 2017, you participated in the US Open, where you were placed third. How remarkable is this achievement for you?
All thanks to "April Zilg" and the school I was being part of. They all raised funds for me and then I made it to the US. April actually raised funds for me to have the top class training in the US and she trained me really well so I am always thankful to her. I went & stayed with her and later participated in the West Marine Carolina Cup for Under-18 category, which is one of the most successful events for me. So it was like one of the greatest memories for me as I won a medal for the first time in this international event.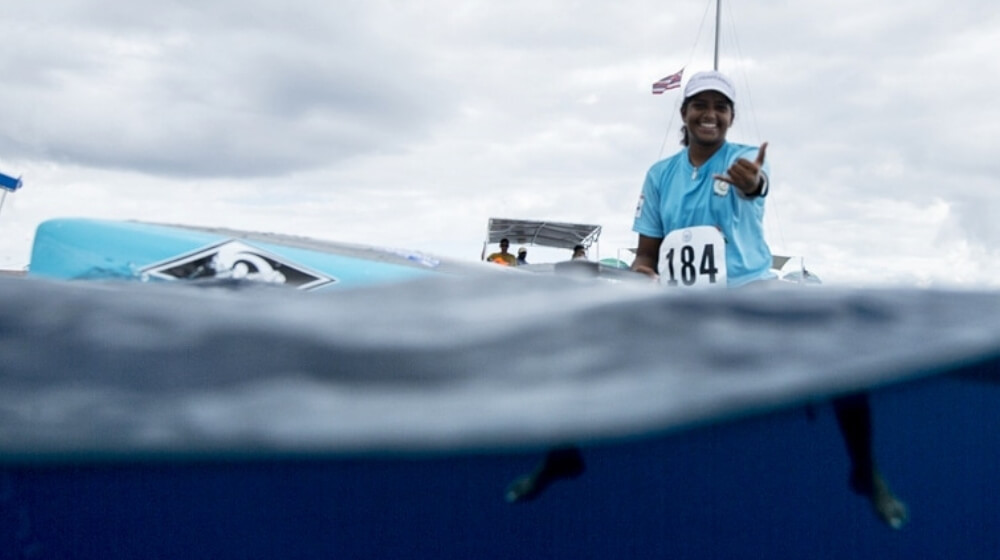 You were invited to participate in Nautic SUP Crossing in 2018. Unfortunately, you couldn't join due to lack of funds. So how many such events have been missed because of sponsorship reasons? How demotivating is it?
It's really sad because we worked so hard for it but sometimes we just miss the events due to the lack of sponsorship. And some people taunt saying that "oh! you didn't work hard that's why you didn't get it" (sponsorship). They don't even know how hard we trained for it. I used to train like for 8 hours daily in the ocean. Being a girl is not that easy because as a girl I have other responsibilities too like family and my school and the goal that I have to make my country proud which is very important to me. So overall it's not that demotivating for me even if people say negative things, it seems bad for a moment but being a strong girl, I don't focus on these things much. I feel this makes your prepare well for the future and it also helps to enhance your performance to a great extent.
Who is your role model?
There are actually a lot of people who stayed with me during my journey and I would like to say thanks to everyone for being there to me. I would like to thank my best friends too, they were with me since the day I started, my victories or when I got injured or got rehabbed. My parents also have a big role in my sporting journey as they worked hard for me so they are also my role models. And of course, April Zilg and Sudha Murthy mam inspire me a lot. Female Police Officers also inspire me a lot. And not to forget, Vidya Balan, she also inspires me a lot with her movies.
What is your training routine, and who is your current coach?
I don't have any coach right now, most of the time I used to train on my own. I have trained with incredible coaches like Hayden Rhodes and others but right now I only have a life coach who takes care of my training, rehab, diet, health and everything. Her name is Kamla Bharadwaj. It's really nice of her that she is with me.
As of now in this COVID-19 period, my routine is to wake up early in the morning, then have a healthy diet and go to train for like 2 to 3 hours in the morning. Then come back and teach because I run a school. Because of my packed schedule, I have to attend a night college as managing your sport and education altogether is very challenging. But nevertheless, I'm doing everything happily.
Tell us something about the experience of Singapore Ocean Cup.
I went there in 2017 for the first time and I did work hard for that competition. Although I didn't win a medal but it made me more confident to perform in the event in 2018. So it was a whole new experience for me to perform in the rough conditions there. Next year, I missed the World Championships and the Asian Series but Singapore Cup was an event where I actually had time, so I worked really hard and my family and friends raised funds for me. Then I went for it in 2018 and won a bronze medal with good timing. So yes it was a wonderful experience for me to perform at the Singapore event.
What motivates you every day for sports? What does it mean to you?
I only have one dream - to make my country proud. I always use to remember this goal in my life and that's the only thing that inspires me always. I use to work hard every day for it and it makes me more focused towards my goals. I also want to make proud all the women in India as me being a girl myself, I'm representing the women of my country in sports.
I just think about the moment when I'll be winning a Championship and Indian national anthem will play with me standing on the podium. To achieve these goals, I wake up at 3:30 or 4 in the morning and train hard. I just take all problems as a part and parcel of life so I refuse to give up.
Not all types of sports get much appreciation in India. What would you like to say about it?
All I want to say about Stand-up paddling is that this sport will surely grow in the upcoming years in our country because India has really beautiful coastlines and also some of the really good surfers are coming out from South India. There is no doubt that more surfers will come out from other parts of the country as well. It's just that this sport has risen a little late in our country than other sports, but there is no doubt that this sport will surely grow. And many events are taking place in India now like Covelong Point Surfing Festival. These types of events give a lot of boost to the sport. The community is growing and lakhs of people are coming for the event so they all will see how surfing is raised in India. I along with my best friend also host camps to promote the sport in other parts of India, so the sport can reach more people.
Tell us about the upcoming tournaments in which you are going to participate?
It is actually not official right now due to COVID-19 pandemic, but there is one of the Asian Series that is supposed to be held this year but as you know the whole world is suffering from this pandemic, so still we don't have any updates about anything.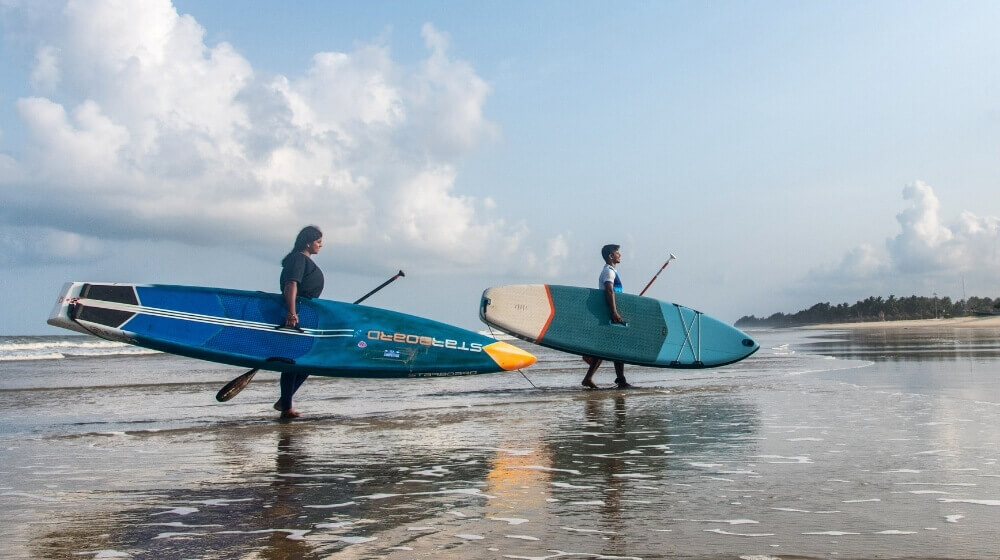 How much has your life changed after surfing?
My life has changed a lot. Especially being a girl with freedom, I have an ability to chase and achieve my dreams. I am a woman entrepreneur now which is really a beautiful thing for me because at this stage you can actually support someone and also help the community to grow in this sport so you are also supporting your country in a way. I'm really thankful to the mother ocean for accepting me as a daughter.
What message would you like to give to the young girls who dare to go against the tide?
I can always say that find out what you want to do in your life, you have all the rights to chase your dreams. No matter how many hurdles come into your path, never give up and work harder and harder. Someday miracles will take place in your life, just wait for it and believe in the universe. Work hard, don't look back and be the best version of yourself. There is a very nice quote by Meghan Markle -
"It is said that girls with dreams become women with vision. May we empower each other to carry out such vision - because it isn't enough to simply talk about equality. One must believe it. And it isn't enough to simply believe in it. One must work at it. Let us work at it. Together. Starting now."
What are your views about the initiative taken by Sportsmatik?
I think Sportsmatik is doing a very nice job because there are so many athletes in India who have their own story to tell to the world. You never know if your story can inspire some other person in a different corner in India, and these stories of different athletes can motivate so many people out there to help them chase their dreams. Sportsmatik is consistently doing such amazing work to bring out the stories of growing athletes so Congratulations to you all.
Rapid Fire!
| | |
| --- | --- |
| Favourite places to surf in India | Mulki, Udupi and Chennai |
| Most memorable moment | Representing India in 2016 World Championships |
| Your motivation source in one word | To represent my country |
| Favourite sports other than surfing | Football |
| Favourite athlete | Serena Williams, Mary Kom and P.V. Sindhu |
The Sportsmatik community salutes this young female stand-up paddler who proved to the society that women are capable of giving a tough competition in sports like surfing too. We wish her all the best for her future endeavours.