Everyone dreams of illuminating the name of their country all over the world, but it is more crucial actually to achieve that. Chennai-born Nethra Kumanan did a similar thing when she won a bronze medal at the Sailing World Cup this year on January 25 to become the first woman in the country to achieve this feat. Participating in the Hempel World Series in Miami, USA, she won bronze in round 2 of the tournament to create history. She proved herself prominently in the Laser Radial class (a small, dingy-style boat which is sailed single-handedly) on several occasions, eventually finishing third behind Erica Reineke of the United States and Greek sailor Vasileia Karachaliou. She started sailing in 2013 at a summer camp organized by the Tamil Nadu Sailing Association. She represented the country at the 2014 and 2018 Asian Games held in Incheon & Jakarta, respectively. She finished fourth in the same event in the last edition of the Asian Games and attributed her calm temperament to her medal-winning performance in this year's Sailing World Cup. She currently trains in the Canary Islands in Spain.
In an exclusive interview session with Sportsmatik Community, Nethra shared the story of her challenging sailing journey and how it all began. Have a look -
How did you start sailing? From where you got the enthusiasm to opt sailing as a career?
I started at a summer camp, one held annually in my sailing club, Tamil Nadu Sailing Association. And besides a couple of years off here and there, I've never looked back. It's just been constantly learning more and more and having fun. I loved the sport; it's different as it requires more mental stamina than any other sport. You get to travel the world, meet people from different countries and try to give it your best.
What precautions to be taken before sailing? Tell us in brief.
Our sport is governed by rules, the first of which is safety and we always go out in the water with life jackets and some form of rescue/support boat no matter the level of the sailor.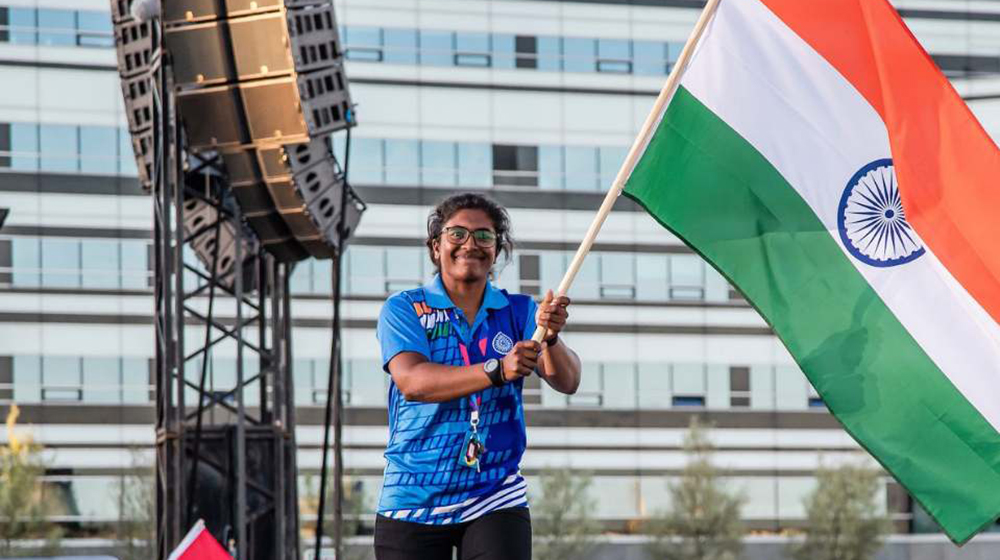 Photo Credit: Nethra Kumanan / Facebook.com
Have privileged are you in getting family support?
I think I've been very lucky with my family's support, both moral and financial. My parents and brother had always believed in me even when I didn't, and I'm extremely grateful to them.
You are the first Indian woman to win a Sailing World Cup medal. How does it feel to be the one in a million?
After completing the race on the final day, I had no idea that my performance had helped me win the bronze until a fellow sailor informed me. This was the most memorable win for me. Making it globally in sailing - especially from India - has never been easier, I believe, the time I've invested in sailing is worth it. I think with sailing being such an under-appreciated sport in our country, I just hope more people get to see what it is and how incredible playing with the elements can be!
How is the experience of training in the Canary Islands? Who is your current coach or nutritionist?
I train in Gran Canaria now with the European Sailing Academy where a lot of girls from a lot of different countries come to train, and it's just an incredible environment to push ourselves and have fun! For the first 2-3 days, we were allowed to go to the sea for only one hour but later exceeded two hours. We are not allowed to sail during weekends as per official dictate. I am sailing with some Spanish national team sailors, and it is a good thing for me. Training in Gran Canaria has helped me improve my skills. It automatically brings out the best in me with trained top sailors such as Ebru Bolat and Vasileia. I have to train here with my coach and some other sailors. I am also grateful to GoSports Foundation for helping me find a nutritionist and a psychologist - Mon Brokman - who has a rich experience of working with sailors in the past. On the top, I am working on increasing my endurance levels. There is also a lot of emphasis on the mental side of my preparation, and Brokman is helping me in that aspect.
You have also represented the country in the 2014 and the 2018 Asian Games. How was the experience there?
In 2014, I had just started sailing, and I went there purely for the experience, and in 2018, it was an event with a lot more pressure as there was a spot for Tokyo at stake which I didn't handle so well but learnt a lot from. These events were incredible experiences to be a part of with athletes of so many other sports as well.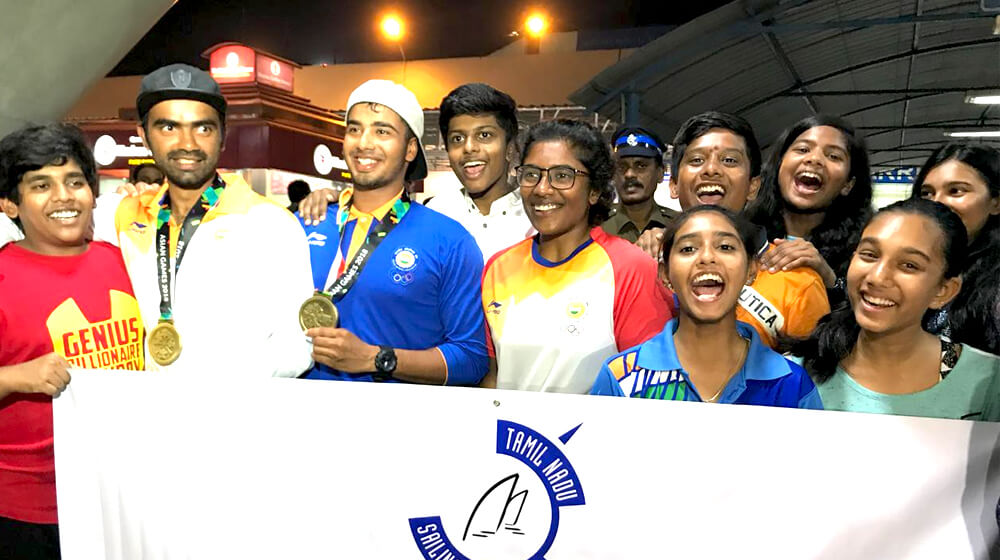 Photo Credit: Nethra Kumanan / Facebook.com
Who is your role model?
People I look up to in my sport are the obvious ones like the Dutch Marit Bouwmeester. Then the underdogs like Mari Erdi and Vasileia Karachaliou, who have in a sport of experience, showed us that talent takes hard work to show up.
What is the most memorable moment in your sports career until now?
I think I am still quite a rookie in my sport, but I think I enjoy learning most particularly after struggling with things to figure something out finally. To overcome things are what I enjoy the most.
What did you learn from your competitors from the tournaments in which you have participated till now?
I think there are a lot of things we learn from each other in our sport in terms of work ethics, attitude, how they carry themselves and a lot of the time technique as well. I think it's important always to be open to new or different perspectives and learn as much as you can in every opportunity you get.
How much scope do you think India has in Sailing? What could be done for the betterment of this sport here?
India, with our incredibly large coastline and population, we have huge potential to succeed honestly in anything we put our minds to, and in sailing, I think just needs to be made more available to more people maybe, and more people encouraged to try it is all it should take. India had never been to the Olympics for sailing before. Most people do not know that sailing also exists in India, our sports are cricket, football or hockey, and it is the Navy or Army people that sail. But I think it looks good because now we have more people who are competing at a higher level. The level is getting better, so I think more and more people are getting attracted to it. We also see more people than ever before coming to see us.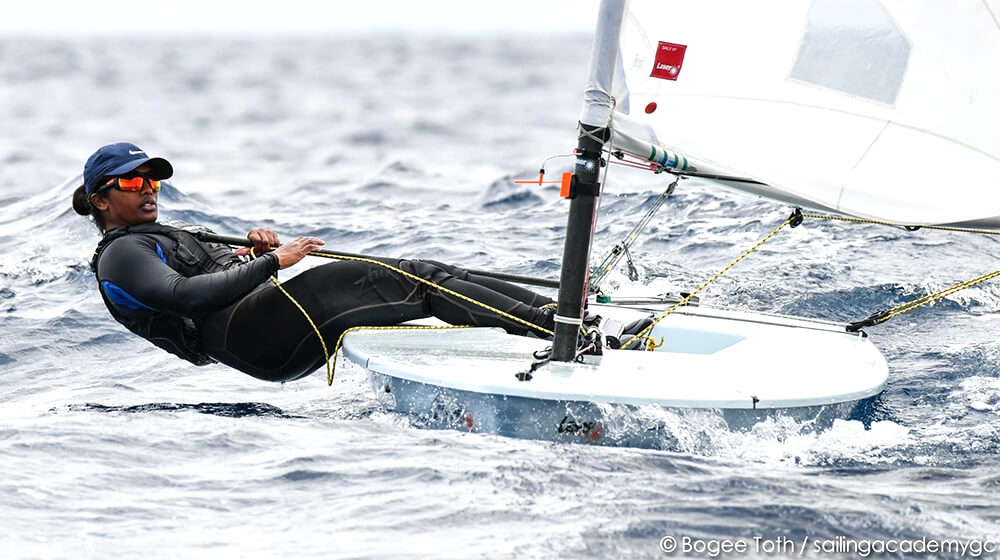 Photo Credit: Bogee_toth / Sailingacademygc
What advice would you like to give to the people who want to pursue a career in Sailing?
I think it's just important to remember to have fun and work hard.
Rapid Fire!
| | |
| --- | --- |
| Favourite Sports other than Sailing | Sailing by far the coolest to me. I don't think I have any specific sport I enjoy more. |
| Favourite Athlete | Tia Clair Toomey –Cross Fit Games athlete |
| Favourite place for Sailing | Chennai |
| Favourite Tournament till now | Israeli Nationals 2014 |
| Nethra in one word | Gritty |
The 22-year-old Nethra had a great start to the year, winning bronze in the Sailing World Cup held in Miami, USA in January. In March 2020, she went to Spain after the Asian Olympic qualifying event in Abu Dhabi scheduled to take place from March 15 to 22 was postponed due to the Covid-19 pandemic. However, despite being in lockdown, Nethra's fitness regime is never affected.
The Sportsmatik Community salutes the invincible spirit of this brave woman who is climbing new heights in the field of sports and setting a precedent for many others to follow her. All the best for your future endeavours!