Mira Erda is the first Indian female driver to race in the Euro JK Series as well as a Red Bull Racer. She has broken age and gender stereotypes in India, and it's her never-quit attitude that ensures that the spotlight follows her wherever she goes. She began racing at the age of 9, and her first professional race was JK Tyre Rotax Max National Karting Championship. In an age where girls think about what clothes to wear and what accessories to buy, she was changing the perception of women in racing in the country. While her peers like to spend their weekends chilling with friends, Mira likes to race around a track in a Formula BMW car. Mira shifted to racing the Formula LGB class of race cars in 2014 as the youngest female driver before making her historic leap to the 2017 JK Euro Series, where she became the first and only Indian woman to participate. Against experienced racers, the Vadodara native is showing that she actually belongs to the elite class of drivers in the country. This Formula Racing Champion is currently at home in Vadodara, Gujarat, as motorsports have been suspended until further notice.

An Overlook on her Major Achievements:
Finished 7th in her career's first race in 2010 JK Tyre National Rotax Max Karting Championship
Honoured with the 2010 Best New Upcoming Driver of the Year
Finished 3rd in the 2011 JK Tyre Rotax Rookie Cup
Secured 2nd place in the 2011 JK Tyre National Rotax Max Championship's 5th & 6th rounds
Won the 2011 Best Improved Driver of the Year
Concluded at 5th Position in the 2012 Invitational Yamaha SL International Challenge
Became the youngest Formula-4 female driver by participating in the 2014 JK Racing Championship
Won the 2016 Formula 4 Rookie Champion of the Year
Honoured with the 2016 Outstanding Woman in Motorsports during the annual FMSCI awards
Became the first Indian woman to compete in the 2017 Euro JK Series
Achieved four podiums in Ladies category at the 2019 Formula 4 SEA Championship held at Madras Motor Race Track
Achieved her first international podium by finishing first in round 2 among ladies at the 2019 FIA Formula 4 SEA Championship, held at Sepang International Circuit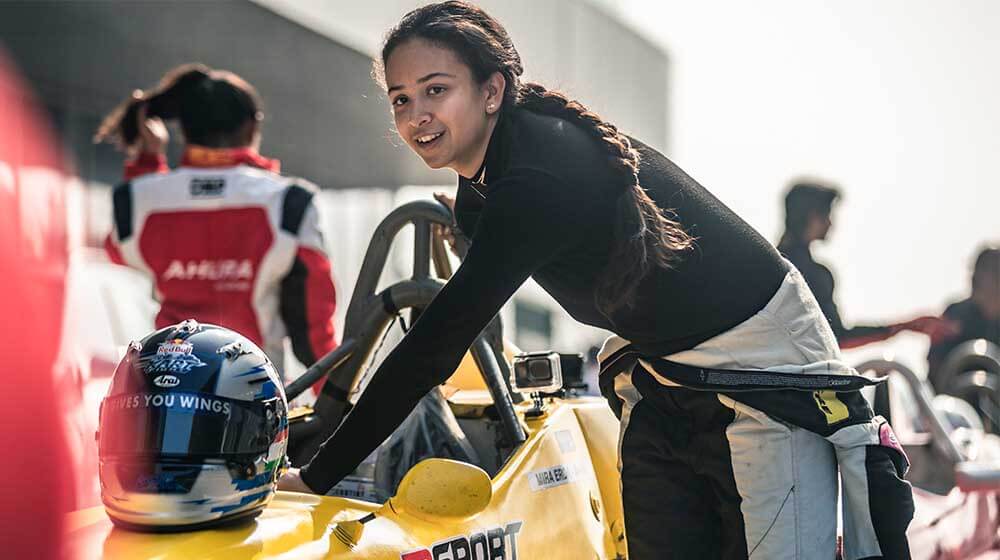 In an Interview with Sportsmatik, Mira spoke about her early days, experiences which she faced in her racing journey and more. Here is the complete conversation -
When did you realize your passion for racing? What was the driving force behind it?
My father owns a go-karting race track in my hometown Vadodara so, in my childhood, I used to race there with my brothers and have fun. When I was 9, my father asked me if I wanted to get into professional racing & go-karting at a professional level! I felt amazed as it was an exciting option, after which we went to see one of the rounds of the JK Tyre National Karting Championship in Pune, where I realized that it was a male-dominated sport as there are no female contestants. So I thought why not try my luck and it was something I was very passionate about and it has driven me to pursue racing as a profession. After that, I got into the sport and trained professionally for a few days to practice. In 2010, I competed in my first national racing championship in go-karting which is the JK Tyre National Rotax Max Championship, at the age of 9.
Which was the first race of your career and how was the experience?
As I stated earlier, I competed in my first national racing championship when I was 9 years old in 2010. It was so new to me because all the guys over there had the experience of how the sport works. I was completely new to it so I didn't know anything at that time. Being able to try fast cars is something I have focused on and I wanted to enjoy the first experience that I had. So I was super happy that I got into this type of sport.
For a sport dominated by men, how have you overcome the challenges?
Initially, when I started racing, people were shocked to see a girl racing with the guys. Since it was a male-dominated sport, it was a completely different thing. Originally, it was difficult for people to accept that a girl is racing with them. But I only focused on improving my skills, getting better at it and enjoying racing. As I started doing well and started winning races, people got used to it when they saw that racing is not about a guy or a girl, it's all about the skills. So when I started performing, people started accepting me as a racer and that's how I dealt with it.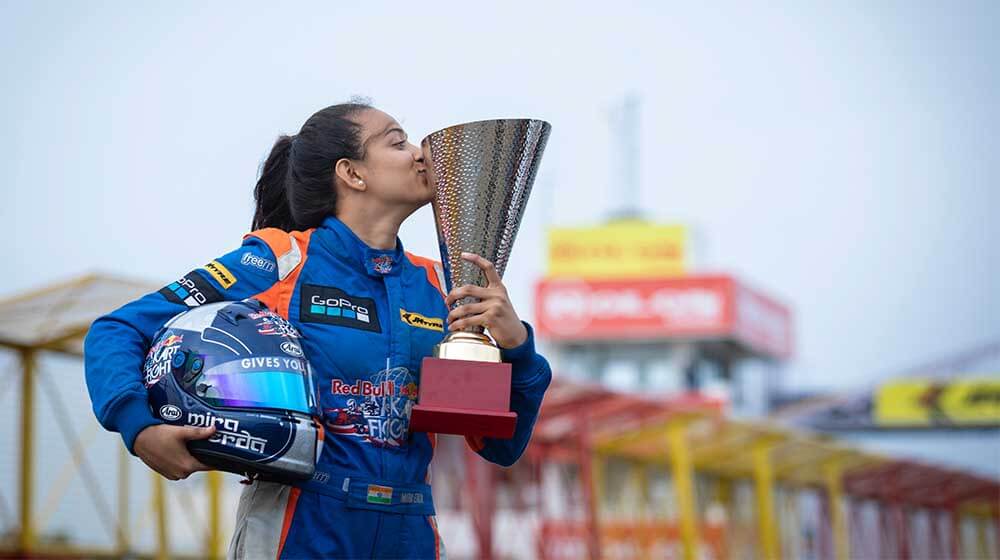 What was the role of your family behind your success?
My family was the one who got me in that sport. As I mentioned earlier, it was my father who asked me to pursue this sport. My parents, my brothers and all of my family were super supportive of it, so that's how I got involved in that game. Even today my Mom and Dad travel with me, wherever I go for my races. So I think I'm lucky to have such parents.
In 2011, you were awarded the Best Improved Driver of the Year award. For which competition did you receive it?
Yes, it was JK Tyre National Rotax Max Championship. That tournament was a national level championship in Go-Kart where I received this award.
Tell us something about your fitness and training routine.
Many people think that motorsport is super easy because we just have to get the car up and drive but it's a completely different thing for us. This is so important that we are fit because to handle a car with a speed of 230 kmph, we face a lot of force coming towards us. And we lose a lot of weight, stamina & strength in that. Therefore, it is very important for us to keep ourselves fit in the physical and mental aspects. I do 2 hours of workouts every day and used to do meditation just before my race. So for me, fitness is super important and I am always working to focus on my co-strength and next strength because it's crucial for us as when we meet an accident, our body suffers too much effect of that accident while racing. So this is what my fitness regime looks like.
If I talk about my training, I don't really practice much because motorsports are very expensive and we hardly have tracks in India, most of the tracks are laid out in South India. So travelling from Gujarat to South India is also very expensive. Therefore, I practice just before my races and sometimes use a simulator tool also to train for races. Simulator tool is something that every racer in the world uses to train for the races. I like to mix it up between Crossfit training, TRX training and strength training as well as circuit training. I also do yoga sometimes.
You also became the youngest Formula 4 girl driver at 2014 JK Racing Championship. How much do these moments mean to you?
I was just 14 years old when I actually got into Formula-4 cars so everything was new to me. There were many other drivers who were around 25 to 30 years of age and had a lot of experience. So I was quite happy and excited, also its kind of a challenge to compete in the national championship with those experienced racers. Overall, it was just a new experience for me where I learned a lot of new things like I tried to understand all the cars, tried to understand how the cars react to different situations. So being the youngest among them all was a happy moment for me but I took it as a challenge and wanted to get into it.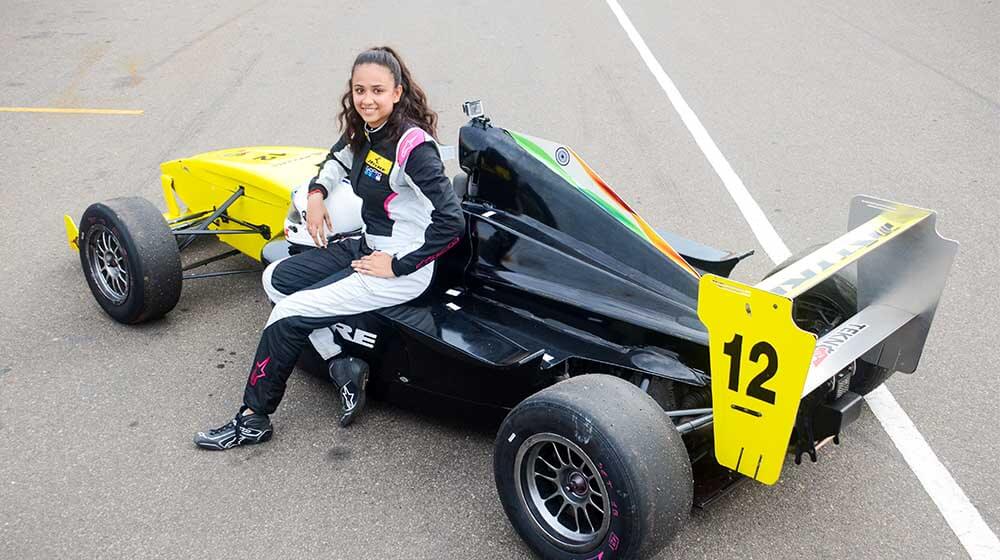 Do you think that women should take more interest in sports like racing? What do you think can be a motivating factor for them?
I always use to say that "the car doesn't know what gender is driving it". It is just about the human being, the skills and hard work because that only matters. I think women can try it too and there are many examples around the world where we can see that women are very competitive in this sport, so I can say that if girls in India are passionate about it and want to get into it, it's completely open for them. I believe we need to encourage more women to come into racing because as we say it's a male-dominated sport but now the whole scenario has changed. When I was racing I was the only one in 2010. But now we can see that there are many girls in different types of motorsports like biking, cars, rally, formula cars, go-carts. So the whole scenario is changing and it just has to keep getting better.
You bagged the title of the first Indian woman to race in the Euro JK series, one of the highest classes of Formula racing in India. How does it feel to be one in a million?
It was really a dream come true for me as I saw those cars in 2010 when I went to Malaysia to compete in international races and I thought at that time that I would drive those cars someday. In 2016, when I became the 2016 Formula 4 Rookie Champion of the Year and was honoured by FMSCI, it opened the doors for me to compete into the JK Euro Series. I was the first Indian girl to participate in that Formula-1 JK Euro Series, which is the highest form of motorsport event in India; I got that chance because I was the National Champion. So I was super happy and excited, trying to learn about everything like car and all as we drive at the speed of 240 kmph, so being the first one in that event, getting all the fame and acknowledgement, I was very happy with it.
Which is your best racing experience till now?
There are a lot of experiences that I have got and they all were best for me but there is one race in 2012 in which I started last in the final race but actually won that race. In just 2 to 3 laps, I overtook everyone and came first by leading on the race which is one of my best racing experiences so far.
Who is your role model?
There are a lot of racers who are my role model but I am very much inspired by both Lewis Hamilton and Max Verstappen, although they are totally different. If I talk about Lewis Hamilton, at the beginning of my racing career his role was very important, because he was very calm during his races and he knew what he needs to do while racing, which helped me learn how to react in racing and techniques.
On the other hand, Max Verstappen is a young and aggressive racer and he knew at what moment he needs to make an aggressive move while racing. So I am trying to strike a balance between them and trying to learn from them to hone my skills.
How do you manage your studies along with your racing career?
I started my racing career at the age of 9, so for me, studies is something that I always had to manage. It was very difficult for me to manage studies and racing at the same time at such a young age. My mother played an important role in helping me maintain a balance between them. She used to take notes from my friends and later in the day she would make sure that I study. She used to take all my books on the race tracks and once I got done with it, I used to study on the race tracks as well. After a point, racing has made me learn so much that I know I had to be the best version of myself. So when I'm on the race track, my only focus is on racing and in-home, I only focus on my studies. I have been lucky in my family because I have learned so much through life that I have been able to manage my studies and races together.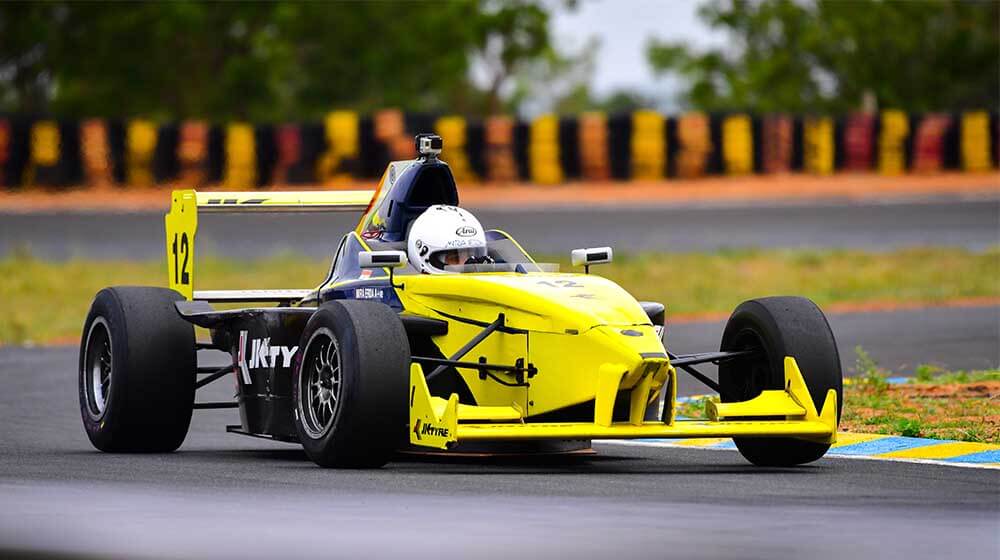 What advise you would like to give to the young girls who want to pursue a career in racing?
I would like to say that if anyone wants to pursue racing then you have to go and try it first. Racing is a sport that requires a lot of dedication and hard work and I believe that anyone can drive a race car, but driving it and pushing it to its limits is something that needs to be learned, which can take a lot of practice and skills. So you just have to keep improving and believing in yourself because girls can actually drive so much better than what people think about them. So just believe in yourself and keep going!
You were eliminated along with Sneha Sharma after evaluation at the W Series 2019. Does it demotivate you by any means?
Actually I wasn't eliminated; it's just I have not been selected at that time. There are many female racers from all over the world and they had so much experience, as I said India is not at the best level in motorsports but it's growing. And it was an experience for me as I tried to know and learn from international racers so I just took all positives from there. I also got a chance to drive there on snow which was my first time so overall I was quite happy for the selection process of the W series. Hopefully, someday I will win that series too.
What are the upcoming competitions in which you're going to participate in the near future?
I haven't yet declared my racing plans yet as we are going through this pandemic, but I'll plan a few international races by next year if the situation will be normal. I just can say that I will next compete in Formula-3 and Formula-4 race events.
What do you think about the initiative taken by Sportsmatik.com in highlighting sportspersons of every sport in India?
That's really a great thing because media should actually promote sports speakers and Sportsmatik has decided to focus on every sport and athletes from different sports which I believe is a great opportunity for all sportspersons.
Rapid Fire!
Favourite racing tournament that you have participated till now
JK Euro Series and FIA Formula 4 SEA Championship at Sepang International Circuit
Favourite sport other than racing
Running
Favourite athlete
I have followed a lot of athletes so I don't have any particular one
Favourite car and track

Track - Kari Motor Speedway in India as I have grown over there

Car - BMW F4 Car

Most memorable moment
When I became the first girl to win internationally in the women's category
​The Sportsmatik community salutes this young female racing driver who proved to the society that a sport doesn't know what gender is playing it and women are capable of giving a tough competition in motorsports too. We wish her all the best for her future endeavours.
Mira Erda is now a part of Sportsmatik.com. Checkout her profile at the link given below -