Hakuhō Shō aka Mönkhbatyn Davaajargal is a name every sumo wrestler needs to watch out in the ring. Hakuhō is a professional sumo wrestler (a rikishi) belonging from Ulaanbaatar, Mongolia. He has achieved the most number of top-division sumo championship wins (44) with his best wrestling bouts and tactics. This 151kg wrestler has approximately 1,170 total career victories. He has 63 consecutive wins which took place from the 14th day of the 2010 New Year Basho to November 2010, the second day of the Kyushu Basho. He has 15 perfect tournaments as a record. In 2010, he was honoured with the Japan Professional Sports Grand Prize (the Prime Minister's Trophy) from the then Prime Minister Naoto Kan.
Early Life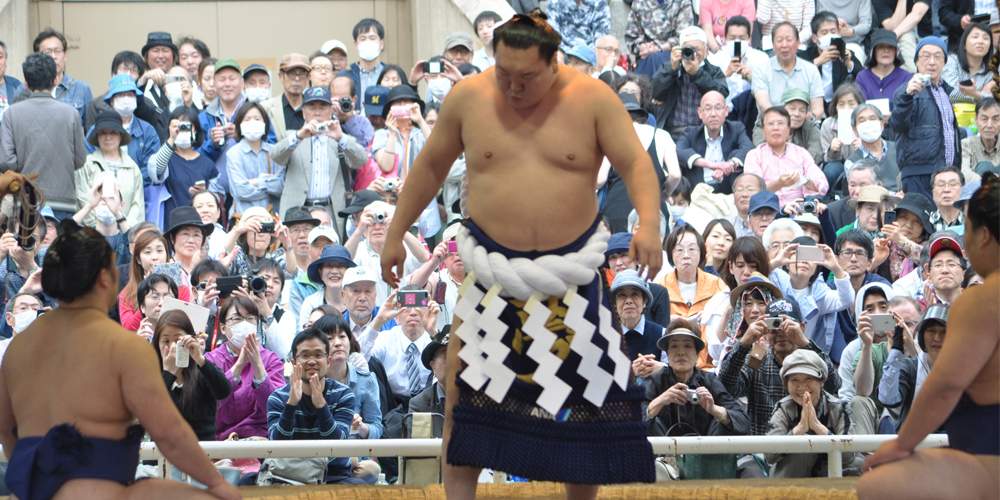 Photo Credit - 江戸村のとくぞう / Wikimedia Commons / CC BY-SA 4.0
Hakuhō and his family belong to Mongolian wrestling culture. His father, Jigjidiin Mönkhbat, was a silver medalist in freestyle wrestling at the 1968 Summer Olympics, held the highest Mangolian wrestling ranking "Darkhan Avarga" meaning "The Invincible Champion" which is equivalent to yokozuna. During Hakuhō's early age, he used to focus on basketball. Meanwhile, he used to read a lot about sumo wrestling and wanted to be as big as a sumo wrestler. When he was 15 years old, he wanted to get proper sumo wrestling training. However, he was rejected by most of the coaches as he weighed 62 kgs only.
In October 2000, he came to Japan after receiving an invitation from legendary Mongolian wrestler Kyokushūzan. He has arranged him coaching in Miyagino stable under master Miyagino-oyakata. He received the ring name Hakuhō ("Haku" means white and "hō" is the Chinese mythological bird Peng).
In 2001, Hakuhō made his debut at honbasho (March tournament) in Osaka. Over time, his weight began to increase, and so does his ranks. In January 2004, he achieved the second highest jūryō division followed by top makuuchi division in May. He proved his worth with 12 wins and three losses at his first top-division tournament for which he was awarded a special prize, sanshō for his true Fighting Spirit. In March 2006, he showed a brilliant performance with 13-2 record and won two trophies for outstanding performances and techniques and got promoted to ōzeki.
Rank Promotion and Victories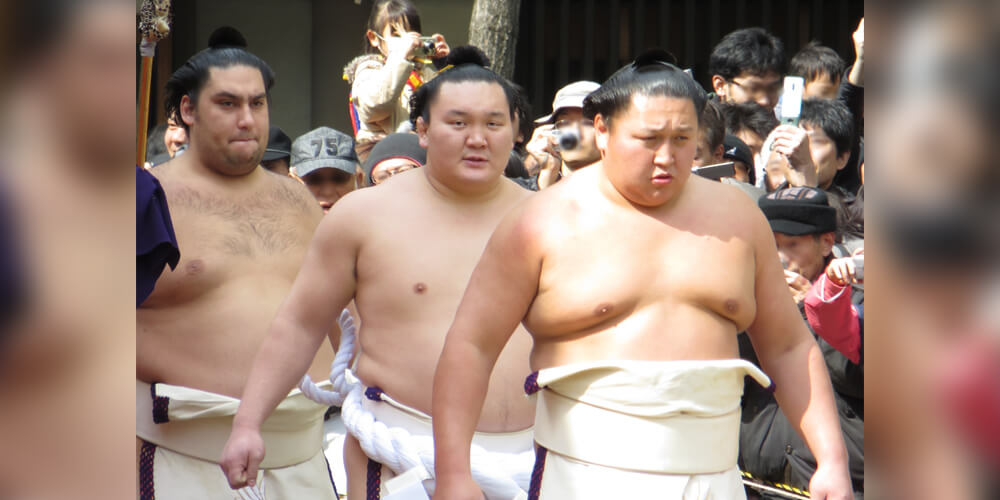 Photo Credit - Ogiyoshisan / Wikimedia Commons / CC BY-SA 3.0
In May 2008, he won nine bouts consecutively (but lost after that) with a final scoring of 11-4. In 2009, he defeated his most anticipated opponent Asashōryū and ended with 14-1 record. In July, he became the first-ever makuuchi wrestler to win 14 or more bouts in five tournaments. On 28th November, Hakuhō proved his worth and his mastery by crashing Asashōryū's 2005 record for the most bouts victories in a calendar year.
In 2012, he won his 22nd yūshō with a final scoring of 13-2. In 2013, he raised his winning streak to 43 bouts and by the end of the year, he was able to grab 82 wins out of 90 bouts. In 2015, Hakuhō was able to break Taihō's long-standing record by winning his 33rd top division sumo championship, the most in the history and finished the tournament with a perfect 15-0 score.
His winning record was growing day by day; his fierce techniques and dedication towards sumo have brought him under the limelight of top-most sumo wrestlers category. Hakuhō created history in September 2018 by winning his 41st Emperor's Cup, his mega 1000th victory in makuuchi (top) division. In 2019, he received his Japanese citizenship.
In the same year in Fukuoka, Japan at the Kyusho basho, he bagged his 43rd championship victory in sumo's top division makuuchi and acquired a Guinness World Record for the same. In December 2019, he was nominated to be the torchbearer for the 2020 Tokyo Olympics. In March 2020, he won his massive 44th top division victory in yūshō. This championship took place in an empty arena due to COVID-19, the first time since 1945 that a sumo event took place without having spectators.
With all such humongous winning records and victories, Hakuhō Shō is undoubtedly a GOAT (Greatest of All Time) in sumo wrestling.