Some people have the vision since their childhood about what they are going to do when they grow up. This is the story of Asia's Fastest Man on Ice - Shiva Keshavan. He was only 14 when the International Luge Federation came to India in search of winter sports talent, and the members were influenced by what they saw in Shiva. Born in Manali, Himachal Pradesh, he had not heard of Luge before but still, given a try at it, after which he immediately fell in love with the sport, and only after two years, he qualified for the Winter Olympics. He was 16 when he first competed at the 1998 Winter Olympics in Nagano, Japan.
Luge is one of the most dangerous sports in which an athlete has to lie flat on his back on a sled and slide the legs at a shutter speed on a fast-moving ice track. He can sometimes lift his head to see where he is running, but there is no brake and no scope to change the slope ahead. Hence, it's a dangerous sport as the athlete may fall out of the curve of the race track or meet with a head injury in front of a steel pole, and even may face life risks. Despite all this, Shiva Keshavan didn't lose his passion for Luge and became the six-time Olympian and the first Indian representative to participate in the Winter Olympic Games. He set a new Asian speed record at 134.3 km/h beating the previous record of 131.9 km/h and won the gold medal at the 2011 Asian Luge Cup. Shiva is the reigning Asian champion and speed record holder and has won the Asian Luge Championships four times in 2011, 2012, 2016 and 2017. To do what he does, you need to be more than an adrenaline junkie.
Recently, Luge Federation of India has appointed him as the Head Coach as well as the High-Performance Director of the National Team, acknowledging his achievements during representing India over the last 22 years.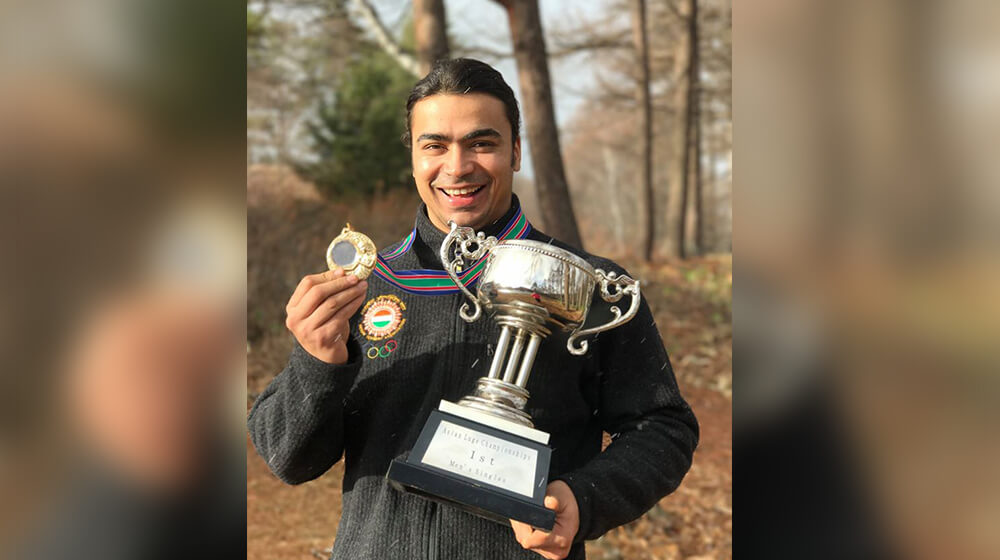 Credit - Facebook.com/skeshavan
An Overlook on his Major Achievements:
Competed for six-times at the Winter Olympic Games
He has the world record for being the youngest ever luge Olympian when he participated at the 1998 Winter Olympics
India's first to qualify for the Winter Olympic Games in Luge
Secured bronze medals at the 2005 & 2008 Asian Luge Cup
Clinched a silver at the 2009 Asian Luge Cup
Bagged gold medals at the 2011 & 2012 Asian Luge Cup in Nagano
Won silver medals consecutively at 2013, 2014 & 2015 Asian Championships
Secured gold medals and became the two-year consecutive champion at the 2016 & 2017 Asian Luge Championships
Speaking to the Sportsmatik Community in an interview, the down-to-earth & easygoing luge star Shiva expressed his experiences and his winter sports journey and how his determination, passion and dream for sport helped him to represent India at the Winter Olympics. Here's the entire story -
What was the triggering moment when you realize your passion for luge? From where have you heard about this not so common sport?
In 1995, when I was in school, International Luge Federation organized a camp in India to promote luge as a sport which was a talent scout camp for the Winter Games and my school sent my name there to represent the school as I was already doing well in a lot of sports. I was not told about which sport I had to participate in until I reached the venue. I remember how excited I was at the possibility of going so fast down an ice track and that's how I started. I hadn't heard about luge before, but it automatically clicked the moment I began. Since my childhood, I was very interested in speed, thrill, adventure and things like that.
Luge is not so popular in India and we don't even have a luge track. How hard it was for you to practice and train for the sport?
Yeah, it is very hard in some ways as there is no infrastructure for winter sports in the country and no other senior athletes to learn from. So obviously, I had to innovate and come up with new solutions on how to train for the sport when you don't have that kind of facility, which is itself an out of the box thinking. And also I had to travel abroad for training, which required a lot of funding for travelling and all expenses, so I would have to come up with extra funding for that.
Please tell us about your first-ever competition in which you have participated.
It was in 1997 when I participated in the World Championship that was held in Austria. It was a very interesting race because I've got hurt in training and broken my foot, but it was my first opportunity to perform on such a world stage, so despite that, I participated in the race, so it is a very memorable lookup of that.
How was the experience of representing your country in your first Winter Olympics?
The experience was amazing and worth it because me, along with my coach, tried very very hard to make it to the Olympic qualifying criteria. It was a very long and arduous journey to qualify, especially because no one had done it before. We paid no attention to the media or other people. We focused only on our training. So when we arrived in Japan for the Olympics and for the first time I went to the stadium for the Olympic opening ceremony and carried the Indian flag. The roar of the stadium was so loud to welcome the countries and at that moment I realized that the Olympic is a huge international event that I had come for. Because before that we were always in a small corner training for it and we didn't know about the kind and amount of global attention. So that's when I felt the true weight of representing the country and hopes and dreams of the people. I realized that it was my honour as well as a responsibility to perform well in such a big stage and that honour was a reward in itself.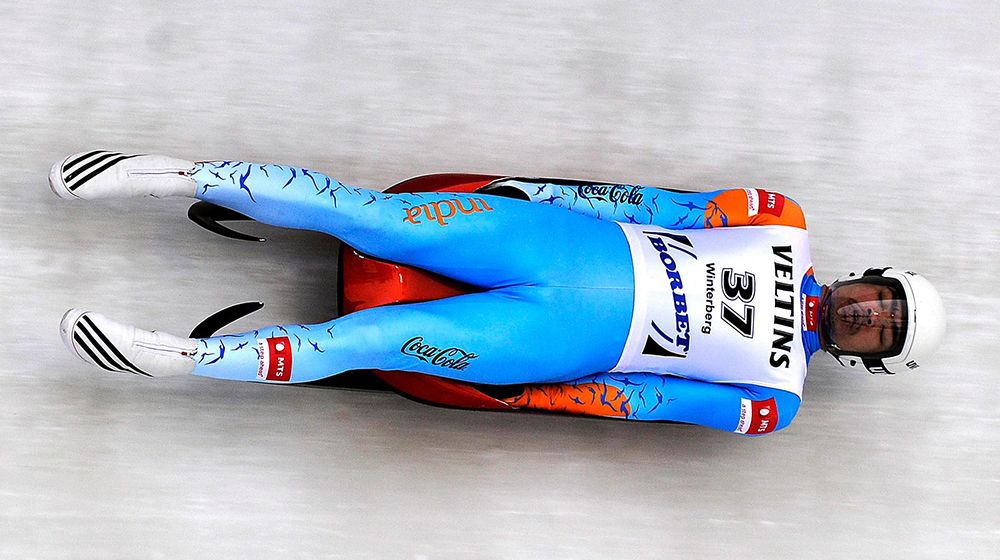 Credit - Facebook.com/skeshavan
You didn't have a coach until 2015. In that scenario, how hard it was for you to perform at the world stages?
Well, it was hard as I had to figure out a lot of things for myself that also helped me because I had to make up for the lack of a coach by figuring out things, building good relationships and asking other prominent coaches and athletes for their advice. I also used to observe my opponents to learn new things and spent my time watching other race videos. So all of this in a way also helped me to grow as an athlete as I had more responsibilities than just training and listen to someone's advice. But of course, my progress would have been a lot faster if I had a coach at that time.
His determination and unwavering devotion to his game make him different from others, his love for the sport and his passion to play for the country is truly fantastic.
You were only 14 when the International Luge Federation came to India in search of talent, and they were impressed with your expertise. Please tell us what was the whole story behind that?
Well, the story was that the International Luge Federation wanted to promote the sport in more countries because winter sports and especially luge was confined mainly to certain countries like alpine sports, Scandinavian countries, Russia, America but a lot of the world wasn't participating. So they had a campaign in which they had to go from country to country to promote the sport and that is how I had the opportunity to try it for the first time.
Luge is considered as one of the most dangerous sports. In that case, did that sport bother you in any situation?
See, I believe it seems dangerous if you do not have the expertise or knowledge to handle something. But once you prepare for it and get yourself trained for it then it becomes easier. It's kind of like an exam as if you haven't studied for it, it will look difficult but once you prepare for it, it seems doable. I realized that the key to overcoming the challenges is to prepare the things in advance, and that's what I did. Obviously, as a sport with such speed and adventure aspects, one has to have a certain tolerance and passion for the game in the beginning, but the key is always to practice as much as you can.
Your family supported you for this kind of dangerous sports?
Wel,l my family always supported me because the way I was brought up was to follow my own path. They didn't push me in any direction whether in studies or sports, so they encouraged me when they saw that I had a passion for something. Of course they told me to give enough weightage to my studies as well as I can't abandon my studies but they never stopped or stood in my way when I had to compete in sports. In fact, my parents were very very supportive and I believe that without their support, I would not have achieved anything.
Are you going to participate at the 2022 Winter Olympics? How are the preparations going?
Well, I don't have any plans of participating at the 2022 Winter Olympics as an athlete because I had already taken retirement from the active sport in 2018. But as you know, every day is different and I always think about winning back on the track, so I hope I'll be able to make it as a coach or mentor to other athletes. It would be nice
Shiva last waved the Indian flag at the 2018 Pyeongchang Games, after which he retired from Winter Sports in 2018.
How many difficulties have you faced while finding the sponsorship?
Yeah, a lot of difficulties were there. Initially, the issue was that nobody believed in this as it was too foreign a concept for people and especially when I went out to approach certain companies, they said that "No no, in India people only spend money on cricket". And then I really realized that once I started going out to companies for sponsorship and tell them the possibilities and my story, the important thing for them wasn't really what sport, but the passion was important and the values that I stick for, was important. And of course then each company channels and finds something that links it to sports, for example speed, technology, or aerodynamics. So you can always find some links because most companies always look for some links to associate their product with you. But yes, the most important thing is your passion, that's why when you go out looking for sponsorship, sometimes it's easier to convince people yourself rather than going through companies that itself doesn't understand the sport and relying on them to convey this to sponsors. So I wasted a lot of my time waiting for this whole process. But when I went out on my own, I saw that there is a lot more interest.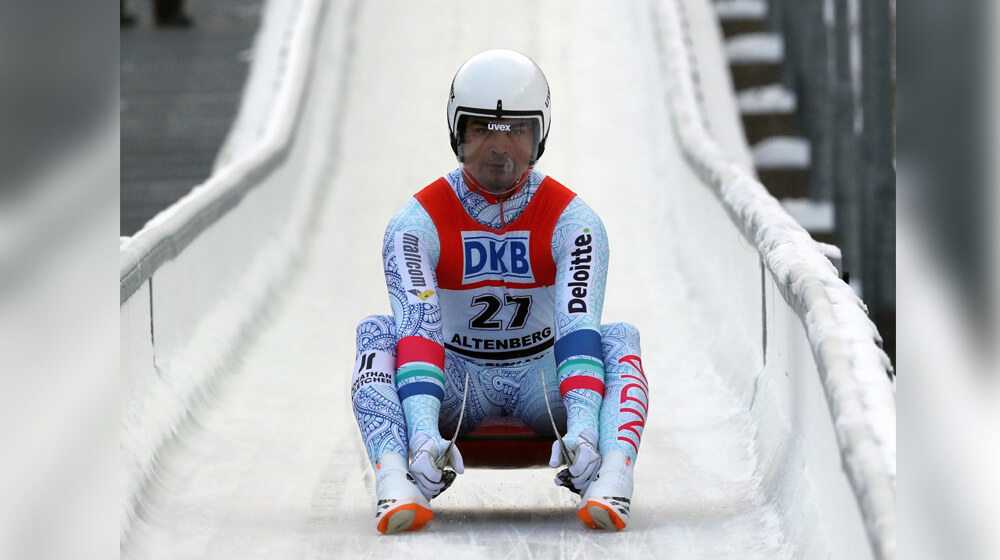 Credit - Sandro Halank, Wikimedia Commons, CC-BY-SA 3.0
Known as the "Fastest Asian on Ice", you have participated in six Winter Olympics and won several other medals for the country. How does it feel to represent your country at international tournaments?
It's the biggest honour and an amazing feeling because it was my dream to represent my country since childhood. Even though we don't have facilities in India as well as no funding from the government, but still we have so much love and support from people that it is an honour to be at that stage. It is the best feeling for a sportsman to be able to carry the hopes and dreams of so many people with you. And so when you achieve something on the international stage, you feel that you are achieving something not just for yourself but for so many people and inspiring them as well. So yes, that is one of the best feelings.
Who is your role model?
I never really believed in role models, I only wanted to be unique and the only one and I wanted to be special in my own way. So I never really followed somebody else's path.
Once you got an offer for the Italian citizenship but you refused it. Do you regret that decision as India still does not have that scope in luge?
Yes, I got an offer from the Italian team to be a part of the team in 2002. But I always did this for the passion and always wanted to represent my country in a particular sport and never did this for any recognition or money or things like that. And I think, speaking of India, I got a lot of personal satisfaction in it. Logically, if I think about it now I can feel why didn't I accept that offer because maybe, I could have got so much more facilities and much better coaching etc. But ultimately the sport is much bigger than this, that one competition. It's the entire journey that shapes you and I wouldn't have been the same person, if I have accepted that offer.
What are your plans for this year?
As you know, the current situation of India and the world is not so good because of COVID-19, but I am looking forward to promoting Winter Sports in our country if the situation will be under control. As despite being a warm country overall, we have a lot of natural potential in winter sports and we have a lot of talent. The government has also started to fund winter sports initiative in our country. Khelo India Games were held in Gulmarg, Kashmir in March this year and over 900 athletes participated in skiing and snowboarding disciplines. I think this movement is bound to grow and there are a lot of opportunities for people to get involved and the investor and companies to get involved as well as the government. So there is a lot of work that is going to happen in winter sports and I hope that I can play a part to contribute to the future generation.
What advice would you like to give to the young generation who is looking up to you as an inspiration?
I would like to tell people that always dream big. If something is easy, it is not worth it so dream of something which is unimaginable so that you can realize that anything is possible. Whatever you want, if you have the passion, courage and patience to keep training for it and develop your skills, you will definitely succeed. Ultimately, success is what you feel about it and how you change the way what you are doing; it's not that you can finish something in 9-10 seconds or you lift something with 100-120 kg, it is a complete process and it's about the joy you find in your efforts. So just try, dream big and work hard, and you'll be happy.
What are views about the initiative taken by Sportsmatik?
I think Sportsmatik is a great website and we need this kind of platform to empower athletes. Winters sports are developing in India and our sportspersons have a lot of potential. All the sports organizations of the world are looking at India as a future market and I am sure platforms like you will do really well. So all the best to you and the people who are using this platform!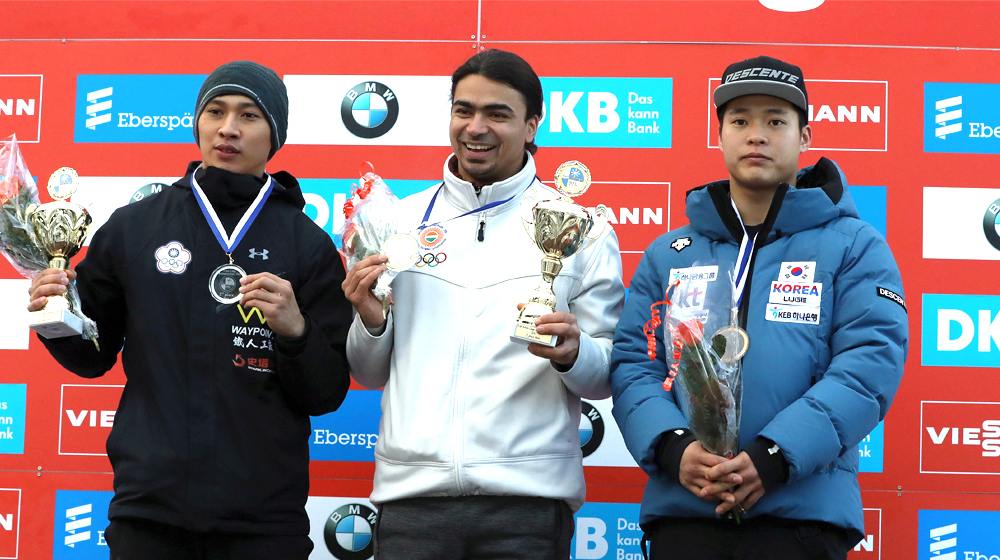 Credit - Sandro Halank, Wikimedia Commons, CC-BY-SA 3.0
Winter Sports are emerging rapidly in India and according to Shiva, we should give better support to the athletes associated with the winter sports — "I feel that many new athletes are joining Winter Sports nowadays and I really appreciate if people follow and support the new talent in the country, because there are still many issues of financial support for Winter Sports athletes in India. What keeps us (sportspersons) going is the love and support from the people and the best thing people can do for our country's sportspersons who are representing us in the world, is to stand up and support them and also let them know that we are with them."
Rapid Fire!
| | |
| --- | --- |
| Favourite athlete | Usain Bolt |
| Favourite sports other than Luge | Paragliding |
| Favourite luge track | The Spiral, Japan |
| Most memorable tournament | My first gold medal at the Asian Championships |
| Favourite country to live in | Absolutely it's my country, India |
Now he aims to awaken the passion of people in India towards Winter Sports, so that upcoming Winter Sports athletes can get that easily what he didn't. The Sportsmatik community applauds Shiva and wishes him all the best for his future endeavours.