There is a belief that you can do anything if you really want. No matter how many difficulties you face, if you have a passion for achieving something, you will definitely reach the zenith of success. Akshay Singh Rajput of Kanpur, who is a Para Bicycle rider, made this saying come true with his undefeated passion for cycling. Because of which, he has entered his name in the Guinness Book of World Records for "longest distance on a bike with prosthetics" in the previous year by completing the cycle ride from Kanpur to Delhi in just 67 hours and was honoured by the India Book of Records and the Asia Book of Records. He is the National Para-cycle gold medalist who will be the first Indian to represent our nation in the Asian Championships in China this year.
An Overview of his Major Achievements -
Achieved the Guinness World Record by travelling from Kanpur to Delhi on a non-gear cycle with a prosthetic limb and covering the distance of 397km in 4 days.
He was honoured by the Asia book of records and the India book of records in 2019 for Kanpur to Delhi cycle ride.
On 15th August, he was honoured with Kanpur Randonneurs certificate for the completion of 100 km brevet in 7 hours and 19 minutes.
Also completed the 150km distance in 10 hours and 17 minutes on 8th September 2019 to claim the certificate of Kanpur Randonneurs, which was affiliated to Audax India Randonneurs.
Bestowed with 2020 International Icon Award for his world record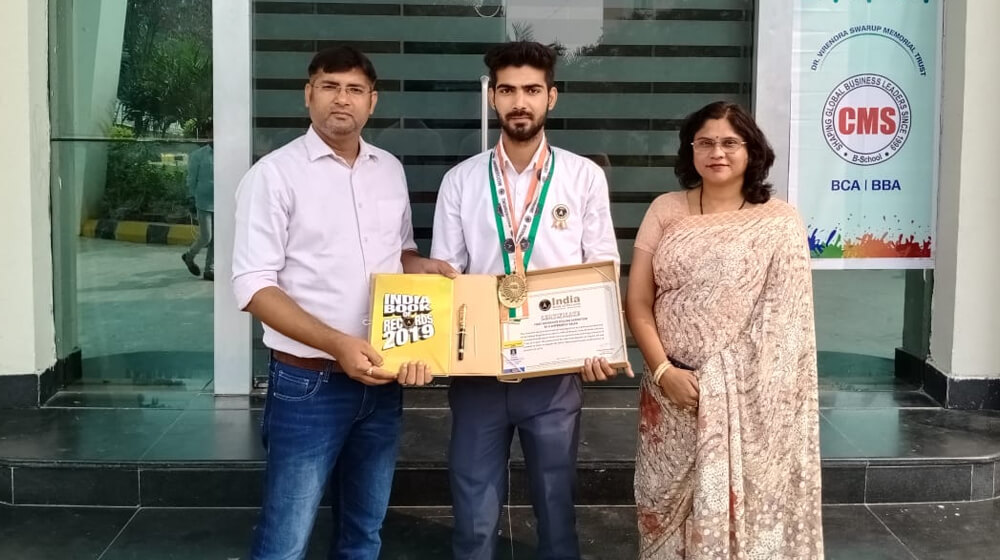 In a fantastic interview session with Sportsmatik, Akshay shared his experiences that he faced in his world record journey. Here is the entire story -
How did you get an interest in cycling? Tell us about your journey so far.
I met with an accident in 2007 in which I lost my right leg, after which I thought to try cycling and used to practice it daily for 30 to 40 km. Then thought of making a world record came into my mind, but nothing worked out until 2016 as there was no guidance, and my financial background was also not strong. I was the one who had to balance everything like managing my job, studies along with my passion for cycling.
In 2016, I had some savings to apply for the Guinness book. But again, for taking even a single article in Guinness, I had to deposit $300, so I kept doing my job for more 3 months and started saving more which helped me to submit the fees. After that, they sent me a guidelines mail in which it was mentioned that they also want videos of riding. After checking everything, the budget was estimated at around 2 Lakhs. I applied in 2015 but achieved it in 2019.
I rode from Kanpur to New Delhi's India Gate, which was completed in 64 hours. I created the record in a non-gear bicycle because I had no money to buy a geared one. After that, I didn't stop. I arranged a good bicycle and passed the state trail with 1st position and the National trials also with 1st position.
You get honoured by Asia book of records and India book of records. What were the achievements and what do you want to say about it?
Yeah, it was a wonderful experience. But when I started, the season was challenging as I had to face rain and then Sunlight was too much to handle. I went through expressway and again faced a lot of dehydration as there are at least 700 fly-overs from Kanpur to Delhi and it is too hard to climb fly-overs with a bicycle, but the good thing was that my parents were with me. My mother was very much concerned and telling me constantly to return home, but I was determined to do it as now or never be. So that's how I completed the journey in 4 days instead of 7 days because I didn't have that much budget. Then I got my name in India book of records and Asia book of records. After coming from China also in March, I will compete for Limca Book of Records too.
Last year, you travelled from Kanpur to Delhi in a gearless cycle with a prosthetic limb and covered a distance of 397 km in just 4 days. Was this journey adventurous for you or difficult?
Yes, it was quite difficult because the prosthetic limb that I wear is made of ordinary material due to which my legs got sore, had blisters and internal bleeding. So all of this had caused a lot of problems, but I didn't stop until I have achieved my goal.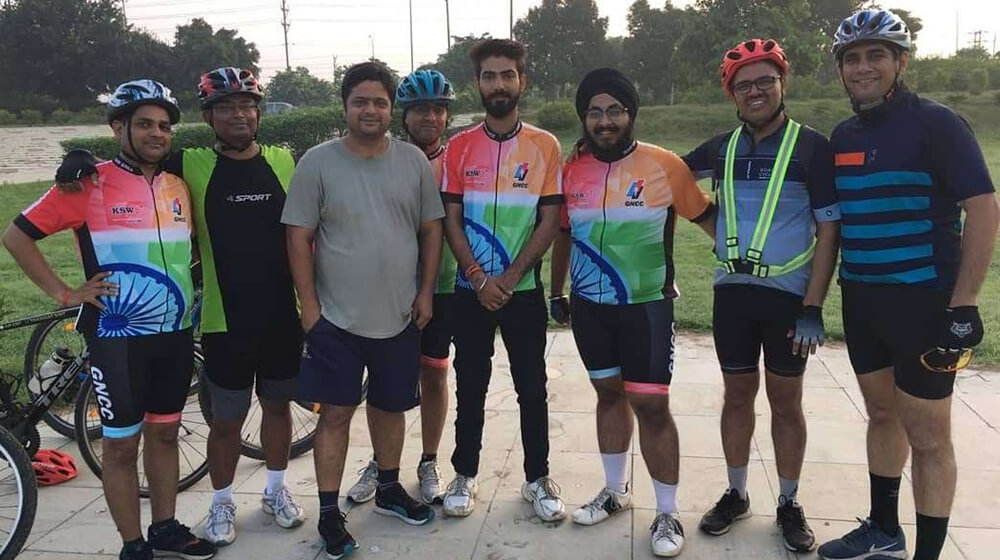 You are also a national gold medalist in Para-cycling. How much strength and patience is needed to achieve this milestone?
The primary role is of your mind, and the 2nd important thing is nutrition. Also, cycling is a costly sport. After shooting, the next expensive sport is definitely cycling, so one has to keep patience. When appearing for the nationals, I used the geared cycle for the first time and didn't know that I had completed the race in just 18 minutes & 3 seconds. You know the second winner has completed the race in 34 minutes! So that stage is very special for me.
What is the role of Greater Noida Cycling Club in your cycle ride from Kanpur to Delhi?
First of all, I would like to say that when I started my Delhi ride from Kanpur, I was very much supported by Agra Cycling Club. They did 30km ride with me from Agra to Mathura. My route was Agra to Mathura, Mathura to Hogal, Hogal to Faridabad and then to Greater Noida. Then after, I reached Faridabad metro station from where Greater Noida Cycling Club's member Prashant came and along with retired lieutenant general of the same club, rode with me to India Gate in Delhi. When I reached India Gate, there were many more riders; even then the Greater Noida Cycling Club played an important role as they had already planned everything for me.
You aimed to break the Guinness World Record of "longest distance on a bike"? Have you achieved it?
Yes, I have achieved this record, although I have not got the certificate yet as I got the mail to deposit my outstanding payment to Guinness which is around Rs. 32000.
What problems did you have to face to break this record, and how was your experience?
The biggest problem was I didn't have a cycle. This record was not made in just 4 days; I worked hard for like 4-5 years to make this record. You will not believe that I completed my journey by continuously drinking electral to boost energy. Due to the prosthetic limb, a lot of bleeding started in my wound too, and Greater Noida Club's Prashant Sir even asked me to postpone my journey, but I told him that I had waited 4-5 years to reach this point so I cannot delay. After that, I did not stop and finally, I have completed my journey.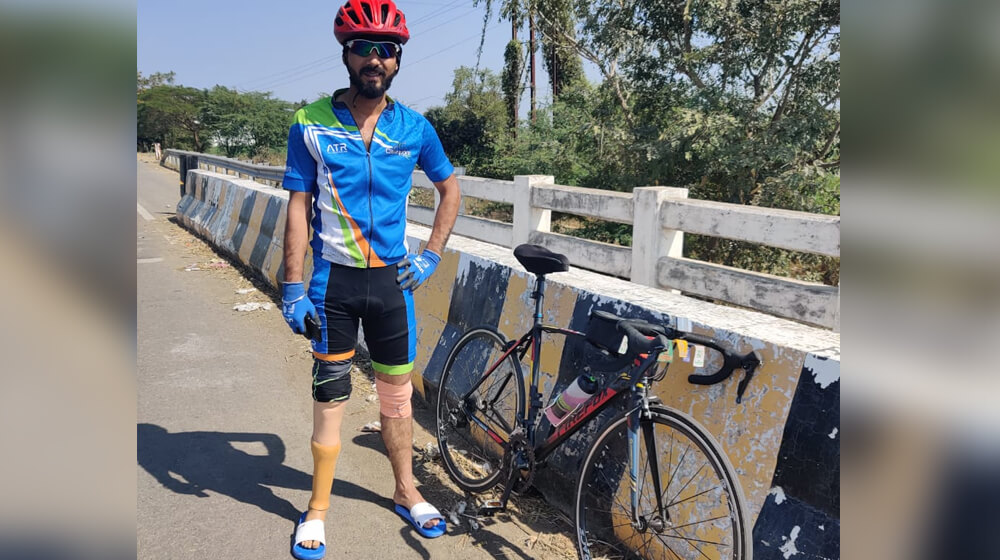 You will be the first Indian to represent our country in the Asian Championships in China. How are the preparations going?
My practice is going well. I ride daily around 30 km because the track there will be of 30 km, so to practice that I ride that much daily in which I do 1 km usual ride and then 1 km speed ride, by doing this practice, it makes the riding balance quite good. I have to go to Hyderabad as well because I have been selected there but will not get coach training there so I'll go ahead with self-training. Also, I have good adaptability because I learn by watching others, so I know that I will make it.
What is your training and fitness mantra?
Talking about my training and fitness mantra, first of all, I would like to tell that my passion for my goals is my strength, I am not inspired by anyone, I am inspired by myself and the purpose of my life is just to follow my goals that I have set and are yet to achieve. Although I have started a bit late, now I have engaged myself to work on my goals, and now my dream is only to get gold in the International and Asian level.
What was the support of your family on this journey?
The most significant role in my journey is of my mother and elder sister. My elder sister is married, and we live in her house only as I do not even have a home of my own. But she helps me a lot, like waking me up at 4 o'clock in the morning and because of this, she also spoils her sleep. And not only that, but she also makes my cycle & jersey ready and helps me a lot in my daily chores. And if I talk about my mother, then she has the biggest role in reaching this stage. Initially, my mother used to feel very much worried about me and asked me not to do these things, but after seeing my passion for cycling, she started supporting me, and now I am nothing without her.
Apart from the Asian Championships, which events are you going to participate in this year?
After participation in the Asian Championships, I will participate in 200 km of CRM, which I have to complete within 13 hours. After that on 8th February, there is another ride event of 600 km, which I have to complete in 40 hours. The good thing is that there is no specific category in these events but only one open category challenge in which I'll participate with everyone else.
What is your strategy before taking part in any ride?
I think, before starting any ride, you must be physically and mentally strong. Cycling is a sport of the mind, so my strategy is - whatever happens, I just have to complete the ride and don't give up. I still remember how I worked for Zomato and started saving for myself to buy a cycle. So, all these things motivate me very much to move forward. And at the same time, my other strategy is for the goals that I have set, I have to achieve them anyhow, maybe you can't do it in the first attempt, but try a second time and don't stop. In my opinion, the more you are mentally strong in sports, the better it is for you.
How do you balance your job and cycling passion? How tough is it to tackle both things?
Right now, I am not doing any job, and all my focus is on cycling, but earlier I used to work as a delivery boy in Zomato where I used to work from 9 am to 10 pm through which I've earned a very good amount because of which I used to get up early in the morning for cycling practice. But yes, it's very tough for me as I have told you that cycling is an expensive sport so, you have to manage everything. If you buy a gun, then its maintenance is not as high as maintaining a bicycle. Because if any of the equipment of the bicycle damaged, whether it is a tyre-tube or a paddle, it comes very costly because all these are imported. Even the road is not that good near my house, so I take my cycle on foot to a little further and after that, I ride only when the good road comes. So it's kind of tough for me as well.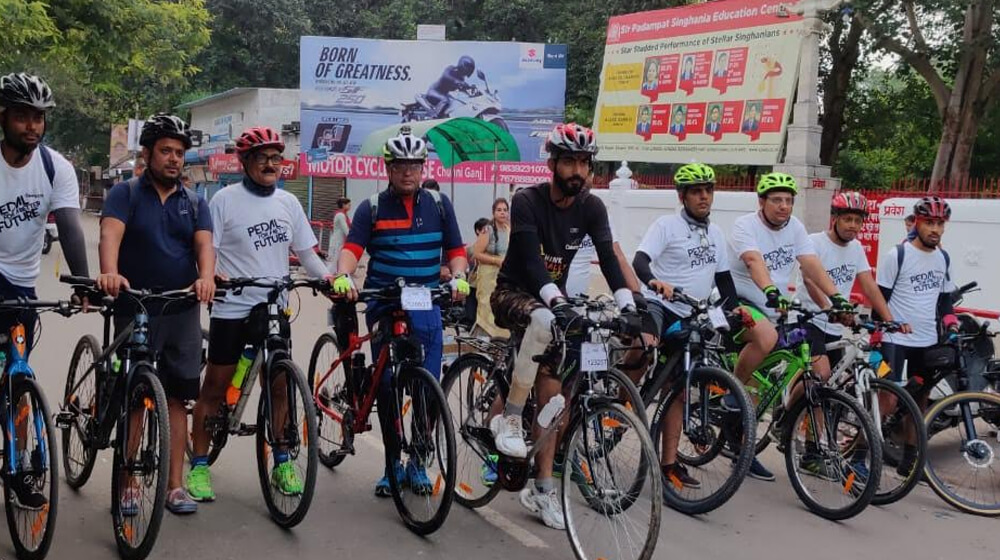 Who is your role model?
Even after my accident, I continued cycling, and that is when I came to know about Arunima Sinha, who has climbed the Everest. So after knowing about her, a thought came in my mind that when a girl can do this with a prosthetic limb, so why not me? It motivated me highly and I decided that now I have to do something.
My other role model is Akshay Kumar sir because he also pays a lot of attention to his fitness and I follow him a lot. I will also go to meet him at his house when riding from Kanpur to Mumbai which is around 1600 km.
Do you see yourself as a bicycle trainer in the future?
Yeah, definitely! Even I have recently helped a boy to make a record in the Under-18 category. Amar Ujala has also written an article about him in their newspaper. The boy was very worried before meeting me because he too had no knowledge about whom to contact and where to apply to make a record. The boy read an article on me in the newspapers after which he went to Amar Ujala's office and got my contact number. He contacted me and told me that he wants to make such a record, after which I fully supported him. I gave him complete training and did a proper ride with him as well as guided him to apply in Guinness. After which he also made a record from Kanpur to Delhi in 27 hours. There is another boy from Kanpur who is disabled, and I am training him too to make a record.
The Sportsmatik community applauds Akshay and wishes him all the best for his future endeavours.
Akshay Singh Rajput is now a part of Sportsmatik.com. Checkout his profile at the link given below -