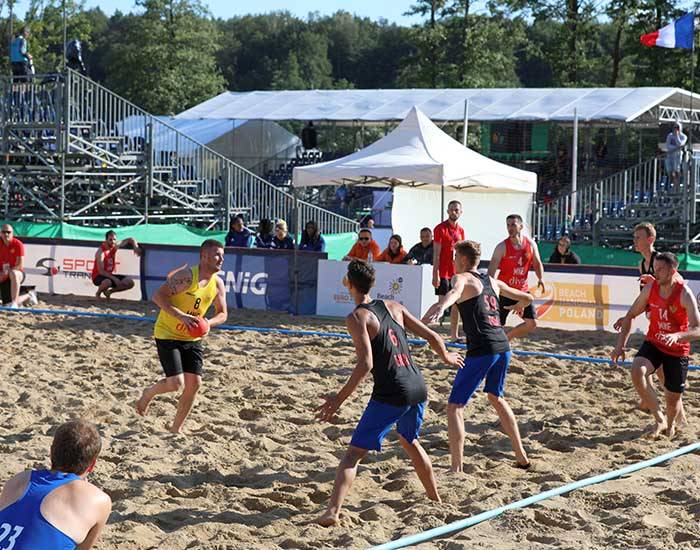 Beach Handball, also known as Sandball, is similar to handball but, played on the sand on the beach rather than in a court. There are two teams, each comprising of four players. The players attempt to throw the ball in the other team's goal post and score more. 
The matches are usually played in two or three sets depending on when a team wins their second set of the game. If there is a tie at the end of a regular set, then the teams tend to play for a golden goal.
The goal for each team is to pass and bounce the ball and then attempt to throw it in the opposing team's goal. For scoring, when a goalkeeper scores, the team is rewarded with 2 points. When any of the court players score a goal, they are rewarded with only one point. The games are divided into two 10-minute halves. There are three ways to make a goal, that make the teams earn two points -
Alley-Oop: It refers to the ball when it is passed to a teammate who catches the ball and shoots it without his feet touching the ground.
Spectacular: It's a 360-degree shot which involves the offensive player doing an acrobatic aerial manoeuvre spinning his body at a 360-degree angle.
A direct goal from the goalie or specialist: The fourth member of the offensive team who is designated by a different colour jersey, can earn two points with a direct goal.